When Kush first saw people presenting themselves as animal characters on the internet several years ago, he knew immediately that he had found his calling.
Kush, still in school at the time, learned that they called themselves furries. Dressing up as fictional animals that display human personalities and characteristics, they said they felt more comfortable expressing themselves as animals than humans.
"I remember thinking to myself, 'That is exactly me'," says Kush, who, like others, prefers to go by his furry name.
Unable to afford a costume – known as a fur suit and often costing more than US$3,000 on the internet – Kush spent a year designing and handcrafting his own furry persona, or "fursona". It was a "fantastic dragon" in royal blue and white fur.
Kush, a 23-year-old design student, is one of about 50 furries in Hong Kong. (About half of them are expats, another furry says.)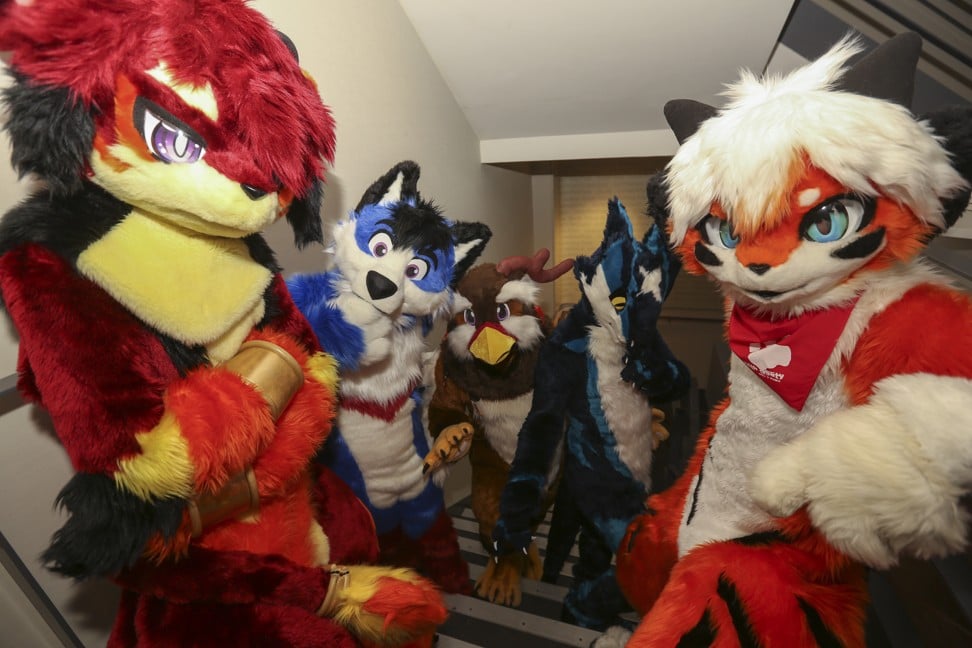 Although it is gaining traction globally as a role-playing subculture, when Kush became a furry, no one around him had a clue about it. The idea of a local furry community was unthinkable.
"Almost all of the local furries in Hong Kong first met on those now defunct old-school forums," he says. "I'm glad that we now have social media, which really helps us to better find each other.
"Being a furry is a lifestyle," Kush says. "People feel more in their own skin in a fur suit for various reasons. Some do it as a gateway for sexual pleasure. Some do it because they want to live like an animal."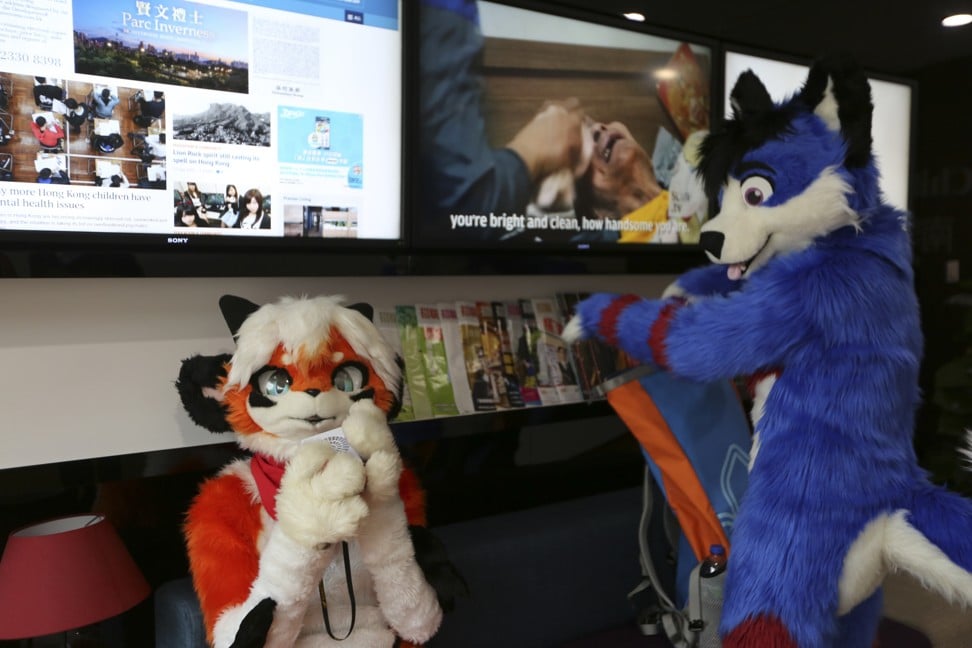 Kush says he has known of furries who eschew eating meat because their character is not supposed to do so.
Furry subculture, which originated in the 1980s in the US, has become increasingly popular in recent years. The largest furry convention is Anthrocon, which takes place in Pittsburgh, Pennsylvania, every June, and is preparing for its 20th annual convention. Last year it attracted more than 7,600 attendees.
The people who like to pretend they're dogs
Another Hong Kong furry, Essex Man Ying-laam, 22, says although the subculture locally remains largely underground, it has been gaining visibility in other parts of Asia.
Many fur suits worn by Asian furries are now designed by famous furry designers from Japan
"Many fur suits worn by Asian furries are now designed by famous furry designers from Japan," says Man, who works at Hong Kong airport. "The emerging cities are Taiwan and Singapore. I think Taiwan has about 1,000 furries now and Singapore probably has more than 200."
There is a stylistic distinction between the traditional Western and Asian furries, he says. Canines are the dominant characters of choice in the West, while in Asia the trend is for mythical creatures including dragons and chimeras.
"Asian fur suits often have a shorter snout," Man says. "They tend to resemble anime characters a lot more in their design."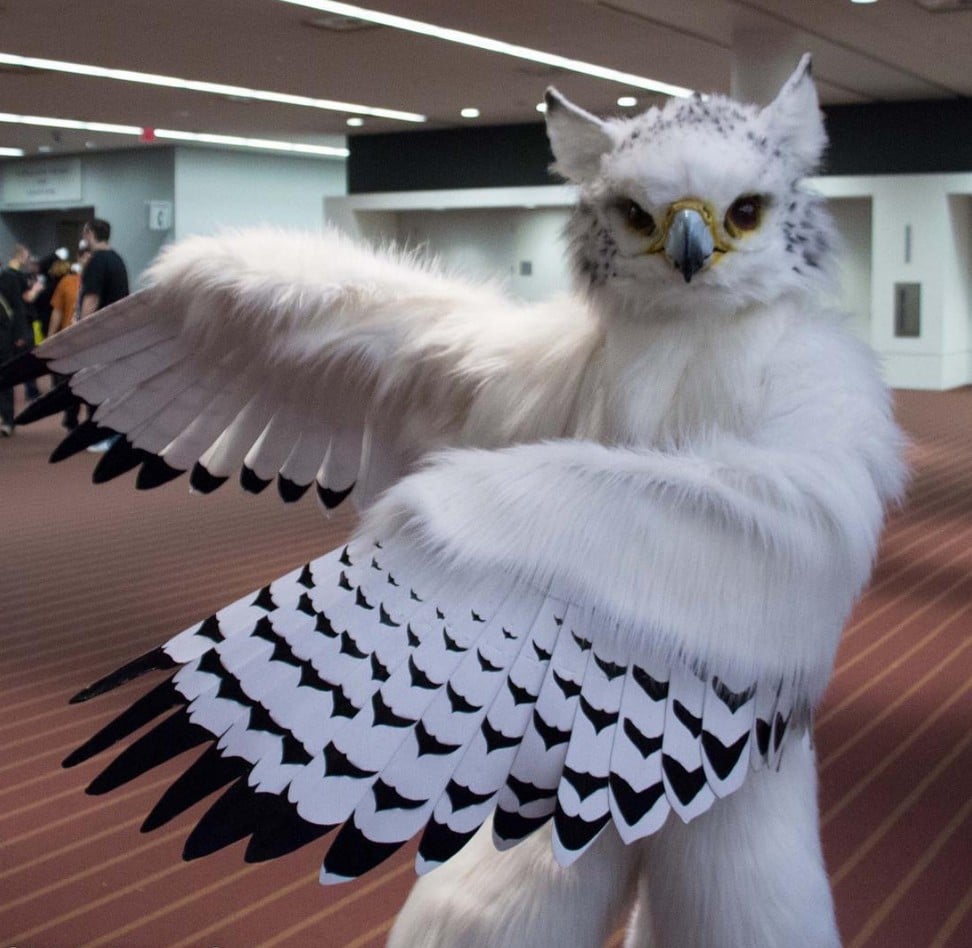 Dingz, 32, another local furry, has set up his own home studio to make fur suits. "I've now made about a dozen costumes, and many were commissioned by furries in Taiwan and other Asian countries," he says. "People are starting to appreciate Asian furries more and more. The most notable characteristic of Asian furries are anime-style eyes."
Local furries have been organising regular trips to conventions in Taiwan and Japan in the past few years, Dingz says. They have not planned many group outings in Hong Kong because locals, who are largely ignorant of furry culture, tend to pull at and mess with their suits, which can ruin them.
Kawaii Hong Kong: how city's Lolitas live the cute dream
They meet up regularly and get into their fur suits, but rarely venture outdoors in them.
I am a lot more shy in real life, but behind the mask, I feel like I can be the person I have always wanted to be
Dingz says he came to furry fandom because he "found himself" after playing the Toys 'R' Us giraffe mascot for a local store.
"I am a lot more shy in real life," he says, "but behind the mask, I feel like I can be the person I have always wanted to be."
He discovered the furry fandom online, and says it's more exciting than performing as a mascot or cosplay character, because a furry gets to design and develop his own character, as opposed to playing established cartoon figures.
He made his first fur suit about 10 years ago – a Druid bird with antlers named Yoeleaf, inspired by the video game Warcraft.
"Yoeleaf has become an identity for me now," he says. "And furries are a species I feel a special kinship with."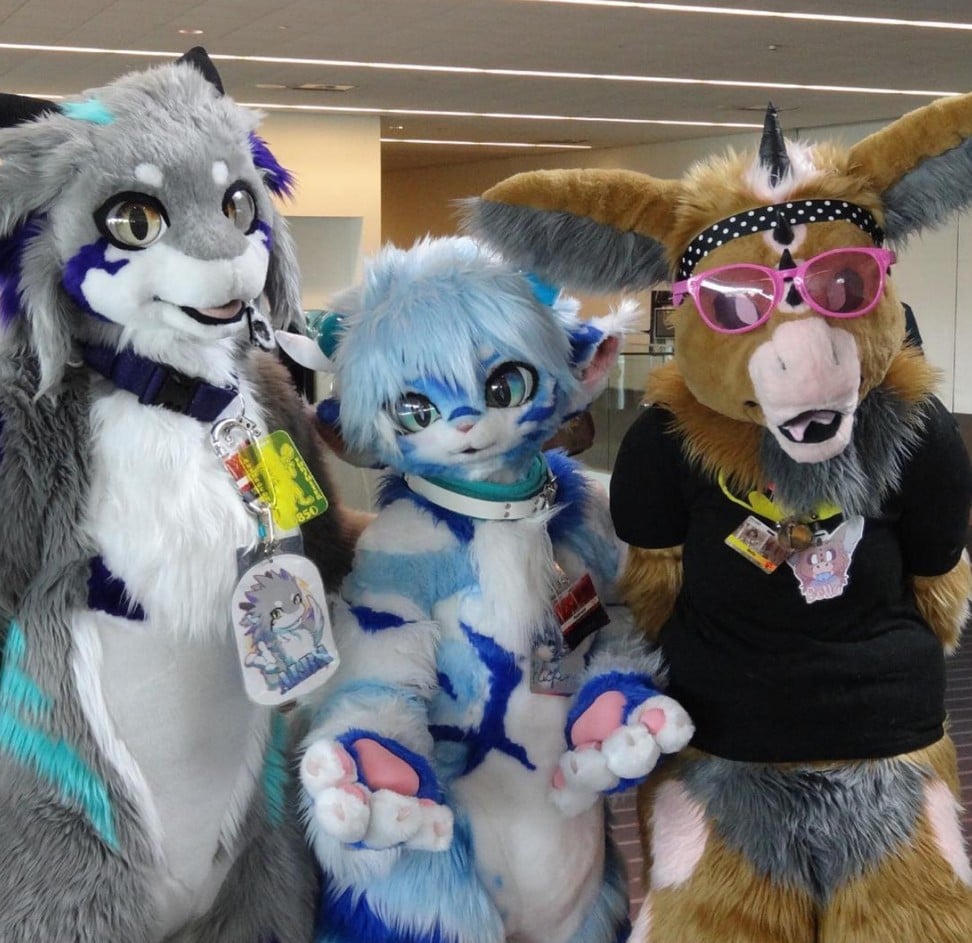 Man also feels a deep connection with his furry persona – a hyena named Essex. He says he has "always had an obsession with hyenas" and had been drawing the creatures from an early age.
He was thrilled to discover the furry community and see how people act out their fantasy personas. He felt validated by other furries who had the courage to present themselves in non-human forms.
"When I went to conventions, I felt like people were truly expressing themselves, although we didn't speak the same language" Man says. "People felt free to be much more dramatic and hyperbolic with what they did. Behind the mask, nobody can judge you."
Man says people outside the community sometimes misconstrue them as promiscuous people with a kink for fur. It's a misconception he believes is played up. That's "not what furry subculture is about", he says.
Baby-themed fetish shop riles Illinois town
Although sexual encounters are an essential part of the experience, he says, outsiders sometimes exaggerate and even vilify what they imagine furries do behind closed doors.
"Furries are attracted to one another the same way [other] people are attracted to one another. Like how people have their day life and nightlife, we have our own nightlife."
He says he met his lover at a furry convention and his connection with him is "special".
According to Man, there is a gender imbalance in the furry community, especially in Asia. The male-to-female ratio in the region is about seven to three, while in the West it's about six to four. But Man says it doesn't concern him, because his furry character is gender neutral by design.
Dingz estimates the male-to-female ratio in Asia is more like 10 to one. He says the misconception that the furry community is about kinky sex has deterred many women from joining.
"The preconceived notion of what furries do scares people away," he says. "They overlook the fact that furry lifestyle is multifaceted."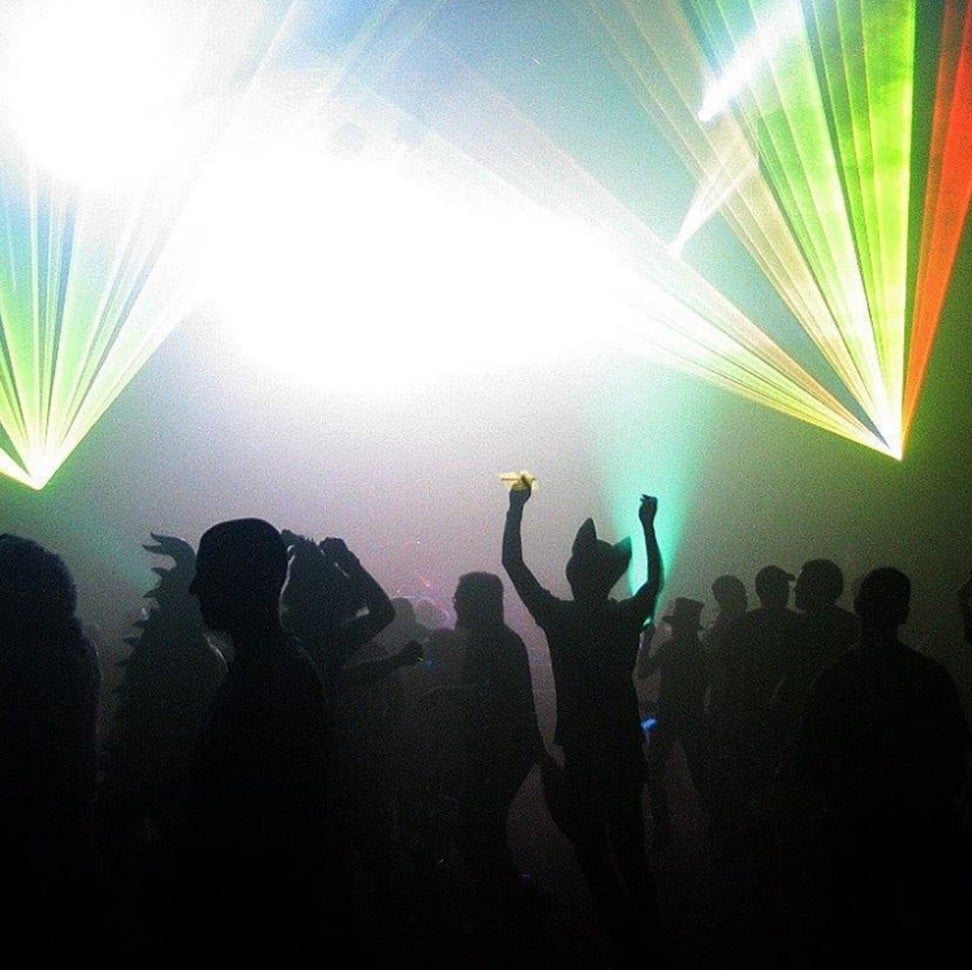 A friend of Dingz, who goes by the name Ho Cha in the community, participates in furry subculture but doesn't wear a fur suit. Instead, he writes fantasy stories involving furries.
"In Taiwan, many such fantasy stories and indie video games are published routinely," Ho Cha says. "Different furries have different interests. Some of them only design characters. Some of them are like me and only write stories. It's hard to generalise."
Dingz says there is still a long way to go before furry subculture is fully embraced in Hong Kong. "Unlike in Taiwan, where people are comfortable seeing furries walking down the street, furries in Hong Kong are sometimes harassed by pedestrians," he says.
According to Kush, however, the culture has been given a boost in Asia by the recent success of the Disney animated blockbuster Zootopia. Still, people in Hong Kong often mistake them for mascots.
"We went out during Halloween in Tsim Sha Tsui. Without even asking, people immediately started grabbing us to have a picture taken with us. People formed a circular queue to get pictures with us," he says.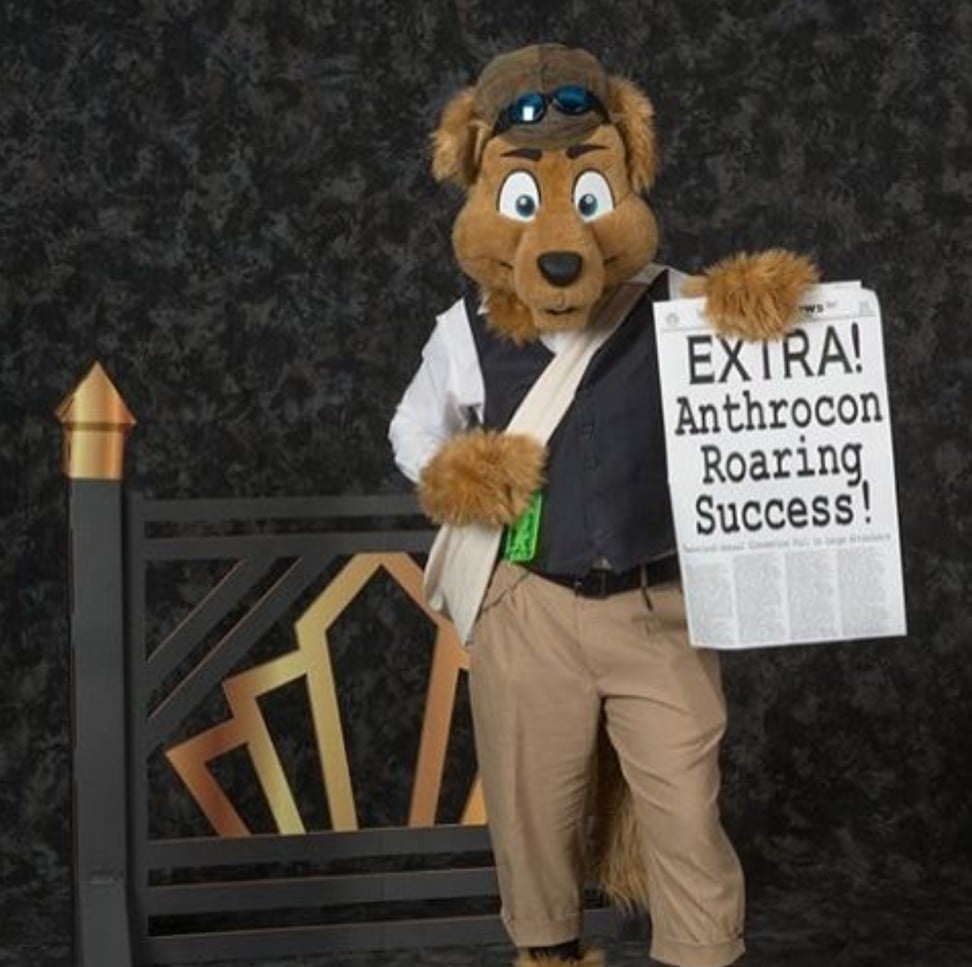 But Kush is optimistic that Asian furries will become more visible in the future, citing the emergence of the conventions in Taiwan and Japan. And local fur suit designers, such as Dingz and himself, are finding more demand for their creations. "People like our design styles and they have commissioned us to make suits for them," he says.
Dingz says Hong Kong has certain advantages over other cities for fursuit makers. "We have a great local fabric market here, which has numerous types of fabrics. So we can easily get our hands on various fabrics for costumes," he says. "We can also go to Guangdong, where there are more fabric markets."
Dogs lead the way in over-the-top costumes for Halloween
He says it usually takes him three to four months to make a suit, and his creations have become more professional as he gains experience.
"If you look at Yoeleaf, my first suit, I basically used a baseball cap as a base for the head," he says.
Kush says that when he first started making fur suits, not knowing how to sculpt the shape of feet, he used a pair of Crocs as the base.
He says he was amazed at how much pleasure he got from designing and making fursuits, although he encountered a great deal of resistance at home early on because his parents thought he was wasting his life on a childish pastime.
"My mum even once threatened to throw me out if I didn't give up on furries," he says. "And I said, 'It doesn't matter if you throw me out or not. This is who I am'."
For the latest news from the South China Morning Post download our mobile app. Copyright 2017.