ALOR STAR: Tun Dr Mahathir Mohamad has announced he is quitting Umno, in what is seen as his final push to force Datuk Seri Abdullah Ahmad Badawi to step down as Prime Minister and party president.
His wife Tun Dr Siti Hasmah Mohd Ali has also quit, according to his website www.chedet.com
Dr Mahathir also called on Umno members to join him in this radical move, which he likened to "removing gangrene" in order for the party to survive.
Except for two party veterans and one branch in the Merbok division, there were no other takers.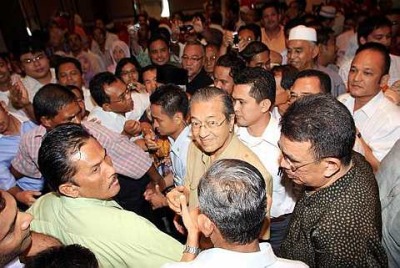 Abdullah, who expressed shock at Dr Mahathir's decision, however, reiterated that he would not give in to the pressure from the former premier.
Party deputy president Datuk Seri Najib Tun Razak offered to meet Dr Mahathir to "discuss the decision" to quit.
Dr Mahathir has been on the warpath against Abdullah since 2004, claiming his successor was unfit for the job and has stepped up his attacks after Barisan Nasional's disastrous results in the March 8 general election.
Related Stories:Dr M cuts ties with Umno PM refuses to be cowed by 'shocking' decision PAS man lit the 'resignation' fuse Najib: I'm willing to meet Dr M A desperate plea to Umno Reconsider decision, Ka Chuan urges Mahathir Umno leaders shocked at move Ku Li: I'll stay to fight Abdullah Mahathir's decision a blessing, says Musa Dissatisfaction against leadership A contest of wills and wiles Nik Aziz happy with Dr M's move 300 Merbok branch members take the cue from Dr Mahathir Tun Dr Mahathir Mohamad's journey in Umno
Subscribe now to our Premium Plan for an ad-free and unlimited reading experience!