It's 2022, football is no longer just a man's game, whether on the field or off it. Meet some Malaysian women sharing their love for the beautiful game.
WORLD CUP widow -- once every four years this phenomenon rears its ugly head. Derived from "football widow", the phrase means a woman who is neglected by her partner while he watches football during the whole month-long tournament.
But the phrase is fast becoming outdated judging by this year's FIFA World Cup in Qatar which begins today – the football enthusiasts and supporters glued to their seats watching match after match on live television will include lots of women.
There are also more women pundits and commentators – and for the first time ever in a World Cup, women referees will be officiating the men's matches. How apt for a tournament themed "Now Is All".
Of course, more needs to be done before the beautiful game is truly inclusive, especially in Malaysia. But in the meantime – with no disrespect to football non-enthusiasts – for the next four weeks or so please accept that the excitement among women fans will reach fever pitch. So be warned, World Cup widowers!
And women have just as much knowledge about the game as the men do, their own thoughts about onfield action, as these female footy fans demonstrate while sharing their hopes and dreams for this year's tournament.
Shasmietha Elango, 23
Shasmietha, or Shas as she's called, remembers the year when it all began for her: 2010. Shakira's hit song, Waka Waka (This Time For Africa), was everywhere as she fell in love with Barcelona wizard Lionel Messi.
"Oh, I remember saying this guy looks good!" she jokes.
By the time the 2014 World Cup rolled around, though, a 15-year-old Shas knew more about football and, thanks to social media, could follow Messi avidly – the proof of her fascination lies in a book filled with newspaper clippings and magazine cuttings of "La Pulga" (Spanish for "The Flea"), which remains tucked away in her room.
Her love for Messi only grew over time and with it so did her ardour for football. With the World Cup starting today, Shas says she is about to repeat the four-year cycle of waking up in the middle of the night just to watch the matches.
Shas' loved ones are supportive of her midnight football antics over #TeamBrazil, and her brother often joins her during these sessions. However, when asked about her favourite team this year, Shas talks about a possible rift between #TeamArgentina and #TeamBrazil in her family as Messi now plays for the "Albiceleste" (Argentina) football team.
Shasmietha Elango
"It's too hard! Is it possible to name a player instead of a team? Don't get me wrong, I'm a diehard Brazil fan and my whole family is #TeamBrazil but I love Messi too much so the love for the player trumps it all.
"So I guess I would have to go with Argentina this time around."
In her youth, Shas certainly faced more than her fair share of discrimination especially when she shared her love for football with schoolmates.
"I think it [the discrimination] was quite evident during my schooling days, as people would ridicule us with questions like do you actually like football or what do you even know about football?"
Times have changed, and now Shas finds herself blessed with an amazing circle of supportive friends, and she often talks to her guy friends about strategies, players and penalties.
"I always put myself on social media to discuss football and how the players played, and I talk about what I know and people know that I'm at the top of my game – no pun intended! – when it comes to these things."
Neymar is also a favourite with Shas, and her most beloved memory of football is tied to Brazil's forward star.
"So there was this game in the 2017 Champions League. Barcelona versus Paris Saint-Germain Football Club, and [Barcelona] lost horribly in the first leg of the game [4-0]. The chances of winning in the second leg was slim to none but Neymar made a fiery statement and they actually won the game 6-1! The whole thing was super inspiring to me."
Shas shares that she now uses the quote "While there is a 1% chance, we have 99% faith" in her daily life. She hopes that either Brazil or Argentina takes the Cup home.
Tengku Nazatunurdiha Tengku Bidin, 38
Diha, as she's known as, is a mother to two boys who has been joining in the World Cup fun since 2006.
That was when (then) striker Fernando José Torres of Spain caught her eye during a match she was watching at the local mamak – she found herself wanting to find out more about "El Niño" (Spanish for "Little Boy").
"I still remember it so well! After my Torres hyperfixation, I became busy with my marriage and two kids under two but when the 2010 World Cup in South Africa rolled around, it was like falling in love all over again!"
Diha's love for football has trickled down to her boys and she often sits with them during a game, making it a much-loved family bonding session.
In fact, the boys now help her keep up to date with players.
"It's hard to keep track of everyone, especially as a mum and wife with a full-time career, but thanks to my boys, I'm up to date on the inside gossip about the rise of newer talents."
One rising star in Diha's mind is Jamal Musiala who is now playing for Germany, her favourite team in Qatar – she finds Bayern Munich's youngest-ever player fascinating in terms of dribbling and formations.
Tengku Nazatunurdiha
"Musiala is amazing with his trickery and composure on the field. He has made his 100th appearance with his club, FC Bayern Munich, and he will now be making his mark in the theatre of dreams soon. He surely will be one to look out for at Qatar."
A a woman who loves football, has she ever faced prejudice, we wonder.
Diha happily says that she has yet to have a negative experience around her favourite sport.
"Even in the earlier years of me loving football, my husband was quick to hush anyone that even remotely questioned my love for it.
"He knew I loved football and that was it. There were no follow-up questions. So when I say I have a great support system, I mean it.
"My husband is my equal in this. We go toe-to-toe whenever we are watching our teams go against each other, it's an exhilarating experience!"
However, she muses quietly that not many people have the opportunity or privilege to have such a great support system.
"Women, especially in developing countries like Iran, are often left out of these conversations. Only recently did Iran lift a 43-year-old ban on women watching football matches in stadiums.
"There's still a long way to go because lifting the ban only became possible after the death of Iranian football fan Sahar Khodayari."
(After getting arrested for sneaking into a stadium to watch a match, the 29-year-old Sahar set herself on fire outside the courtroom where she had been sentenced to six months in jail in 2019.)
Diha says lifting the ban is a step in the right direction but there is still much to do for women everywhere, as she believes that society only gets better for everyone when women's rights are upheld and taken seriously.
Zuraidah Ariff, 49
This woman seems to be the epitome of doing it all. A mother of two and a successful businesswoman, Zuraidah is constantly on the move but still manages to find the time to be on top of her game when it comes to football.
"The excitement I get from football is beyond explanation. It helps me to relieve stress if I am worried, and when I start talking about football, I think all the problems that I'm facing temporarily disappear," she chuckles.
Following football even helps her with business, as she takes in the culture, politics and, certainly, the economic perspective of different countries where the game is played, and this helps her make investment decisions.
"I would say there is a multiplicity of factors that influence my love for football. It constantly broadens my knowledge, and I'm always on the lookout for the history of the different nations from football commentators and analysts which allows a deep appreciation of each FIFA World Cup host."
When queried if she has faced prejudice as a woman lover of the sport, Zuraidah's smile mirrors the Cheshire Cat's: "Oh dear, what a question! I haven't faced any discrimination but it is such a joy to see people do a double take when they see an almost 50something woman on the frontlines during football games.
Zuraidah
"I often go to Chelsea matches and my friends are shocked that I am actually in the stadium watching football!" said this super fan who travels to England to watch her beloved club,
Since her early days of watching Premier League matches in the late 1990s, Zuraidah has religiously followed this club over 20 years.
The constant desire and zeal to compete at the highest level and win silverware year after year is definitely what makes the West London-based club stand out to her, along with the elite European clubs.
The business tycoon also comments that she is remaining loyal to France after their exhilarating win at the 2018 World Cup.
"My heart still belongs to France! Why not? They deserved every bit of their success. No matter how they played the final match in 2018, Pogba's goal was a perfect one for the team! Croatia continued to attack, but minutes later, Mbappe's counter-attacking goal caught the deal and they took home the Cup," she enthuses, referring to midfielder Paul Pogba and forward Kylian Mbappé.
Zuraidah also has a lot of love for the female representation in the men's games. Her favourite referee, Yamashita Yomishi from Japan is set to appear at Qatar after officiating at the 2019 FIFA Women's World Cup.
Yomishi was on the whistle for Melbourne City's 2-1 win over the Jeonnam Dragons in the AFC Champions League, and FC Tokyo's 2-0 win over Kyoto Sanga in the J1 League – becoming the first woman referee to do so.
Zuraidah hopes that women's football will continue to flourish and grow regardless of the lack of exposure in the media.
"The media coverage for the female side of the sport is only 5%! It simply means that female teams or clubs don't get sponsored, or not as much compared with the men's clubs or even to the scale of men's sports," she notes sadly.
While gender inequality in football remains prevalent, Zuraidah believes that it is never too late to make an effort to give women's teams the recognition and respect they deserve.
Elli Famira, 29
This World Cup is extra special for football presenter Elli. As a big football fan, the co-presenter on Astro Arena's football magazine show Berbulu Dengan Burn, is always excited about the global tournament. But this time around, she is super thrilled as it will be her first time doing the World Cup shows on television.
"This will be my first World Cup at Astro. I just joined Astro last year. Even my boss told me I'm lucky, not many people get the chance to do the World Cup so soon after starting work with the sports channel," says the former legal executive.
In fact, according to Ellie, she really scored big: her first ever gig after joining the station was Euro 2020 (which was postponed to June 2021 due to the Covid-19 pandemic).
"When I first joined, my boss told me to take a few days to go around and see what people are doing. Suddenly one day, he told me that he wanted to have me on the talk show for one of the games as a guest.
"The game was between France and Switzerland, which was a big game! I was so nervous. I asked him if I was ready and he just said, 'You're gonna find out'.
"If it's the big teams like England, France and Spain, people will stay up and watch, even though the matches are shown late at night or early morning.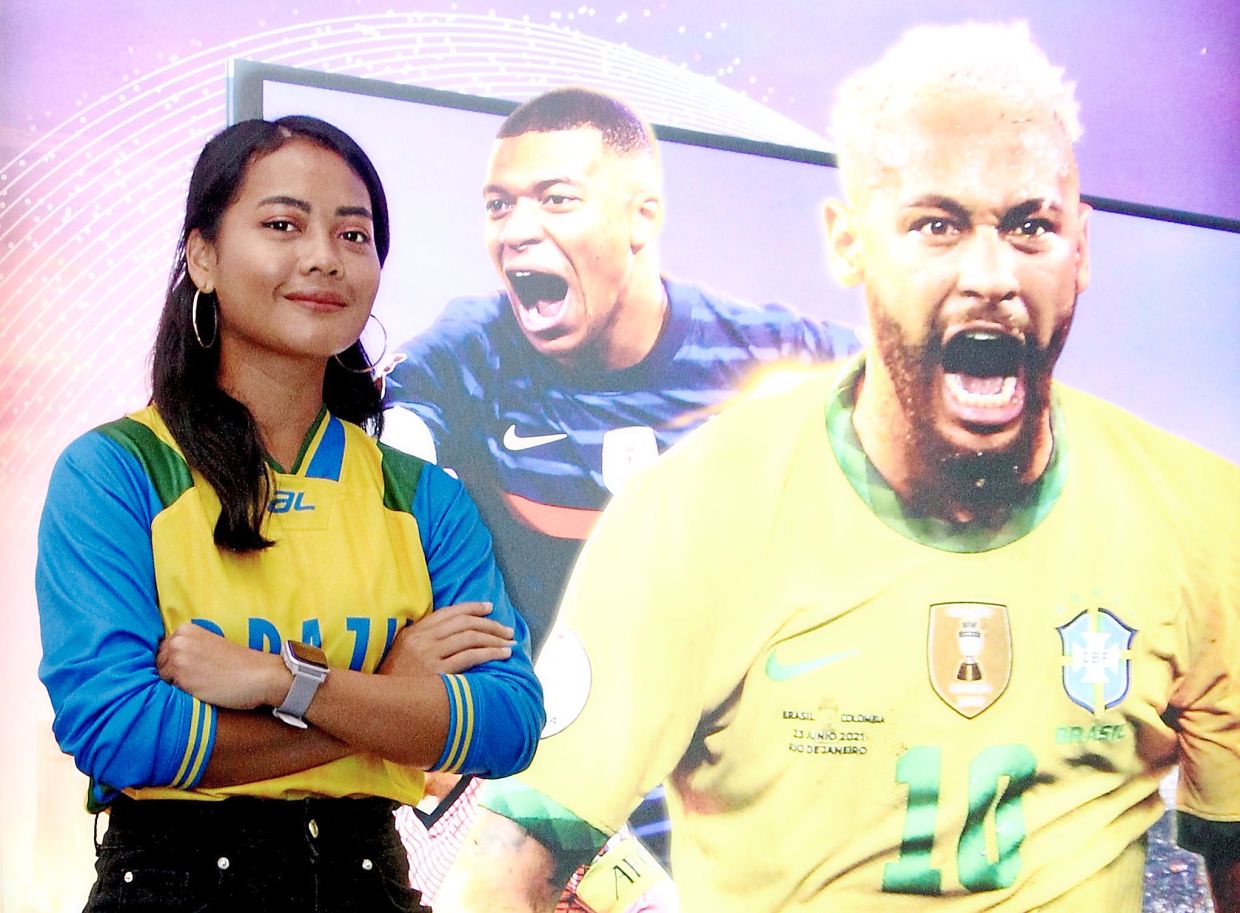 Elli Famira
"I knew I owed it to the audience to give it my best shot. So I did my homework and research, analysing their gameplay in past games, at the group stage and from there I could tell what's gonna happen.
"We talked tactics but what I enjoy most is the storytelling part because it's different for tournaments like the World Cup or Euro compared with the club leagues.
"When it comes to the world stage, a player representing his country is a whole different thing. Because you get to see their dynamic with their teammates, how the origin of a footballer reflects the way he plays – which is different from the way he'd play for his clubs.
"So to me, [the World Cup] gives a different kind of joy to football fans."
She says even though getting into sports presenting was unplanned, now that she is in it, she has found her purpose.
"I want to break through those barriers for women who love football to feel free to talk about the game. I also want women to just enjoy themselves watching the matches – you don't have to know how to play football to enjoy what's going on. The joy comes in different forms."
Elli is especially excited about the first game she will present, which is England versus Iran tomorrow.
"For the World Cup, I will team up with Burn and we will have a guest every time. We will alternate with another team.
"I'm excited because England is a big footballing country while Iran is a bit controversial.
"For one, Iran keeps banning women from going to the stadium to watch football. I feel strongly about this and I want to talk about this in the preshow.
"How I see it, the show is not just about the match. It's also an opportunity to better understand the competing countries.
"As a presenter I can inform my audience about the social background of countries participating, the political happenings in their football scene and how that impacts their game, so it's not just you watching two teams playing football together," she says.
Going back to football, Elli is especially excited to see Brazil play: "I feel like they are going to give us so much joy once again because their lineup is so exciting and talented now."
For her, players to watch are Messi and Cristiano Ronaldo.
"This might be the end of their era, this might be their last World Cup and our last time to catch them playing for their countries," Elli points out.
Subscribe now to our Premium Plan for an ad-free and unlimited reading experience!