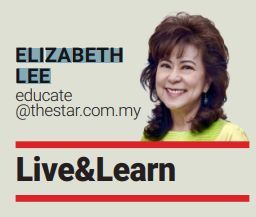 OF the 12 Chinese zodiac animals, the Rabbit is known to be the most gentle and tender. After the roaring Year of the Tiger, the Year of the Rabbit is expected to be calm and "hop-ful".
But some have said that the Year of the Rabbit will not be a very good year for the masses, businesses and the economy due to rising inflation and cost of living, growing climate crisis, geopolitical instability and more – factors attributed to the supposed fragility of the Rabbit.
I, however, believe we must not adopt this negative mindset as we enter the new year. If we are defeatist in our outlook, then we will certainly be defeated for it will turn into a self-fulfilling prophecy.
Instead, we must look on the bright side. I take strength from the challenges we had faced over the past three years – primarily those of battling the Covid-19 pandemic. Let us not forget that we had faced one of the greatest threats to our human existence.
Times were tough for everyone, with many having lost their loved ones and friends. Yet, we stayed home, practised good hygiene habits, masked up, socially distanced ourselves, got vaccinated (and boosted!), and embraced the spirit of "Kita Jaga Kita" (caring for each other).
Covid-19 taught us to roll with the punches. And here we are today, having overcome the challenges of the pandemic and emerging stronger both physically and mentally.
The tough times also taught us to be better as human beings; kinder to one another. The late American author and motivational speaker Leo Buscaglia, who was also a professor in the Department of Special Education at the University of Southern California, United States, once said, "Too often we underestimate the power of a touch, a smile, a kind word, a listening ear, an honest compliment, or the smallest act of caring, all of which have the potential to turn a life around."Perhaps this year, we can take some time to reflect and recharge. In European culture, rabbits are considered springtime animals and hence symbolic of renewal and rebirth.
So, let us enter the Year of the Rabbit not with a sense of defeat but rather, with renewed hope, optimism and strength.
Analysts expect 2023 to be a good year for various economic sectors – from education to retail, and from property to healthcare. But it is also important to remember the "care economy", which is not just about selling and buying goods, but also providing services and support – including for free – to the most vulnerable and needy in society.Yes, the Rabbit seems a fragile creature but in reality, it is also agile, smart, quick on its feet, and very caring. More than that, fragility is in essence vulnerability, which we must embrace and allow ourselves to be sometimes.
My long-time colleague and someone I consider a mentor, Datuk Lee Weng Keng, would probably agree that while we humans are vulnerable, it is up to us to pick ourselves up and move on. It would be wise to embrace the words of Confucius: "Our greatest glory is not in never falling, but in rising every time we fall."
In pop culture, there is the nonchalant Bugs Bunny, and Peter Rabbit, a mischievous little fellow. And then there is the white rabbit in Alice in Wonderland which lands its followers in the middle of strange and wondrous situations.
Such situations very often challenge our beliefs and change our lives. In this regard, this year could be life-changing for many of us.
Let us welcome this Year of the Rabbit as a new adventure and a continuum of our growth journey. We had hopped over various obstacles over the last few years. Now, it is time for us to aim to be better and more wholesome, as individuals and together with our family, community, and the world.
To the Chinese community, the New Year marks the beginning of Spring, an important season.
As a popular Chinese proverb goes, "A year's plan starts with Spring; a day's plan starts with early morning." It means a good harvest depends on Spring sowing.
In this regard, let us start the year off on the right foot and ensure this will be the best year in all that we do.
On behalf of Sunway Education Group, I wish all The Star readers good health, wealth and happiness in the year of the Rabbit. Gong Xi Fa Cai!
Prof Datuk Dr Elizabeth Lee is the chief executive officer of Sunway Education Group. A veteran in the field of private higher education, Prof Lee is also an advocate for women in leadership. She has been recognised both locally and internationally for her contributions to the field of education. The views expressed here are the writer's own.
Subscribe now to our Premium Plan for an ad-free and unlimited reading experience!