KUANTAN: A RECENT blood donation drive organised by the Taiwan Buddhist Tzu Chi Foundation Malaysia saw an encouraging response from the public to help those in need.
Its Kuantan centre coordinator Kong Siew Kuan said it was the first time the programme was held within its centre's premises in Jalan Haji Ahmad.
"Previously, it was held at a shopping complex twice a year. "However, we found the atmosphere not too conducive for the donors," she said in an interview.
Kong said despite the lack of publicity and space constraint, a total of 138 people turned up.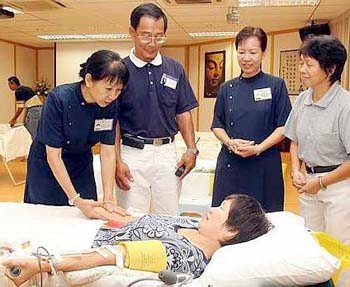 "At the last count, we had collected 125 packets of blood.
"Thirty-one people also pledged to donate their organs during the campaign," she said.
Kong said a special programme called "The Great Love" performance night would be held here on November 1.
She said several artistes from Taiwan had been invited to entertain the crowd.
"The objective is to promote our organisation so that more people are aware of our activities to help the needy regardless of race, religion or creed.
"We hope people will come to give their support and get to know our organisation better," she said, adding that admission was free. For more information on its activities, the public can contact its office at 09-517 2061 or 09-517 2969.