The encouraging response for the primary schools category in the Power 10km Run at the Dataran Merdeka recently has prompted the organisers – Federal Territory Amateur Athletics Association (FTAAA) – to include the category in other runs as well.
Even Deputy Federal Territories Minister Datuk M. Saravanan was surprised with the presence of the primary schoolchildren, some of them as young as seven, lining up for the 3km run.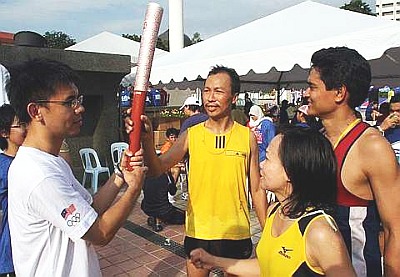 "The parents should be commended for sending the children to the run.
"I also saw some parents running along with the children.
"These are good signs and the FTAAA should continue to include this age group in upcoming runs,'' said Saravanan, who had flagged off the run.
The run was organised by the FTAAA and City Hall Kuala Lumpur while the sponsors were Bata Malaysia, the distributors of Power, 100 Plus and Milo.
Bata Malaysia senior marketing manager Datuk James Selvaraj said about 5,000 participants had made the run a success.
"The number was bigger than the previous year. The interest shown by the young runners was most encouraging," said Selvaraj.
He also thanked the Kuala Lumpur Schools Sports Council (MSSKL) for promoting the event in schools.
FTAAA secretary S. Vegiyathuman said they were keen to start a regular short distance running programme for primary schoolchildren.
Olympic Council of Malaysia (OCM) secretary Datuk Sieh Kok Chi and his daughter Shannon Sieh also took part.
For Sieh, taking part in the run was his way of showing his appreciation to Bata Malaysia's active involvement in OCM programmes.
"Bata Malaysia is one of the partners and has supported the Malaysian contingent for the SEA Games, Asian Games and Olympics.
"It is my responsibility to take part in their event,'' said Sieh.
Several former inter-nationals, M. Ramachandran, M. Ramakrishnan and G. Supermaniam, also took part.