Going on a heritage walk is more than just visiting historical buildings or places of interest, or listening to stories about them. It is also about interacting with the locals in the community.
"Tourists today want to experience the real thing as opposed to mock-up encounters. They want to engage with locals, too. The tourism industry has evolved to cater to this, " said South-East Asia Tourist Guides Association president and Malaysian Women Tourist Guide Association chairwoman Erina Loo, 47.
She added that besides interaction, a true heritage walk should also engage all the different senses. It is more than just about sightseeing; it should be a purposeful, sensory journey.
In Kuala Lumpur, tourists are able to experience this through the heritage walks – Old Town Walk, Food Walk or Night Alley Walk – offered by the Tourist Interaction and Information Centre (TIIC).
A walk down the popular Jalan Tun H.S. Lee will offer good examples of traditional trade. The street is known to locals in the area as "hai kai" or high street during colonial times.
Kuala Lumpur's Tun HS Lee Street, also known as 'Hai Kai' (High Street) is a showcase of traditional trade, such as this dried goods store."A lot of these traditional tradesmen may be nameless faces to visitors, but they are an important part of the heritage of a city or a town. It is through them that many living traditions are passed down through the generations, " said Loo who has been operating the heritage walks in KL city since 2010.
Shops selling dried seafood, ginseng, old crockery, hardware and sewing supplies dot the streets here. Tourists are encouraged to interact with the vendors, many of whom have been working in the area for decades, to learn more about the community and their history.
"Although often taken for granted, they (the decades-old shops and their proprietors) are the soul that makes a visit to the city unique to a traveller. They are a living, breathing intangible heritage and should be preserved, " Loo noted.
Sean Tan, 35, is a licenced tour guide who leads some of the walks in the city. He said that the experience can help local communities survive and also educate youths to appreciate a fast disappearing heritage.
"Some of the young people in our city might not have even visited a wet market before, or bought ingredients at a provisions store. Many of these businesses have been here for a long time, and we try to support them by encouraging visitors to buy their products. This helps to preserve a traditional heritage, " Tan added.
Take some time to speak to the caretakers of the Sin Sze Si Ya Temple.
Apart from the shops, visitors can also head to the Sin Sze Si Ya Temple, the oldest Taoist temple in KL. Built in 1864 by Kapitan Yap Ah Loy, the temple has an interesting caretaker fondly known in the community as "Tai Ku Cheh" (big aunt) who is in her 80s. Her family, together with other members of the community, has looked after the temple for three generations.
According to Tai Ku Cheh, back in the 1850s, the temple also served as a community centre where tin miners can have their letters written by scholars or other educated folks, or even get free education and medical consultation.
Today, the temple is a popular tourist attraction.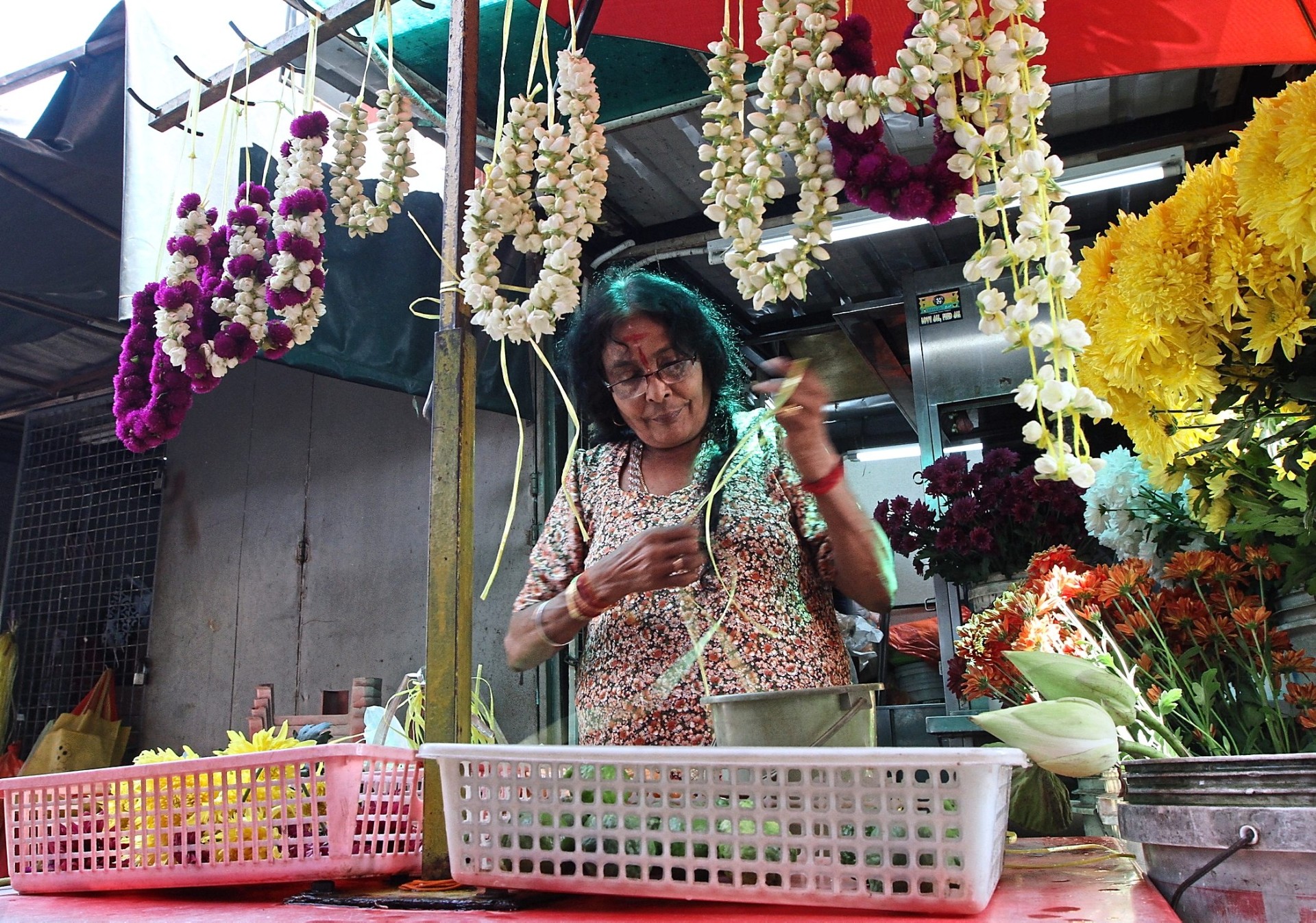 One of many stalls selling fresh flowers along Jalan Hang Lekir.
Also on the heritage walk routes is Jalan Hang Lekir, where you can find many fresh flower stalls. One of the stalls is run by Aunty Shantini, a woman who has been selling flowers used for prayers at a nearby temple for the past 50 years.
Tan revealed that during a Night Alley Walk, visitors would usually be given a fragrant jasmine flower bracelet from the stalls.
"This is more than just a decorative souvenir for a tourist. It makes their journey 'more fragrant' as they walk through alleys where they might be bombarded by strong smells they are unused to, " he said.
Head to the Tun H.S. Lee Hawker Centre for a hearty bowl of noodles.
These strong smells do not include the aroma of delicious food, of course. A big part of any tourist's travel experience around the world is trying out the local cuisine. "Tourists love to taste local food whenever they travel. Even locals are keen to discover more about traditional cuisine, " Tan said.
TIIC's Food Walk experience includes taking tourists to buy fresh ingredients at the wet market and cooking something local. Those who are not up to that can just check out the many, many stalls selling delicious local desserts and snacks, some of which are still made in the traditional method.
Sean Tan (left), a tour guide who leads some of the heritage walks in Kuala Lumpur, shows guests how to make some traditional delicacies during the food experience.
The centre also offers heritage walks in Melaka, George Town (Penang), and Taiping and Ipoh (Perak) upon request. They also have heritage walks in other South-East Asian destinations such as Jakarta, Indonesia and Luang Prabang, Laos. It is their vision that all historic cities and capitals in the Asean region will have their own signature heritage walk by the year 2025.