Familiar favourites and inventive new creations reign at Bijou.
I can't say no to a good Caesar Salad. Perhaps it has something to do with the artful clash of flavours and textures — crisp greens, crunchy croutons, beef bacon bits and a yummy soft-boiled egg, all in a creamy dressing.
Recently, I found a worthy variation at Bijou. To the delight of foodies, the restaurant recently launched its new menu. I dropped in to sample Chef Dhillon Ng's innovative new offerings, and the salad got me at first bite. Generously portioned and tossed with the whole works, including a sizable serving of sautéed garlic prawns, Bijou's Caesar Salad (RM 24++) is a winner.
According to the eatery's co-owner Debbra Lee, "The new menu is a mix of old favourites done the Bijou way. Our aim is to perfect the old favourites so hopefully your Caesar Salad will be one of the best you have tasted."
There is more than mere leafy greens on offer, of course. Other starters include the commendable breaded Dungeness Crab Cake served with cucumber yoghurt, pineapple and tomato chutney (RM25++). This is piping hot morsels of crab housed in a crispy shell and paired with yoghurt and chutney. Who can resist a good crab cake, eh?
Soup lovers might also want to consider the Spiced Plum Tomato Soup (RM15++) from the lunch menu. A tad spicy courtesy of a sprinkling of Cayenne pepper, the soup came with two New Zealand mussels, chunky herbed croutons and fresh cilantro. Nice.
Lee believes things should be kept interesting when it comes to food. With the help of its talented chef, Bijou's new menu now features six pasta items.
"It's what Malaysians like," she said. A self-confessed foodie, Lee worked closely with Chef Ng to decide which items on the menu stayed and which went. But it was the customer who had the last say.
With the Asian Chicken and Shrimp Ravioli (RM24++), the chef gingerly experimented with Eastern flavours. The result is tasty as the accompaniment of scallion and wilted baby spinach matches the savoury ravioli perfectly.
"We have also added some Asian flavours in the menu; for instance, the Duck Pasta is a little Chinese, taste-wise, while the Prawn Pasta tastes a bit Malay. And of course, our ravioli has become a huge hit," said Lee.
The Pan-flash Tasmanian Salmon Trout (RM38++) also comes highly recommended. My salmon was well-done, but the true surprise came in the form of the chilli flake-flavoured soba — a spicy treat! Again, there was a tinge of Asian cuisine; in fact, the noodles were strikingly similar to a dolled-up mee goreng.
The friendly people at Bijou haven't raised their prices as they are aware that in the present economic climate, dining out is a treat.
"We have tried to come up with a menu that is reasonably priced, but have also kept the food interesting with an emphasis on freshness," she said.
"So we changed the ingredients a little. For example, we found some great local pea shoots that taste amazing, which we use instead of Australian spinach."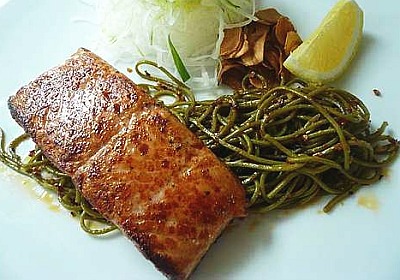 They have also made an effort to avoid serving fish that is on the endangered list. This includes cod and salmon. Instead, the restaurant is big on salmon trout from Tasmania and sea bass sourced locally or from around the region. And for ethical reasons, foie gras is not on the menu, either.
What's perhaps most appealing is how the flavours complement each other. An excellent example of this is the signature dessert, the Bijou Mess (RM19++). Featuring succulent fresh strawberries, raspberry coulis and an avalanche of meringue and whipped cream, the dessert is an eye-popper in terms of presentation.
The crunchy meringue and the smooth and creamy whipped cream were perfect foils to the fresh fruit, we thought. But the ultimate surprise was the addition of Kahlua, which threw any preconceived notions of what Bijou Mess was all about out the window. The coffee liquor glided down the meringue and the whipped cream like a delicious oil slick — definitely not a slimmer's choice!
Check out Bijou's new menu. It is full of exciting new flavours with a few culinary surprises thrown in for good measure.
BijouPork-freeGround Floor,Damai Sari,Mont Kiara Damai,3 Jalan Kiara 2,Mont Kiara,Kuala LumpurTel: (03) 6201 3300Business hours:Monday to Friday,8.30am to 11pm.