PETALING JAYA: MR DIY Group (M) Bhd

, which posted a record-high quarterly revenue of RM1.05bil in the April-June 2022 period, hinted that the operating environment may get tougher moving forward.
Amid the expected impact of inflation and rising interest rates on disposable incomes, the group said it remained "cautiously optimistic" on its prospects.
Nevertheless, the largest home-improvement retailer in Malaysia is not hitting the brakes in expanding the number of its stores across all three brands nationwide.
MR DIY said it planned to open 87 more new stores in the second half of this year.
The group had opened 93 new stores in the first six months of 2022, bringing the total number of stores to 993 as at end-June 2022.
In the second quarter ended June 30, MR DIY's net profit surged 64.59% year-on-year (y-o-y) to RM135.19mil.
This was achieved on the back of a stronger revenue, which jumped 38.02% y-o-y to RM1.05bil.
"This (higher revenue) was mainly attributed to an increase in total transactions which grew 35% y-o-y to 36.1 million, as well as contributions from new stores, which increased 20.1% y-o-y from 827 to 993.
"The higher revenue is also consistent with the nation entering into the endemic phase from April 1, which led to the opening of more economic sectors, the gradual normalisation of consumer spending and the higher spending levels due to the festive season.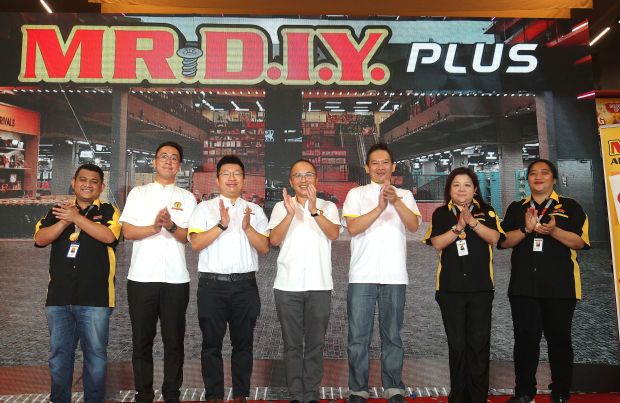 From (left) MR DIY Group retail management area manager Mohamad Nurdin, marketing head Alex Goh, business development vice-president Leo Gan, chief executive officer Adrian Ong, retail management vice-president Eric Lau, retail management regional manager Jannice Tan and Suraidah retail manager branch manager Suraidah Ebdei at the launch of MR DIY Plus at Mid Valley Megamall.
"The y-o-y increase also takes into account the temporary closure of some stores during the corresponding quarter last year," the group told the stock exchange in a filing yesterday.
MR DIY's gross profit margin for the second quarter was 0.5 percentage points lower y-o-y at 41%.
This was mainly due to the impact of freight costs as well as higher input costs.
In order to partially mitigate the impact of cost pressures, the group raised prices for some of its products during the period.
On the back of its stronger profit, MR DIY's earnings per share also increased to 1.43 sen. For comparison, the stock closed at RM2.32 yesterday.
MR DIY declared a dividend of 0.6 sen per share for the second quarter, representing a payout of RM56.6mil.
For the first half of its financial year 2022, MR DIY reported a net profit of RM235.69mil, representing an increase of 13.9% y-o-y.
Revenue rose by almost 20% y-o-y to RM1.95bil in the six-month period.
Looking ahead, MR DIY chief executive officer Adrian Ong said the group will focus on optimising costs and achieving operational efficiencies, while ensuring optimal levels of stock at stores.
"It is clear that moving forward, the market is going to be more sensitive to external impact; we will need to accept this dynamic.
"Agility, responsiveness and a data-driven approach will be key tenets of our management philosophy, moving forward," he said.
On the group's new store format introduced in June – MR DIY Plus – Ong said the response has been tremendous, with over 200,000 visitors to the store in the one month since it opened.
"Our new format houses all three brands (MR DIY, MR DOLLAR and MR TOY) under one roof, making it more convenient for families to shop for everything they need all in one location while enhancing our value proposition and making it more compelling for the entire family to visit our store," he said.
Subscribe now to our Premium Plan for an ad-free and unlimited reading experience!