Staff at Hong Kong's flag carrier Cathay Pacific keep hitting the headlines for all the wrong reasons. Over the past few days, the airline has been embroiled in a widening scandal as its crew were caught openly humiliating mainland Chinese passengers. Recently, its pilots were accused of deliberately slowing down while taxiing their planes. In the second of a two-part series, Laura Westbrook and Oscar Liu explore pilots' grievances.
When Jeremy Jones*, a senior pilot from Australia joined Hong Kong's Cathay Pacific Airways a decade ago, he rented an 800 sq ft flat in Mid-Levels. The monthly rent was HK$32,000 (US$4,086).
Two years ago, he and his family downgraded from the affluent neighbourhood to a 650 sq ft flat in Tung Chung, near Hong Kong airport, forking out rent of HK$20,000 per month.
Do you have questions about the biggest topics and trends from around the world? Get the answers with SCMP Knowledge, our new platform of curated content with explainers, FAQs, analyses and infographics brought to you by our award-winning team.
Like all Cathay Pacific pilots, he had his salary cut by 40 per cent two years ago and now up to 30 per cent of his income is variable, pegged to his actual flying hours.
"Bills had to come down. We do not eat out as much. Now we cook at home and invite friends over," said Jones, who like all pilots the Post spoke to, declined to be identified.
Life in the city was getting more expensive, he said, and he and his homemaker wife just had a baby last year.
"We are looking at a HK$140,000 tuition fee a year for when my daughter starts at an international school. The HK$100,000 education allowance I am entitled to when she turns three is just not enough with my decreased income," the 40-year-old said.
Until a few years ago, Cathay's pilots were among the best paid in the industry and the envy of many peers while the airline's brand bestowed prestige to staff based in the city.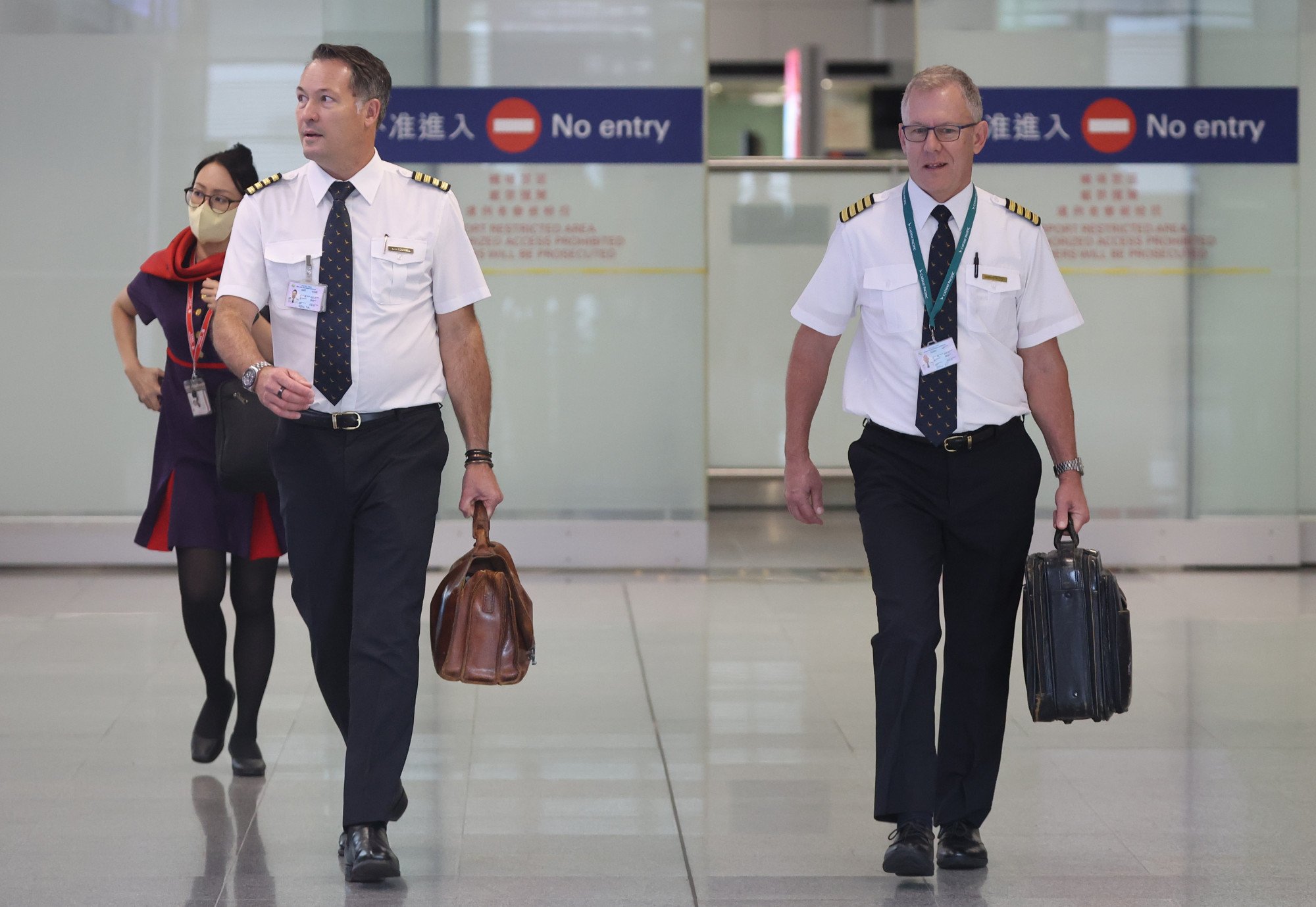 However, as the carrier's fortunes plummeted during a turbulent three years of the coronavirus pandemic, staff's standing and morale also suffered. The airline enforced new, cheaper employment contracts for flight and cabin crew to cut costs and working for Cathay no longer carried the same cachet as before.
Now as the city and the carrier emerge from the pandemic, salaries have not been restored to anywhere near the previous levels. To make matters worse, amid a global shortage of pilots, other airlines have been quicker to throw money at the problem.
Against that backdrop, insiders say it should come as no surprise that Cathay pilots are an unhappy lot. How will the shortage of manpower combined with low morale affect the carrier's recovery? Will pilots' concerns be tackled decisively?
The good old days
During the pandemic, Cathay's passenger capacity dropped to a mere 2 per cent of 2019 levels, coming off the back of the anti-government protests that year that had scared away visitors.
With no domestic market to fall back on, the airline was brought to its knees as it bled cash. In October 2020, it axed 5,900 jobs and closed regional arm Cathay Dragon and took a HK$39 billion government-backed restructuring plan.
Even before the pandemic, however, it was already facing stiffer global competition and had begun trimming its remuneration packages. In 2018, it introduced lower starting salaries for all new employees.
By 2021, it extended these terms to pilots, with a transition period to shrink housing and education allowances by December 31, 2022.
Before the cuts, it was not uncommon for Cathay captains to enjoy housing allowances of up to HK$1.2 million a year.
Cathay said then that the contract, which slashed pilots' salaries by around 40 per cent, with cuts in housing and retirements allowances, brought their remuneration package in line with those of overseas competitors such as Singapore Airlines.
But with travel demand spiking after the pandemic, airlines have raised fares and major carriers such as Singapore Airlines and Emirates have posted record profits. In turn, staff are being rewarded with bonuses and better salaries.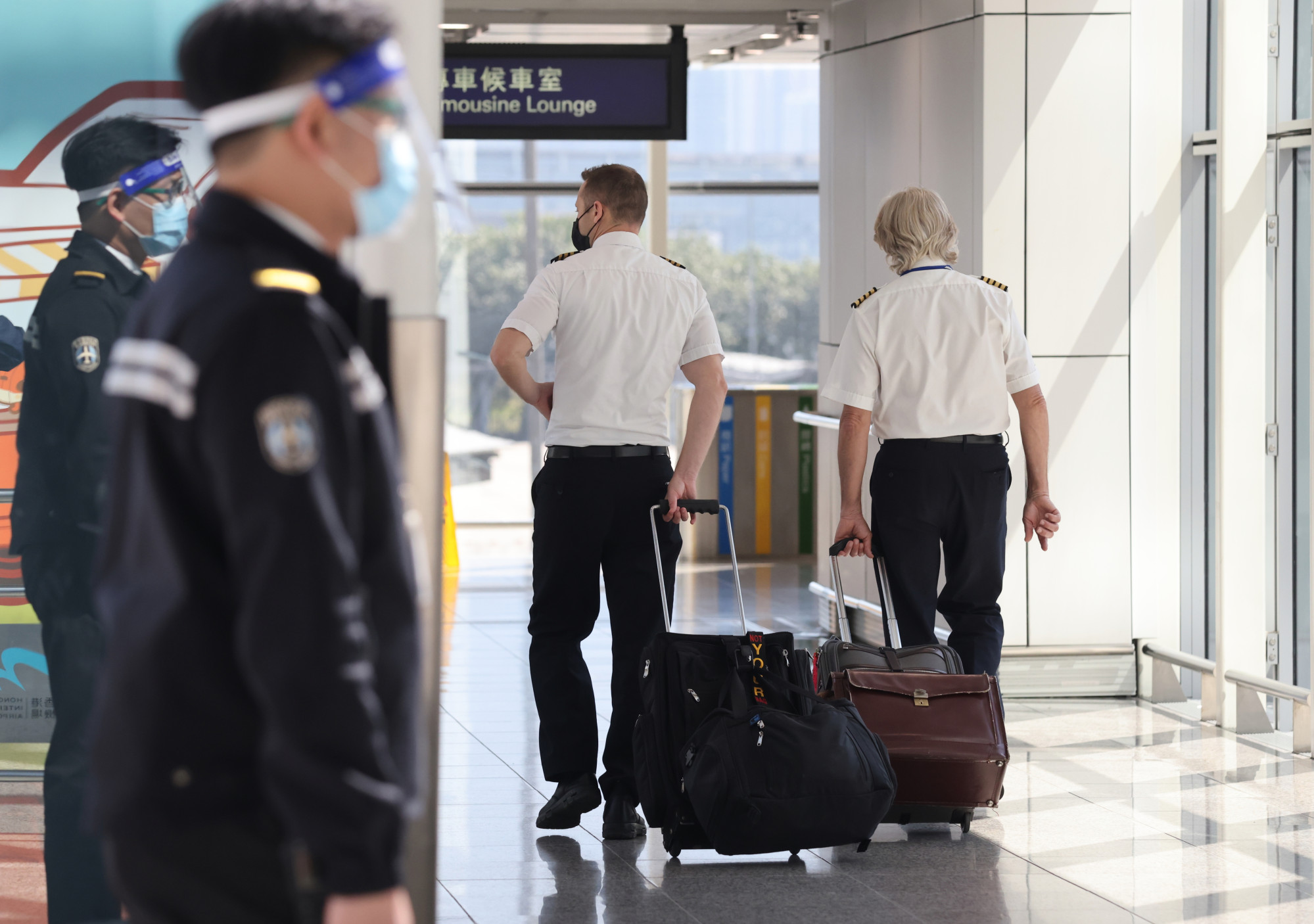 As Hong Kong was one of the last cities to abandon its harsh Covid restrictions and open its borders fully, Cathay is still playing catch-up with competitors.
Its union says the carrier must act decisively to improve its contract to remain competitive in a market hungry for experienced pilots. Many who can up stakes have already left for better pastures. Others had resigned during the pandemic.
Pilots who joined the airline from 2018 on the COS18 scheme receive a yearly basic salary of HK$376,608 for an entry-level second officer, HK$577,500 for an entry-level first officer and "up to" HK$1.2 million for top-level captains. Annual basic pay excludes allowances, bonuses and pension contributions.
In contrast, those who signed a contract known as COS08 in 2008 received HK$488,964 for second officers, HK$975,504 for first officers and up to HK$2.1 million for top-level captains. COS08 pilots and COS18 pilots received yearly maximum housing packages of HK$480,000 and HK$396,000, respectively.
In addition, up to 30 per cent of a pilot's salary is now variable and tied to the number of hours flown. The variable portion previously was only 10 per cent.
The figures tell a stark story of the changing fortunes of Cathay pilots. According to the airline's latest annual results in 2022, the number of pilots who received millions of dollars per annum has dropped by half since 2019, partly owing to attrition but mostly because of the pay cuts.
For example, eight pilots took home a yearly payment of HK$4 million to HK$4.5 million compared with 94 in 2019.
Twenty-six pilots took home between HK$3.5 million and HK$4 million compared with 248 in 2019, while 71 earned HK$3 million to HK$3.5 million compared with 437 in 2019.
The Hong Kong Aircrew Officers Association last Tuesday said the airline had 3,840 pilots of all ranks across Cathay and its defunct subsidiary Cathay Dragon in the fourth quarter of 2019 before the pandemic struck, which went down to 2,417 by last month.
The association said the number of captains more than halved from 1,410 to 678, while the first officer headcount dropped 38 per cent from 1,740 to 1,074. The number of second officers fell 3 per cent from 690 to 665.
Money fed into the lower morale overall, along with rules during the pandemic that required staffers to be in closed-loop arrangements and away from home for weeks at a stretch.
Now with more flights being added without added manpower, the situation was becoming a recipe for trouble, according to pilots and crew.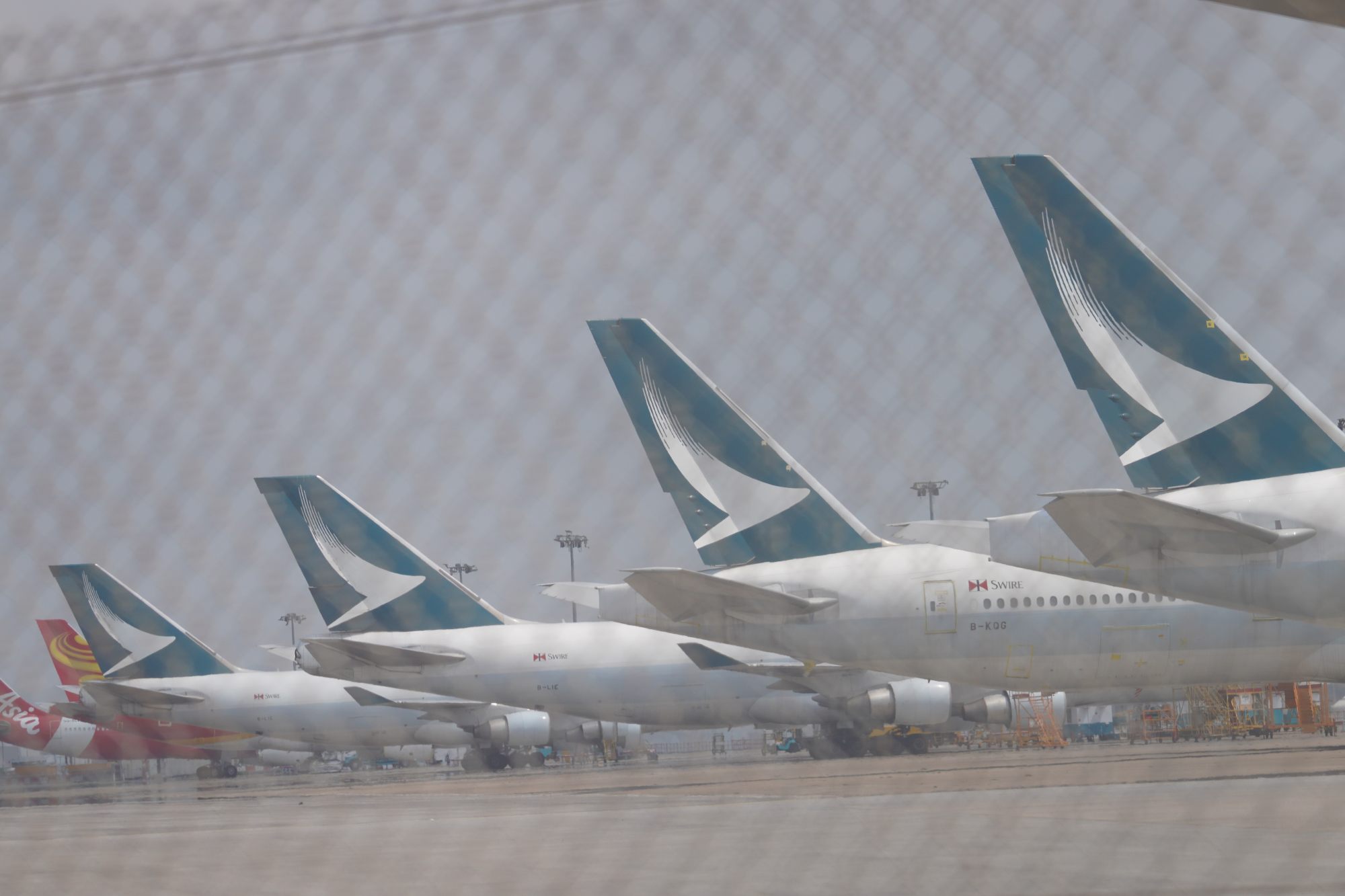 The issue of staff morale also emerged after three crew members were summarily sacked for insulting the English abilities of some mainland Chinese passengers on a flight to Hong Kong. The union described morale as "extremely low" and needing desperate attention.
Earlier this month Cathay pilots were warned against deliberately taxiing slowly allegedly to get more hours recorded to collect more pay. Authorities accused them of contributing to congestion at Hong Kong's airport.
But junior British expatriate pilot Davis Thompson*, 35, said the extra taxiing time did not amount to much. Rather, it was "more a reflection of pilots not willing to go the extra mile for the efficiency of the company".
Paul Weatherilt, chairman of the airline's association, which represents Cathay pilots, said: "During the pandemic, everyone understands we have to save money. The pandemic is over now."
Weatherilt remained hopeful that the contract would be improved, saying the union was willing to work with management to "hammer out some significant changes to make the job more attractive, to retain people and hopefully, attract back some of the people that have left".
He said the current pay scheme for pilots was similar in many ways to other airlines' contracts, particularly in the United States, but remuneration was higher there "with more protections in place".
Cathay also needs to repay the government the loan it took during the pandemic.
Andrew Yuen chi-lok of Chinese University's Aviation Policy and Research Centre said that while the carrier was still in the recovery stage, it "may want to be more conservative to improve financial health in a short period".
But he noted in the long run, Cathay faced "keen competition from other hub carriers in long-haul markets and low-cost carriers in short haul".
Shukor Yusof, founder of aviation advisory firm Endau Analytics, said in the past three decades Cathay had retained the title of "best qualified people in the business", which had come at a price.
"They understand their position and they were able to push their agenda in terms of pay and privileges in the company. Before Covid it was managing quite well, but I think now there is no room for that," Yusof said.
Unrelenting competition
The Singapore Airlines Group, which includes its budget arm Scoot, made US$1.62 billion in the last financial year, its highest net profit in a 76-year history.
As part of a profit-sharing bonus formula agreed with unions, the group will pay all eligible staff a bonus of 6.65 months and a maximum of 1.5 months' salary of ex-gratia bonus, adding up to about eight months' wages.
During the pandemic, pilots agreed to take pay cuts of up to 60 per cent in a deal which saved about 400 jobs in 2020. In a statement to the Post, a spokesman said the carrier had "fully restored all pay cuts that were implemented during the pandemic in 2022".
Singapore Airline Group was at 79 per cent pre-pandemic passenger flight capacity in March, while the Cathay Group, comprising Cathay Pacific and its budget arm HK Express, said it reached 50 per cent in the same month.
Meanwhile Dubai-based Emirates Group reported an annual profit of US$3 billion and a group revenue increase of 81 per cent to US$33 billion. According to media reports, the airline would be offering a six-month bonus to staff. The carrier declined to comment on the subject citing privacy reasons.
According to an industry source, Emirates had restored pay cuts made to pilots' contracts during the pandemic.
The demand for pilots across the globe has given unions leverage to bargain for higher salary increases, with US carrier Delta Air Lines offering a 34 per cent pay rise to its pilots over three years in an industry-leading contract.
American Airlines pilots will get a 21 per cent pay rise this year as part of a new four-year tentative contract, according to a Reuters report last week.
American, Delta, United Airlines and Southwest Airlines are estimated to hire about 8,000 pilots this year. This month, Australian carrier Qantas, which cut 30 per cent of staff during the pandemic, said it was looking to recruit 300 more pilots and cabin crew this year.
Cathay Pacific CEO Ronald Lam Siu-por took over the reins in January with a priority to be productive and competitive, but revealed at a shareholders' meeting in May that staffing problems, including among flight crew, were affecting the airline's ability to further increase its capacity target.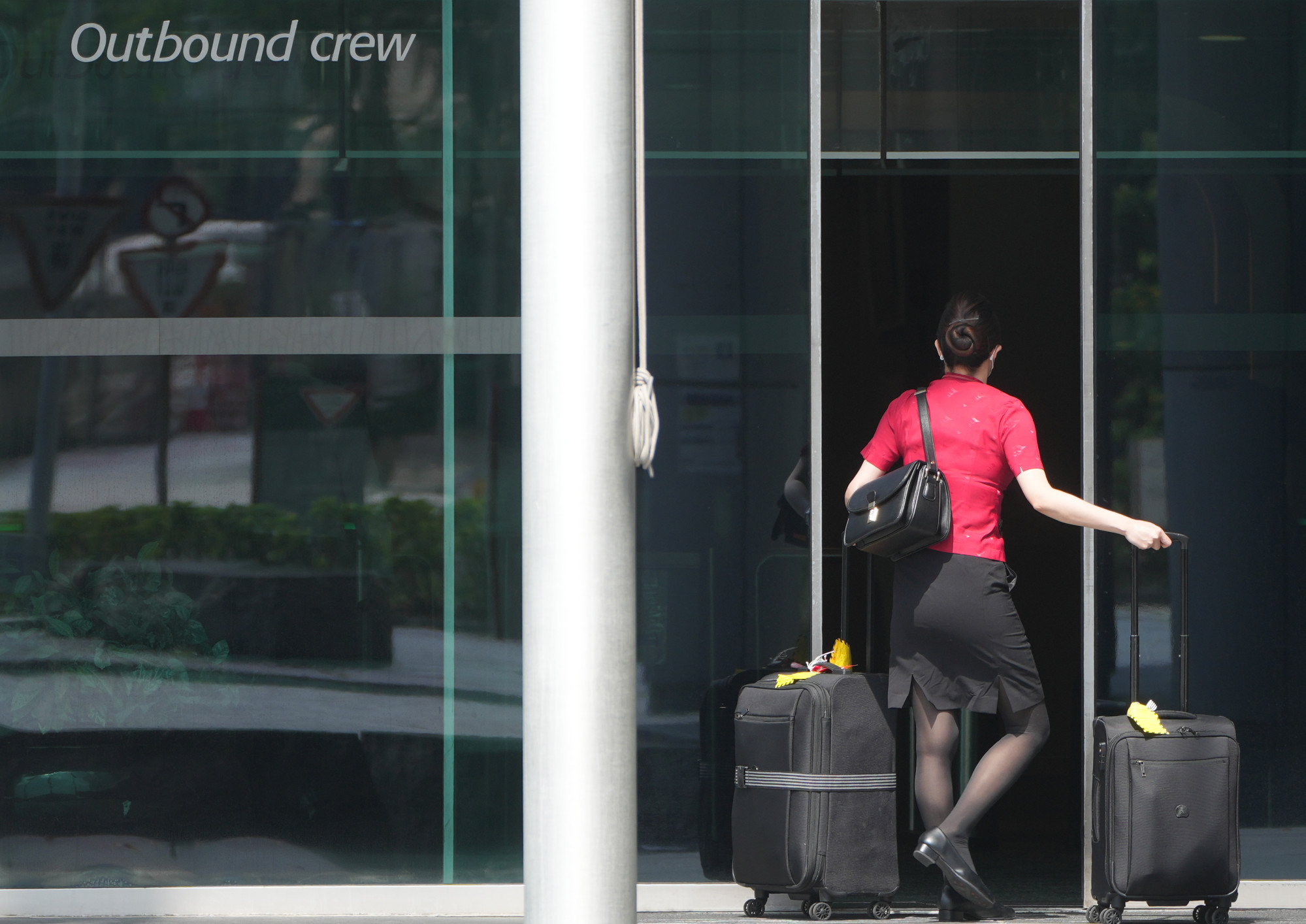 The group has set a target of 70 per cent of pre-pandemic passenger flight capacity by the end of the year and 100 per cent at the end of 2024.
The airline also has to overcome a backlog of training for its flight crew.
Cathay Group posted a HK$6.5 billion (US$828 million) loss for 2022, but the company's core airline operations rebounded to a HK$2.26 billion profit during the last six months of 2022.
The airline increased its allowances starting from this year. The most senior captains now receive a monthly extra payment of HK$36,000, amounting to HK$432,000 annually on top of their base salary and hourly flying rates.
The airline also increased the annual education allowance for pilots' children to HK$100,000 per child for annual school fees. The pilots union said the mark was previously calculated at 90 per cent of school rates set by the English Schools Foundation (ESF). According to the ESF, the rate for the current school year is between HK$119,100 and HK$159,300.
In a statement to the Post, a Cathay spokeswoman said the contract introduced in 2018 aligned its "business objectives with our pilots by rewarding productivity whilst also protecting pilots during down time".
Pointing to a 3.3 per cent increase in base monthly salary from January, the airline said it reviewed its competitiveness regularly.
The spokeswoman added that the airline's attrition rate had "normalised across all staff groups, including pilots", and it had hired back 250 Cathay pilots, including captains and first officers.
The carrier said it was on track to hire 3,000 people this year, including 700 pilots.
But the new measures were not enough for Jeremy Jones, as he has decided to leave Hong Kong for the United States. He paid HK$120,000 to apply for a so-called green card, as well as HK$80,000 to convert his pilot licence.
"It's totally worth it," Jones said, adding he could make much more in the US. "Hong Kong is one of the best cities in the world and I love Cathay, but not that contract."
Gulf carriers such as Emirates and Qatar Airways are also on a global hunt for pilots.
While the base salaries were comparable with Cathay's, generous allowances such as Emirates offering a four-bedroom villa for families and education allowance for school-age children, are juicy carrots. Plus, there is no personal income tax in the United Arab Emirates.
Some 210 pilots in Hong Kong attended an in-person recruitment fair hosted by the carrier in March, Emirates told the Post.
According to its website, an A380 direct entry captain's yearly salary is HK$1.11 million, while a first officer can earn HK$788,000 as an annual base salary.
"Emirates loves Cathay guys because the standard is really high," said a former senior Cathay pilot, Jack Smith*, who resigned last year.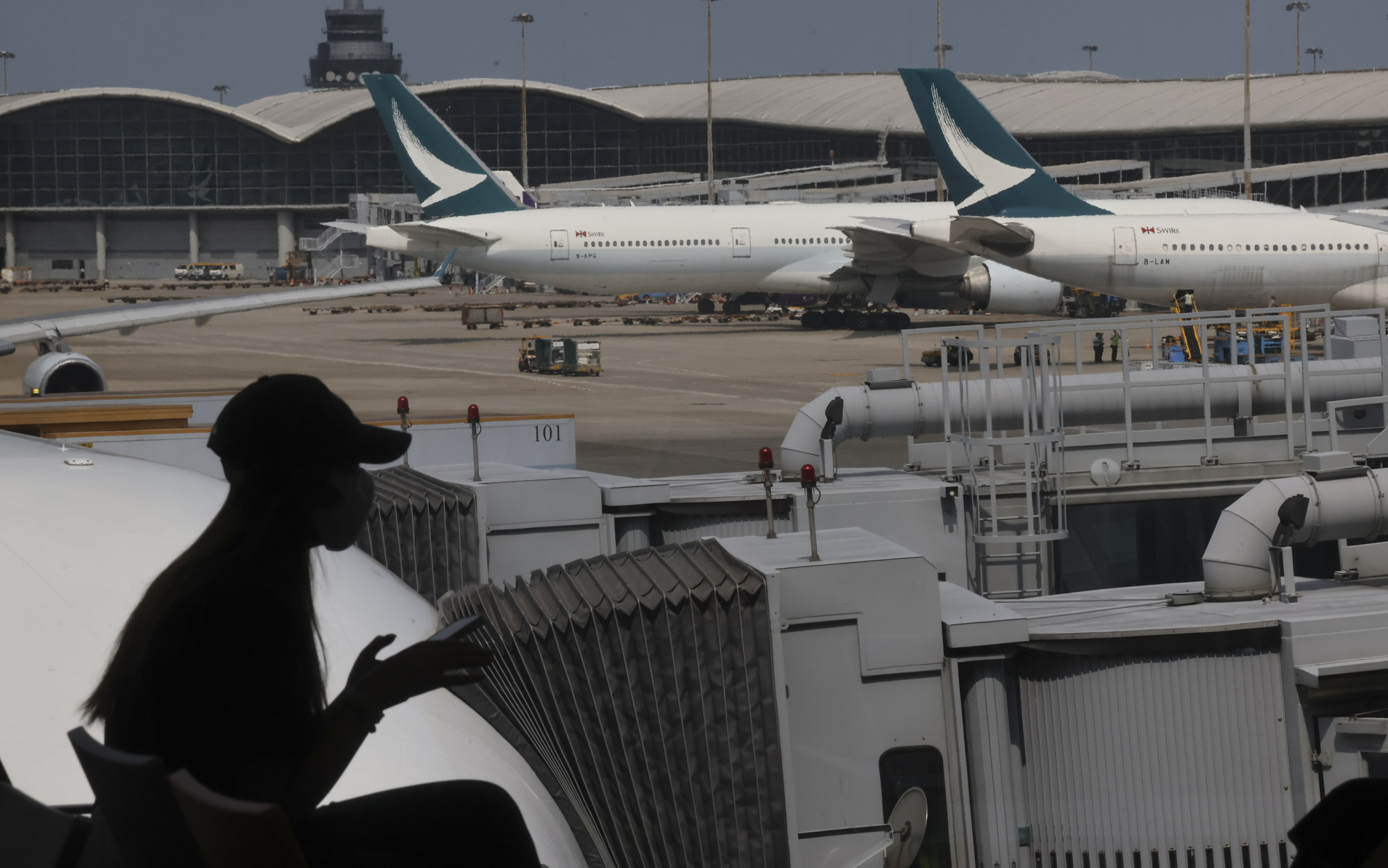 Junior pilots at Cathay have fewer options, as those who move airlines must work their way up the ranks again.
As they stay put, however, Cathay's junior pilots are being deployed for ground staff duties instead of clocking flying hours.
Starting from next month, cadet pilot graduates will spend up to two months at Hong Kong's airport, including frontline customer training in different positions.
Cathay said the trial programme would broaden the induction experience of its cadet pilot graduates.
Among them is Shane Yeung*, 26, a local junior pilot who joined Cathay less than three years ago.
"I haven't even touched a real aircraft since I finished the training in Australia. Yet the company calls us 'future captains'. How ironic," he said.
He said he was asked to do ground duties four days a week, including classroom training and scanning boarding passes, which did not count as flying hours.
Yeung said he had no plans to leave until he completed his training, as he needed to commit to working with the company for six years. Pilots who quit the airline within six years of employment must reimburse a portion of the HK$1.1 million pilot training course fees.
Another local junior pilot, Samuel Wong*, who has been with Cathay for more than five years said he did not know the amount of his next pay cheque as his rostered flight times were unpredictable.
The contract means salaries are pegged closer to productivity so those who fly more will take home more. "For the past six months, the fluctuation of my monthly income was between 30 and 50 per cent," Wong said.
As a result of the salary fluctuations, he had been unable to move out of his flat in Wan Chai, which he shares with a roommate for HK$15,000 a month.
"There's a lot of uncertainty in my monthly income. I barely have savings."
Yuen of Chinese University said the salary structure, which was based on actual flying hours, had introduced uncertainty to pilots, especially junior ones who still had ground duties.
"Cathay may need to review the arrangement, which will affect the attractiveness of new hires," he said.
Independent aviation analyst Brendan Sobie said the airline's recovery was delayed due to Hong Kong lifting travel restrictions much later, but with high demand for pilots globally, it needed to act swiftly.
Yusof of Endau Analytics said the airline's recovery was tied to the city's future as a thriving global hub. "Both share the same fate ... Hong Kong needs to be in good health before Cathay can improve."
*Names changed at interviewees request
More from South China Morning Post:
For the latest news from the South China Morning Post download our mobile app. Copyright 2023.
Subscribe now to our Premium Plan for an ad-free and unlimited reading experience!