Malaysia:
* Syamsul Yusof denies 2nd wife bewitched him, not willing to divorce 1st wife despite what mum says
* Ex-Goldman banker Roger Ng must forfeit RM155.3mil in 1MDB corruption case, says US judge
* 'Ex-Astro CEO has returned US$10mil linked to 1MDB'
* Goodbye to 'glamorous celebrity journalist' Kee Hua Chee
* Malaysia open to fresh talks on aborted King Salman Centre for International Peace, says Anwar
* Saudi business community's interest a sign of Malaysia's political stability, says PM
* Store manager who was charged with drug possession gets bail following landmark case
* Senior citizen probed for obstructing MBPJ dog catchers from carrying out their duties, say cops
* Govt to conduct impact study on Payung Rahmah initiative in June, says Salahuddin
* Goodwill and friendship: Wear baju Melayu, Malaysians urged
* Prasarana rail, bus services recorded one million passengers on March 21
* No Marburg virus disease detected in Malaysia so far, says Health Minister
People by iftar food to break their fast during the first week of Ramadan in Jakarta, Indonesia, Saturday, March 25, 2023. Muslims around the world are observing Ramadan, the holiest month in Islamic calendar, where they refrain from eating, drinking, smoking, and sex from dawn to dusk. - AP
Singapore:
* Planet of love Venus sidles up to glowing crescent moon in Singapore night sky
* High Aedes mosquito population might lead to dengue outbreak in 2023, public advised to be on alert, says Singapore govt
* SIA cargo flight from Singapore to Shanghai diverted to HK after false fire alarm triggered
* Singapore PM Lee says world cannot afford a US-China conflict
* Man gets six month's jail over sale of obscene videos
* Oil prices settles lower on worries over European banks, US crude reserve
Indonesia:
* Political moves heat up as Indonesian parties hunt for presidential, vice-presidential candidates
* 28-year-old woman nabbed on Indonesia-bound ferry after allegedly scalding husband with hot water
* Good end to the week as Indonesian rupiah jumps on foreign inflows, most other Asian currencies subdued
* Five enforcement officers among nine arrested for alleged migrant smuggling in Sabah
* Death toll from fuel depot blaze rises to 33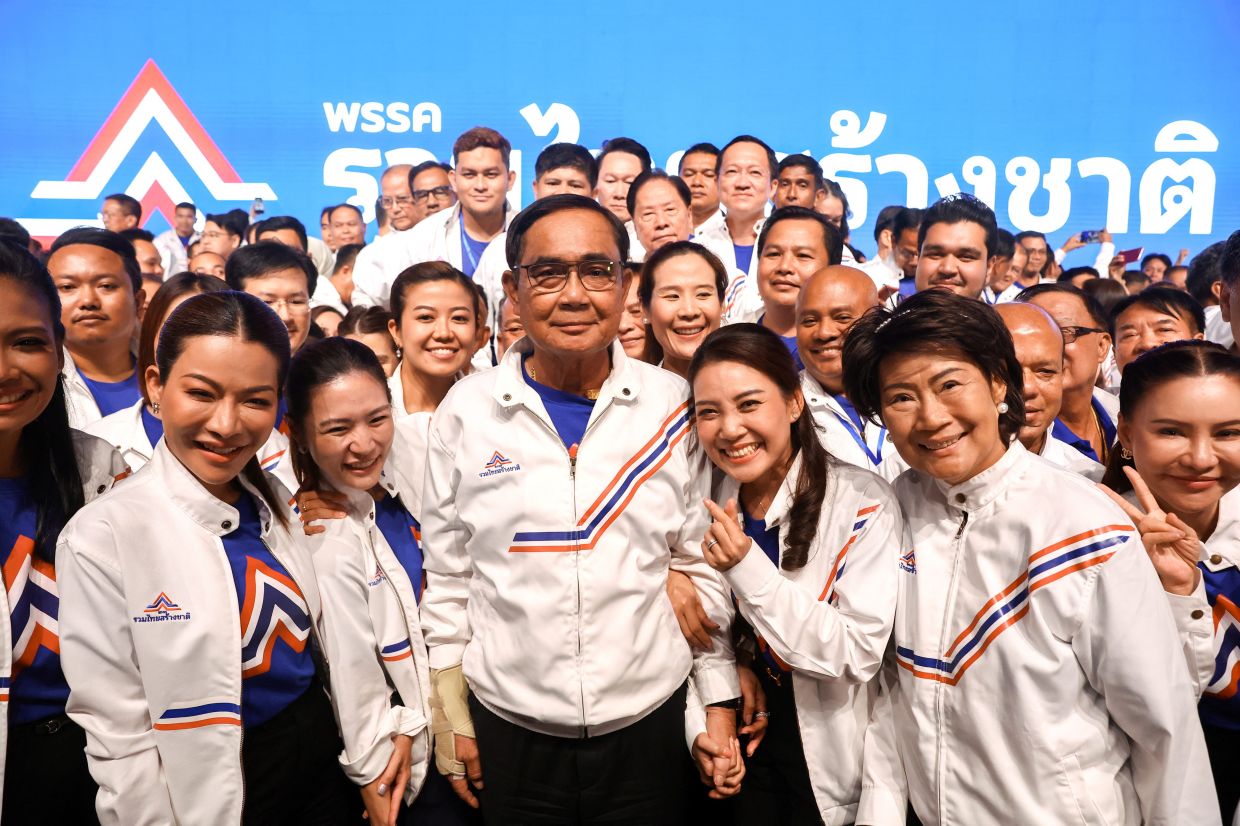 Thailand's Prime Minister Prayuth Chan-ocha, as the PM candidate from the United Thai Nation Party (Ruam Thai Sang Chart Party), poses with party's members during an event to unveil the party's candidates list and campaing for the upcoming election, in Bangkok, Thailand, Saturday, March 25, 2023. - Reuters
Thailand:
* Thailand's peace panel appeals for all parties to halt violence throughout Ramadan
* Thai PM Prayuth to run for re-election in May
* Thailand sees six million foreign tourists arrivals in Q1 of 2023, says govt spokesman
* Toilet spycams lands Thai IT manager in jail
* Controversial gold mine reopens in Thailand; six years after it closed down
Philippines:
* NRD, MACC smash syndicate smuggling Filipino illegals from Sabah to peninsula
* Philippine president invites Filipinos to join 2023 Earth Hour
* Philippines and US to hold 2-plus-2 security talks on April 11
* Philippines and China to use diplomacy to address maritime issues
* Filipino lawmaker alarmed over reports that more than 11 million families in Philippines without access to clean water
French navy officers aboard their frigate FS Prairial (F731) saluting the Philippine Coast Guard multi-role vessel BRP Capones (MRRV-4404) during a passing exercise (PASSEX) off Agno, Pangasinan province. - AFP
Vietnam:
* Vietnam to support and improve policies for SMEs to drive innovations
* Vietnam takes step towards global minimum tax to boost investment
* Vietnam capital Hanoi exerts efforts to boost tourism development
* Vietnam rejects US human rights reports as based on false information
Myanmar:
* Amnesty International urge Thai authorities not to deport Myanmar nationals
* Special exhibition in Myanmar marking seventh anniversary of Lancang-Mekong Cooperation
* US imposes fresh sanctions on Myanmar, targets jet fuel suppliers
* Russia - Myanmar: Concern over growing ties
A farmer driving a tractor to mix fertilizer by the mechanized straw composting method in Can Tho. Rice -- Asia's principal staple -- is to blame for around 10 percent of global emissions of methane, a gas that over two decades traps about 80 times as much heat as carbon dioxide. - AFP
Cambodia:
* Cambodia says Anwar Ibrahim's upcoming visit will inject fresh impetus into bilateral ties
* Cambodia signs tech MoU with Laos
* Cambodia, Dominica sign visa-free deal for diplomatic, official passport holders
Laos:
* Laos achieves significant improvement in maternal health, says report
* Laos on high alert as govt warns of dangerous air pollution
Brunei:
* Healthy diet cost in Brunei second highest after Indonesia in South-East Asia
* Local Brunei man - an unrepentant offender who is jailed and whipped for theft-related offences
A visitor dressed up in a cosplay outfit poses for a photo as people attend the 10th Anime Japan, the Japanese animation industry's biggest event, at Tokyo Big Sight in Tokyo on Saturday, March 25, 2023. - AFP
AseanPlus:
* Hot spot for Asia's favourite football club - Qatar's Al Thani submits new RM27bil bid for Manchester United
* India's disqualified Gandhi says he will not stop asking Modi questions
* Malaysia drawn against India, Taiwan and Australia in Sudirman Cup
* Taiwan president reviews troops ahead of sensitive US visit
* China population: City dangles free high school education for third child amid birth rate crisis
* 'No regrets in life': Video of dog visiting sick elderly owner in hospital every day touches hearts in China
* China, Russia turn up the heat on US after Xi, Putin meet in Moscow
* Antony Blinken says China will be capable of invading Taiwan by 2027, stresses US arms sales
* Coronavirus: Hong Kong to drop mandatory tests for visitors to public hospital and care homes, lifting one of the few remaining rules
* China Evergrande unveils restructuring plan for at least US$19.15 billion of offshore debt
* Job scams: Five Hongkongers conned out of HK$1.8 million in click farming fraud, police reveal
* 'Parents have homework again': Father in China expelled from chat group by teacher for saying assignment for child means work for him
* Japan Court acquits woman of abandoning stillborn twins
* Zii Jia storms into semi-finals of Swiss Open
* Escape-artist zebra back at zoo after Seoul adventure
* Solo song from BTS' Jimin found 'unsuitable' for TV
* New Zealand tells China of concerns over rights abuses, Taiwan tensions
* Gordon Moore, Intel co-founder who coined chip rule, dies at 94
* The future of in-car entertainment: Music, cinema and gaming
* Asean implementation of 5G fragmented, studies reveal
* 'Please don't leave my friend behind': Stray puppy in China begs new owner to take teddy bear home
Subscribe now to our Premium Plan for an ad-free and unlimited reading experience!