Robert Dole, the long-serving US Senate leader, who died aged 98 on Sunday, is remembered by many as a war hero and a Trump supporter. He also left a heavy, decades-long footprint on Washington's China policy.
Dole is expected to become the 33rd individual to lie in state in the Capitol Rotunda on Thursday, joining a select list of historical figures which includes former presidents Abraham Lincoln and John F. Kennedy.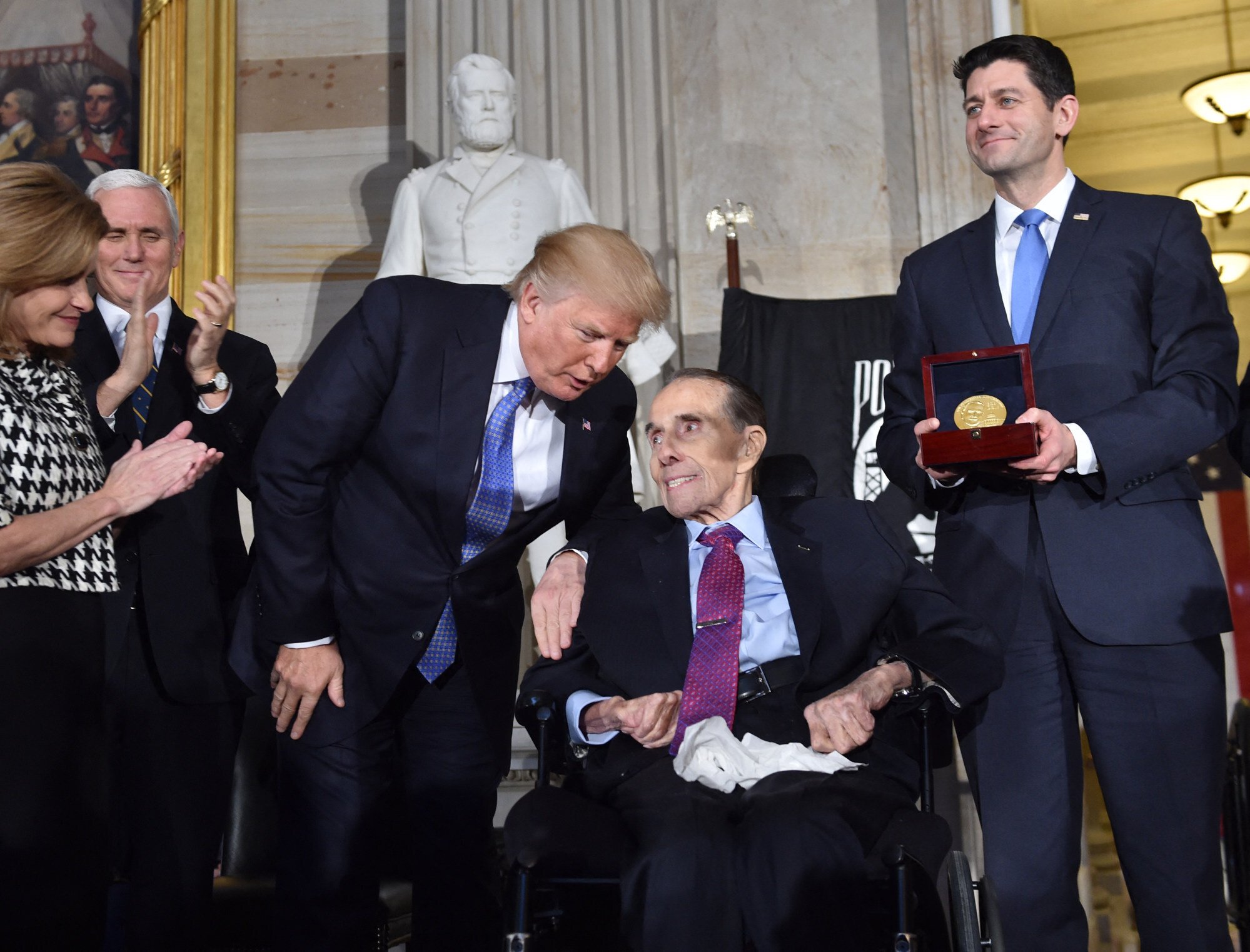 He served as a senator from 1969 to 1996, spending 11 of those years as Republican leader in the Senate.
Do you have questions about the biggest topics and trends from around the world? Get the answers with SCMP Knowledge, our new platform of curated content with explainers, FAQs, analyses and infographics brought to you by our award-winning team.
Among China's foreign policy experts, Dole is mostly remembered as a pro-Taipei politician and an influential one.
"He was quite a pro-Taiwan politician in general and he wielded an enormous amount of influence in the United States," said Zhao Kejin, a US-China relations expert at Tsinghua University in Beijing.
"As someone who defended the US national interest and as an opponent of China, he deserves respect, even though he did some indecent things from the perspective of Beijing by showing support and sympathy to Taiwan."
Dole will be specifically remembered for his role in the surprise phone call in 2016 between Taiwanese president Tsai Ing-wen and president-elect Donald Trump.
It was the first such conversation between any US president or president-elect and a Taiwanese leader since 1979, when Washington severed formal diplomatic ties with Taipei.
Multiple US media reports said Dole, then a lobbyist and the only past Republican presidential nominee to endorse Trump before the election, played a crucial role in brokering the call – a claim he did not deny when asked by The Wall Street Journal.
Dole and his law firm Alston & Bird had worked for months to set up meetings between the Trump campaign, before arranging for Taipei's delegation's attendance at the Republican National Convention, according to Politico, citing documents disclosed by the Justice Department.
Finally, he helped tilt the party platform further in the self-ruled island's favour, Politico said.
In 1998, Dole signed up to represent Taiwan's unofficial embassy in Washington, the Taipei Economic and Cultural Representative Office.
While Beijing stopped short of making any public statement on Dole's death, the Taiwanese foreign affairs department called him "an important ally to Taiwan" and said he had played an important role in the establishment of the 1979 Taiwan Relations Act.
The act – now always mentioned in parallel with the one-China policy by officials in the Joe Biden administration – requires Washington to provide Taiwan with arms to defend itself.
"He was one of the staunchest supporters of Taiwan before, during and after the passage of the Taiwan Relations Act," said Zhiqun Zhu, professor of political science and international relations at Bucknell University.
"The Taiwan Relations Act continues to serve as the legal basis for strong US-Taiwan relations today and America's one-China policy," he said, adding that Dole's influence in Washington policy circles had also made him Taipei's ideal lobbyist.
"His decades of service in Congress helped him to retain deep ties with the US government and extensive influences in Washington policy circles," Zhu said.
"No wonder he was a paid lobbyist to help Taiwan obtain access to congressional leaders and high-level administration officials and to deepen 'unofficial' but substantive US-Taiwan relations."
Dole was an active supporter for Taiwan in the Senate from the late 1970s. After Washington established ties with Beijing, Dole immediately called on the White House to invite then Taiwanese president Chiang Ching-kuo to visit the US.
Tao Wenzhao, a US specialist with Beijing think tank the Chinese Academy of Social Sciences, said Dole's influence on Washington's China policy should not be exaggerated.
"Most members of Congress by that time were supporters of the Taiwan Relations Act," he said. "Taipei's praise for Dole is only trying to show they have friends in the US."
Zhao agreed, calling Washington's China policy a result of a "shifting balance in its domestic policy". Dole's influence on foreign policy was also a result of his domestic weight, he said.
In contrast with his keen interest in Taipei, Dole's engagement with mainland China was limited.
In 1985, he led a group of senators to Beijing for a meeting with China's then-supreme leader, Deng Xiaoping. Most media reports at the time described it as a move to pressure Beijing's vote in the United Nations.
Dole's firm briefly lobbied on behalf of Wanhua Chemical (America) Co, whose parent company is listed in Shanghai. The lobbying, first reported by Axios in 2020, was terminated after a few months.
Additional reporting by Amber Wang
More from South China Morning Post:
For the latest news from the South China Morning Post download our mobile app. Copyright 2021.
Join our Telegram channel to get our Evening Alerts and breaking news highlights