Smugglers have resorted to "guerilla tactics" to transport frozen meat from Hong Kong to mainland China on speedboats in a daring comeback despite a crackdown on the rampant trade, according to law enforcement sources.
The change in strategy emerged after authorities stepped up the fight against such illegal maritime operations, following the death of a police officer in a high-speed sea chase in September.
One source said triads behind sea smuggling were moving their "floating godowns" from the city's northwest to waters off Lamma Island, and operating on a smaller scale.
Do you have questions about the biggest topics and trends from around the world? Get the answers with SCMP Knowledge, our new platform of curated content with explainers, FAQs, analyses and infographics brought to you by our award-winning team.
He added that smugglers used barges as their floating warehouses to store frozen meat, before high-powered speedboats entered the city's waters from the mainland to pick up the goods.
The source said the new strategy involved only three barges and about 10 speedboats operating at night, compared with the rampant activity in mid-2021 during which more than 20 barges and over 100 speedboats were deployed by criminals.
But he added that the gangs could deliver as much as 100 tonnes of frozen meat a day to the mainland as each speedboat was about 15 metres in length, and could be loaded with up to 10 tonnes of goods.
"Smugglers are now using 'guerilla tactics' in an attempt to avoid detection and arrest in response to the crackdown by police and customs officers," the source said.
"They had resorted to using river vessels amid our efforts against speedboat smuggling. As we strengthened enforcement actions to intercept these cargo vessels for inspection, they then resumed the use of speedboats earlier this month to deliver frozen meat across the border."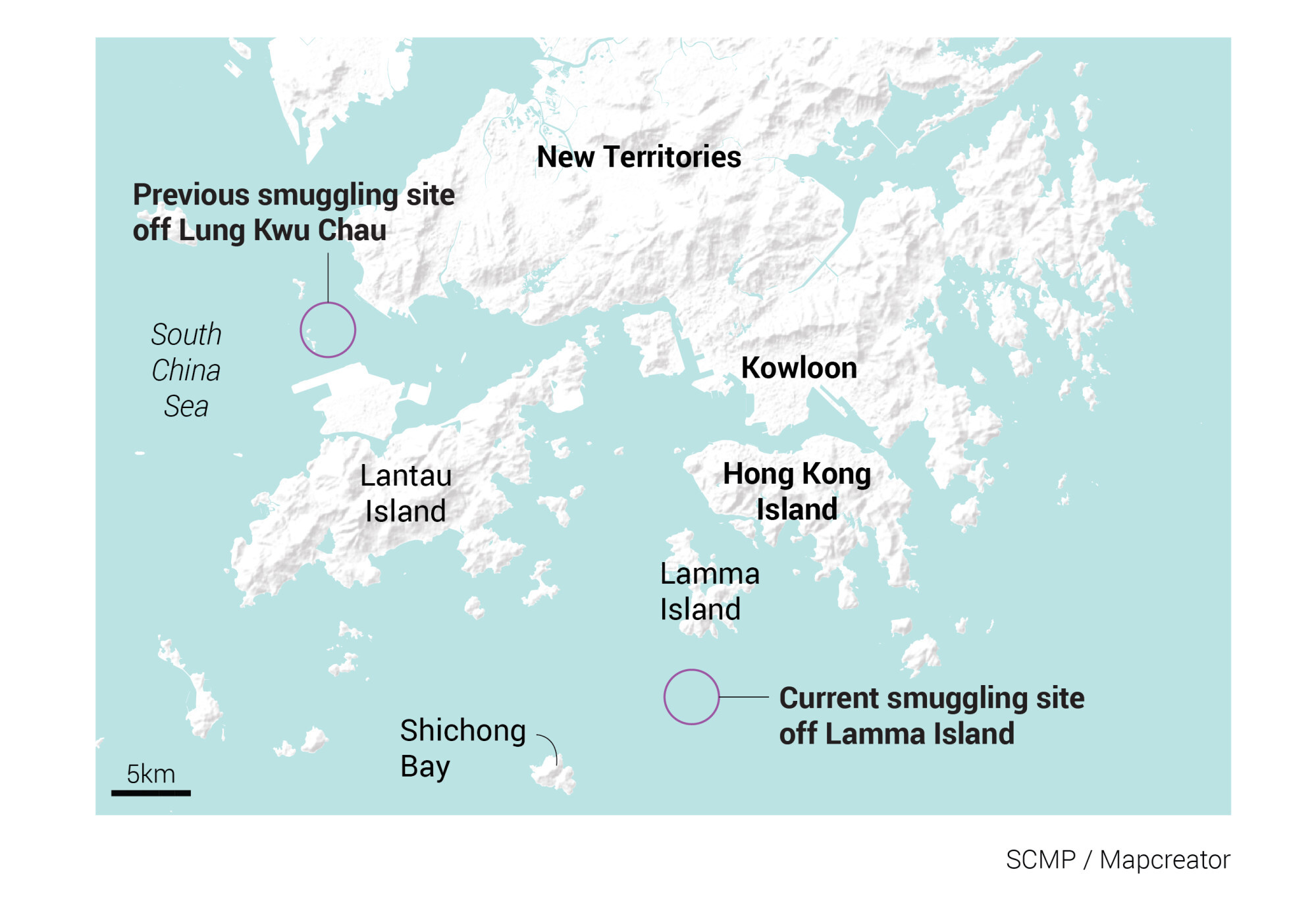 Currently, gangs are believed to be delivering frozen meat to cargo-loading areas such as Tsuen Wan and Tsing Yi, then moving the packages of meat onto barges that sail into waters about 2km off Lamma Island. The location is about 8km from the maritime boundary with the mainland.
The source said intelligence suggested three to four barges carrying frozen meat were usually towed to the area after sunset.
"The investigation reveals about 10 speedboats fitted with four to six outboard engines enter Hong Kong waters from the mainland every night and berth beside these barges to pick up the goods before racing back to Chinese territory," he said.
"They also have lookouts at sea. They will stop their smuggling operations once they spot our patrol launches."
Over the past two weeks, police intercepted three speedboats, arresting two mainland men and seizing more than 20 tonnes of frozen meat.
In one of the cases, two speedboats were spotted racing towards the sea boundary after picking up packages of frozen meat from one of the barges off Lamma Island last Friday night. Law enforcement crafts were deployed to give chase.
During the pursuit, a smuggler abandoned his speedboat that was equipped with six outboard engines, jumping onto an accompanying launch which sped towards the mainland. Police officers seized the abandoned boat with HK$500,000 worth of meat.
Another source said the demand for frozen meat on the mainland and lure of large profits had attracted maritime smugglers into running the illegal cross-border operations despite the enhanced enforcement measures in place.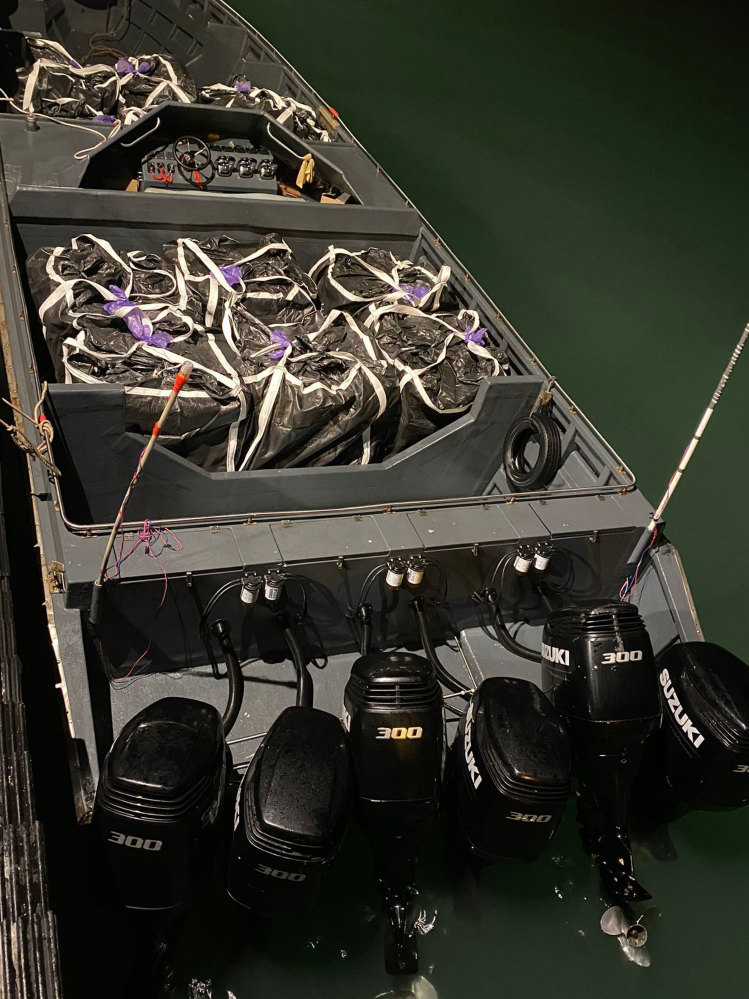 He said frozen meat was subject to mainland import tariffs of up to 90 per cent of its value, with the smuggling operations designed to evade mainland tariffs and import restrictions.
Enforcement agencies will enhance patrols and actions against such illegal activities, according to the insider, who added authorities would also continue to target sources of smuggled goods by tracking down warehouses used to store the contraband.
Five months ago, there were more than 20 barges carrying frozen meat and mooring daily near Lung Kwu Chau, in Hong Kong's northwest waters.
The second source said more than 100 speedboats usually gathered under the Hong Kong-Zhuhai-Macau Bridge at the maritime boundary with the mainland to await orders every night. They entered Hong Kong waters to pick up goods from barges before racing to loading bays on the mainland.
Following the death of Chief Inspector Lam Yuen-yee in a high-speed chase during an anti-smuggling operation in September, sightings of smugglers' speedboats decreased, and there were no seizures of frozen meat in sea operations in October.
Lam's death prompted Hong Kong and mainland authorities to ramp up the battle against cross-border maritime smuggling.
Hong Kong authorities have seized more than 70 speedboats suspected to be used for cross-border smuggling in October and November.
To target sources of smuggled goods, police raided two container yards in the New Territories over two weeks last month, seizing a total of 7,300 tonnes of frozen meat worth more than HK$2.5 billion that may have been destined for the mainland.
On Wednesday last week, customs officers seized 100 tonnes of frozen meat worth about HK$5 million after intercepting a cargo vessel off Telegraph Bay in Cyberport for inspection during an anti-smuggling operation.
Officers from the organised crime and triad bureau are also keeping close watch on triad-controlled smuggling gangs in the city.
On Monday, officers moved against one of the gangs which took over a Tsing Yi shipyard and held a party to celebrate its opening. During the raid, police fined 62 participants a total of HK$310,000 under social-distancing laws in place for the Covid-19 pandemic.
More from South China Morning Post:
For the latest news from the South China Morning Post download our mobile app. Copyright 2021.
Join our Telegram channel to get our Evening Alerts and breaking news highlights