Hong Kong's move to mandate the use of its Covid-19 contact-tracing app at government buildings will hit homeless residents and other vulnerable groups in need of services hard given that many lack smartphones, an NGO has warned.
The new policy, seen as a first step towards placating Beijing's concerns over the eventual reopening of the border with mainland China, comes as local officials have been under fire for failing to secure a deal despite an improving vaccination rate and months with effectively no local coronavirus cases.
Concerns over the plan emerged as Hong Kong on Friday confirmed new two imported Covid-19 cases, travellers from the Philippines and the Maldives. The cases took the city's overally tally to 12,313 infections, with 213 related deaths.
Do you have questions about the biggest topics and trends from around the world? Get the answers with SCMP Knowledge, our new platform of curated content with explainers, FAQs, analyses and infographics brought to you by our award-winning team.
A meeting last month between experts and officials from both sides made little progress, with Chief Secretary John Lee Ka-chiu announcing on his return that Hong Kong needed to improve in a number of areas, including strengthening its contact-tracing efforts.
Officials previously said one option would be to improve the existing "Leave Home Safe" contact-tracing app for people hoping to travel to the mainland. More than 4.8 million users had downloaded the app as of July.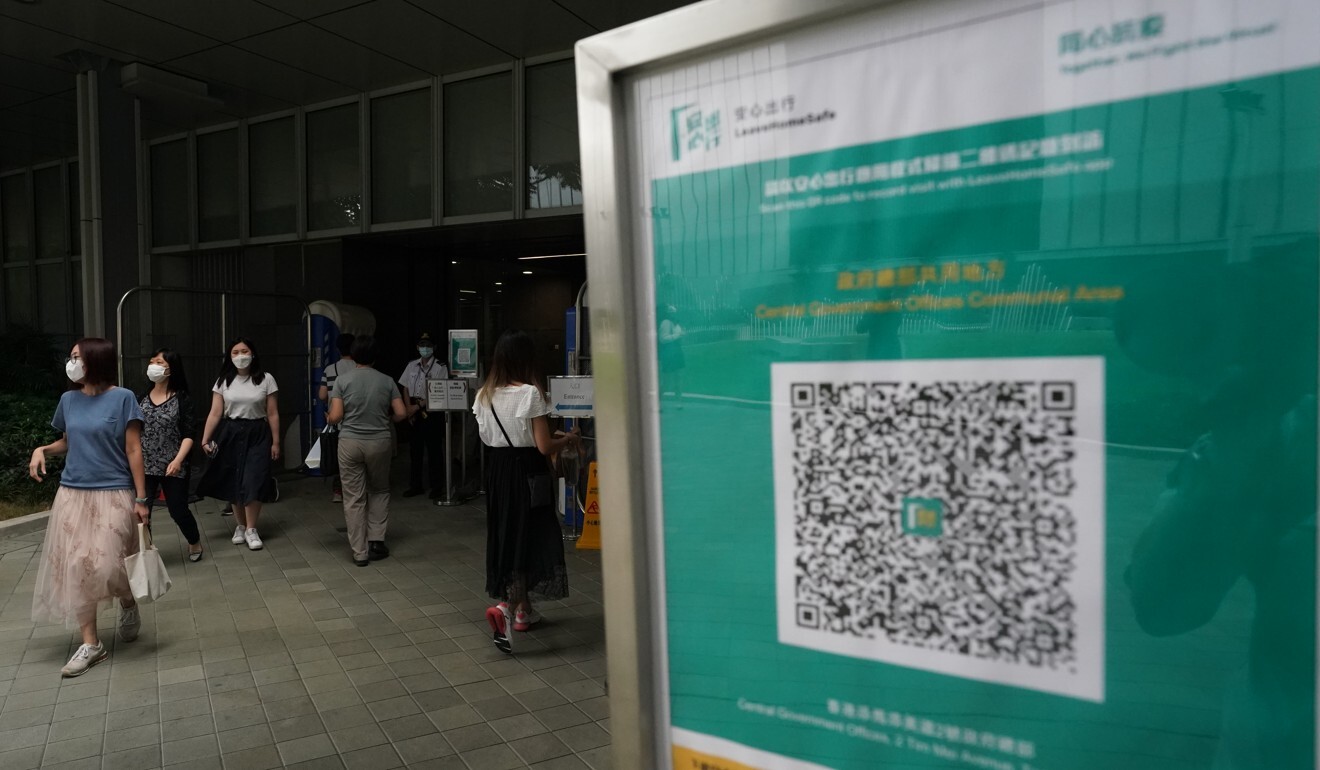 On Thursday, the administration announced that from November 1, anyone entering government buildings would need to use the mobile app to scan a QR code.
Anne Sit Kim-ping, of the Society for Community Organisation (SoCO), on Friday said she feared the city's homeless, who rely on freely available public facilities such as libraries and sports centres, would now be unable to enter, given that many do not own a smartphone.
Homeless residents also often seek help in processing aid documents from various government offices, including the Social Welfare Department, Home Affairs Department and judicial buildings, Sit told a local radio programme.
"We are concerned that homeless persons will find it very difficult to look for help when this new requirement sets in," she said.
"During the summer months, public libraries are one of the few places where homeless persons stay indoors during the day. Street sleepers also use free public access to sports centres to refill water bottles or to take a simple shower."
The number of registered homeless people in Hong Kong increased from 787 in 2014 to a record high of 1,562 at the end of this June, according to government figures.
Sit estimated that just 10 to 20 per cent of homeless persons the NGO works with own a working smartphone, adding that charities typically only lend basic phones that do not support mobile apps.
Under Thursday's rule change, the option of manually filling out paper forms in lieu of scanning the app will no longer be available at government venues.
However, exemptions will be granted to individuals younger than 12 or aged 65 and above, as well as disabled people who cannot use the app. Those groups will need to sign a form with their names, the first four digits or letters on their identity documents, contact numbers and the date and time of their visit.
Meanwhile, a caller to the same radio programme noted that not all smartphones, specifically those manufactured by the mainland's Huawei, do not have the "Leave Home Safe" available in their app stores.
The Post has reached out to the Information and Technology Bureau to confirm.
The "Leave Home Safe" app was launched last November to help health authorities trace the close contacts of Covid-19 patients. The system sparked privacy concerns among residents, who feared the government could use the app, which remains voluntary, to track their whereabouts.
The software operates as a digital logbook when users scan QR codes at venues such as restaurants, bars, fitness centres and government buildings to record their presence.
When someone who has visited the same location tests positive, users are notified by the app to go for a coronavirus screening as soon as possible.
More from South China Morning Post:
For the latest news from the South China Morning Post download our mobile app. Copyright 2021.
Join our Telegram channel to get our Evening Alerts and breaking news highlights