Hong Kong customs Divisional Commander Philip Chan Siu-kau was asleep when his phone rang at 3am one night last month.
A light sleeper after 11 years with the customs department's drug investigation bureau, he answered the call, knowing that critical information could arrive at any time from his counterparts worldwide.
This time it was a law enforcement source from the United States, who told him: "Peruvian customs officers have just intercepted 110kg (242.5 pounds) of cocaine mixed with maca powder in air cargo destined for Hong Kong. We believe another shipment has already left Peru and is on the way to your city."
Do you have questions about the biggest topics and trends from around the world? Get the answers with SCMP Knowledge, our new platform of curated content with explainers, FAQs, analyses and infographics brought to you by our award-winning team.
Chan jumped out of bed and called his colleagues at Hong Kong International Airport, asking them to check on freight that had arrived recently from the South American country, the world's top producer of cocaine.
A flight was identified, and officers over the next few days watched as its suspicious cargo was transferred to an industrial building in Fo Tan. Three days after Chan's early morning phone call, officers raided the building, seizing 72kg of cocaine with a street value of HK$85 million (US$10.9 million). That led to the arrest of a 43-year-old man.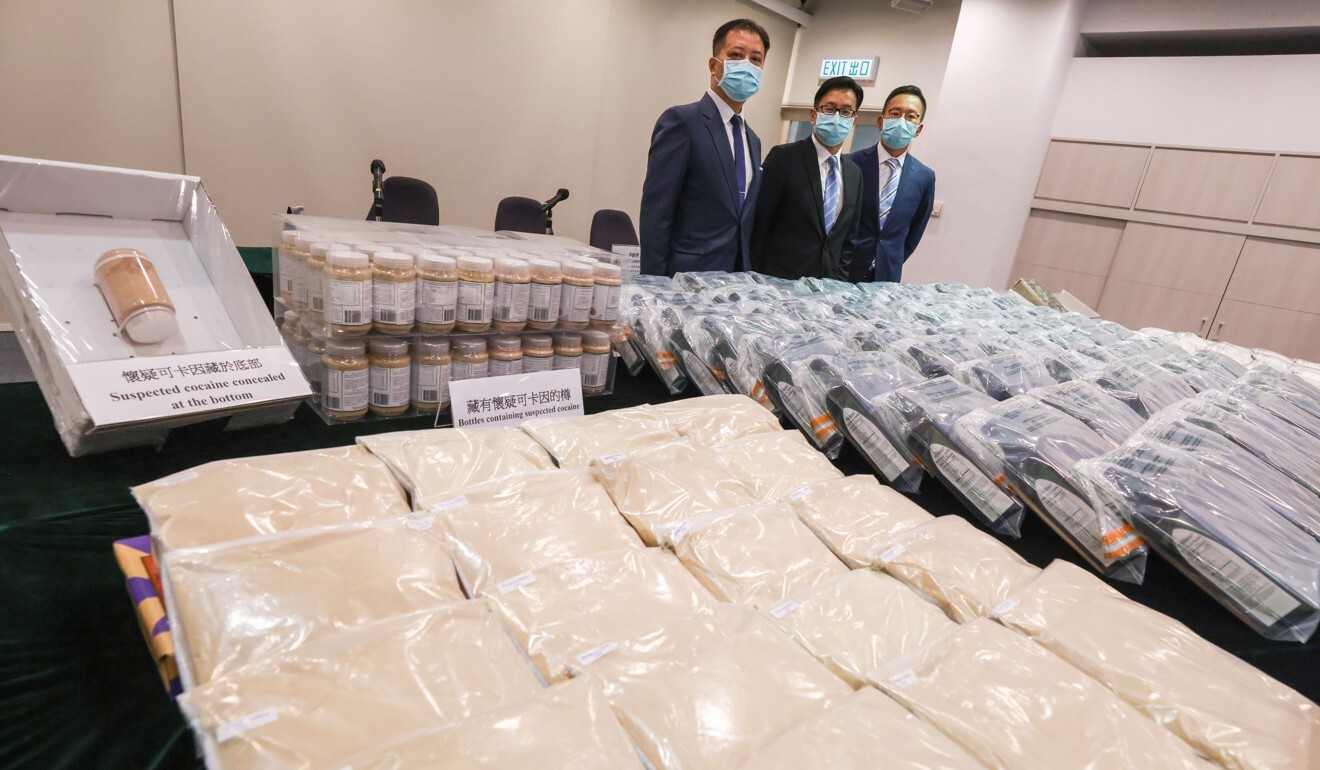 "If I'd chosen to sleep that night or acted slowly, the haul would have entered the local market," Chan said.
Global drug smugglers have proven resilient through the Covid-19 pandemic, adapting swiftly as international air travel ground to a halt and put an end to using drug couriers for illegal deliveries across borders.
According to the latest global report by the United Nations Office on Drugs and Crime (UNODC), released in June, organised crime groups bounced back quickly from initial disruptions caused by the pandemic.
Data of 81 member states showed that by early this year, they had switched to sending drugs by mail, as well as by air and sea cargo, pushing out larger quantities at an increased pace compared to before the pandemic.
Larger shipments were observed in many regions, the report said, resulting in many record seizures.
In February, for example, German and Belgian authorities acting on intelligence conducted a joint operation and seized 23 tonnes of cocaine in Hamburg and Antwerp. It was a record haul for Europe, valued at €5 billion (HK$45.8 billion) and bound for the Netherlands.
In Hong Kong, customs officers seized 3.47 tonnes of narcotics worth HK$2.1 billion last year, almost all of it intercepted at the border. That was 61 per cent more than the 2.15 tonnes seized in 2019, when drugs seized at the border accounted for about 80 per cent of the total.
As of August 11, customs officers had already seized 2.5 tonnes of drugs, exceeding the entire haul in 2019.
Chan said that global law enforcement agencies had taken note of the surge in international trafficking activity during the pandemic and strengthened their exchange of intelligence.
He found himself monitoring his email and text messages round the clock and receiving about a dozen such communications daily.
"It's a race against the clock," he said. "If a tip-off is ignored, we might fail to trace the drugs."
Syndicates 'rush to clear stockpiles'
International drug traffickers were hit hard when the pandemic led to travel restrictions, as they had previously relied on air passengers to smuggle drugs on their body or luggage.
Customs drug investigation bureau head Lee Kam-wing said there had been almost no cases of couriers bringing in drugs since the pandemic began, but from the middle of last year, there was a sharp rise in drugs arriving in Hong Kong via mailed parcels.
More than four-fifths of the department's 1,111 narcotics cases last year were related to mailed parcels containing a total of 1.4 tonnes of drugs. Similar methods made up only about two-thirds of 827 cases cracked in 2019.
The senior superintendent said officers were particularly alert to mail arriving from major source countries.
Cocaine is mainly from South American countries such as Bolivia, Colombia, Peru and Ecuador. Ecstasy and ketamine come largely from Europe and Pakistan, and cannabis arrives mostly from the US and Canada.
The amount of cocaine seized from mail parcels surged nearly 10-fold to 407.3kg last year from 44.5kg in 2019, while the quantity of heroin smuggled in the same fashion skyrocketed 16-fold to 115kg.
"We could tell from the packaging, which was mostly the same if sent from the same source. For example, misspellings in the address would be identical, such as 'Hong Konf'," Lee said.
Airport staff detected up to three drug parcels a day on average, he said, with each weighing under a kilogram.
At the peak, four teams were at work at the same time, with some investigators tracking deliveries while others waited at post offices to see who would pick up the mailed contraband.
With many of the mailed packages seized, traffickers switched by the end of last year to shipping drugs as freight by air and sea.
"Syndicates basically do not have many options. When most of their drug parcels were seized, traffickers had no choice but to turn to smuggling larger quantities by air and sea," Lee said.
"Drug manufacturers were rushing to clear their stockpiles or they would risk raids by local law enforcement agencies in their countries. Sea transport could take more than a month, allowing syndicates to buy time in finding buyers while the narcotics were still at sea."
Since the traffickers started sending drugs in bulk through air and sea cargo towards the end of last year, the number of customs busts involving drugs worth over HK$10 million has climbed, leaping from 19 in 2019 to 33 in 2020. There have been 16 such major busts so far this year.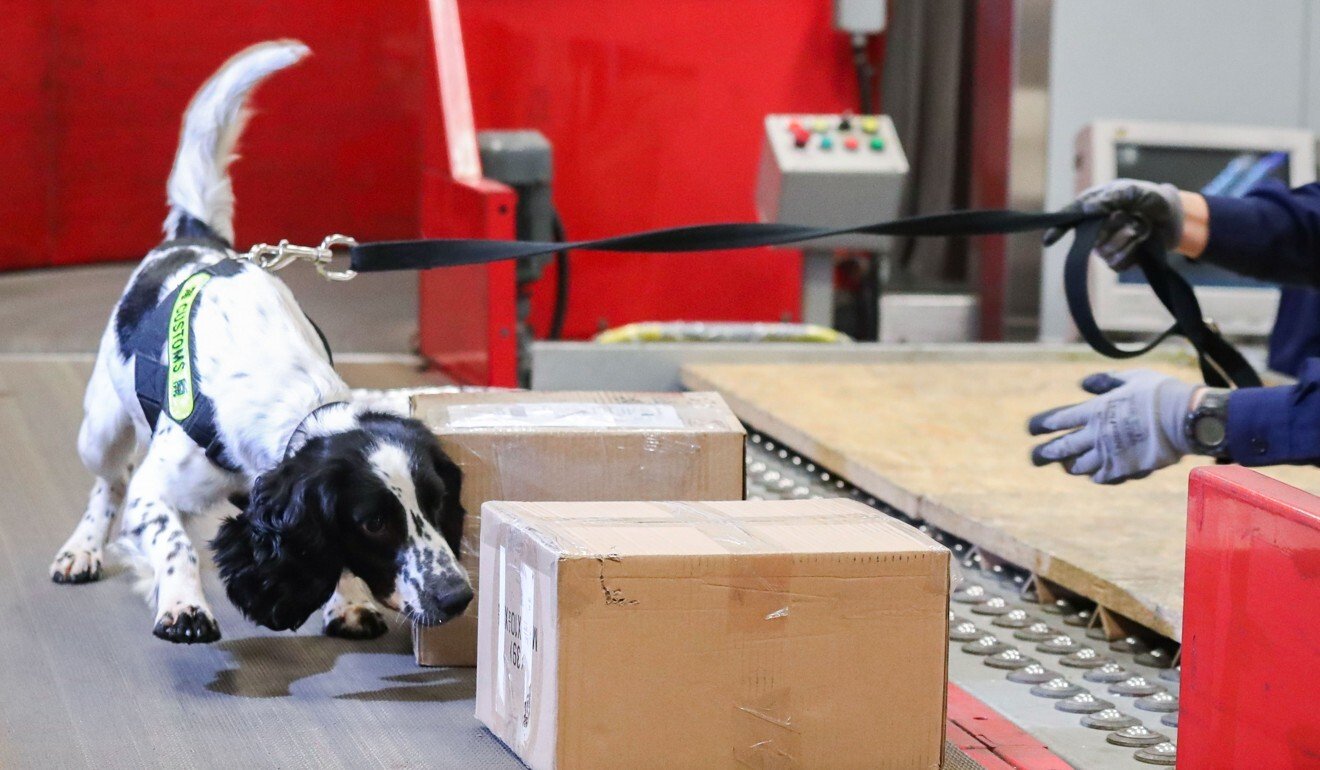 Such large cases were rare in the past, and uncovering a single huge haul was considered hitting the jackpot, said Lee, who has been with the Customs and Excise Department for 26 years and is due to retire at the end of the year.
"It is a new era. I have never seen such a surge in cases. We have already made four record seizures just this year," said Lee, who has been a narcotics investigator for 13 years.
He believed that more than half the drugs seized were for the local market, with the rest meant to be diverted to other countries.
Three months of record drug seizures
Customs officers had seized HK$1.3 billion worth of narcotics in 510 cases as of August 11, including 881.3kg of cannabis, 488.8kg of ketamine and 418.7kg of cocaine. They made more than 130 arrests.
The largest single case this year was in June, when customs officers at the airport cargo terminal seized HK$130 million worth of cocaine hidden in two hydraulic devices that arrived from Brazil.
Firefighters were called in to help retrieve the 110kg haul, Hong Kong's largest airfreight cocaine bust in 20 years.
The drugs were concealed in two 2.7-metre-long hydraulic devices – each weighing 1,500kg – which were sealed with lead, steel and other metals inside a hidden compartment.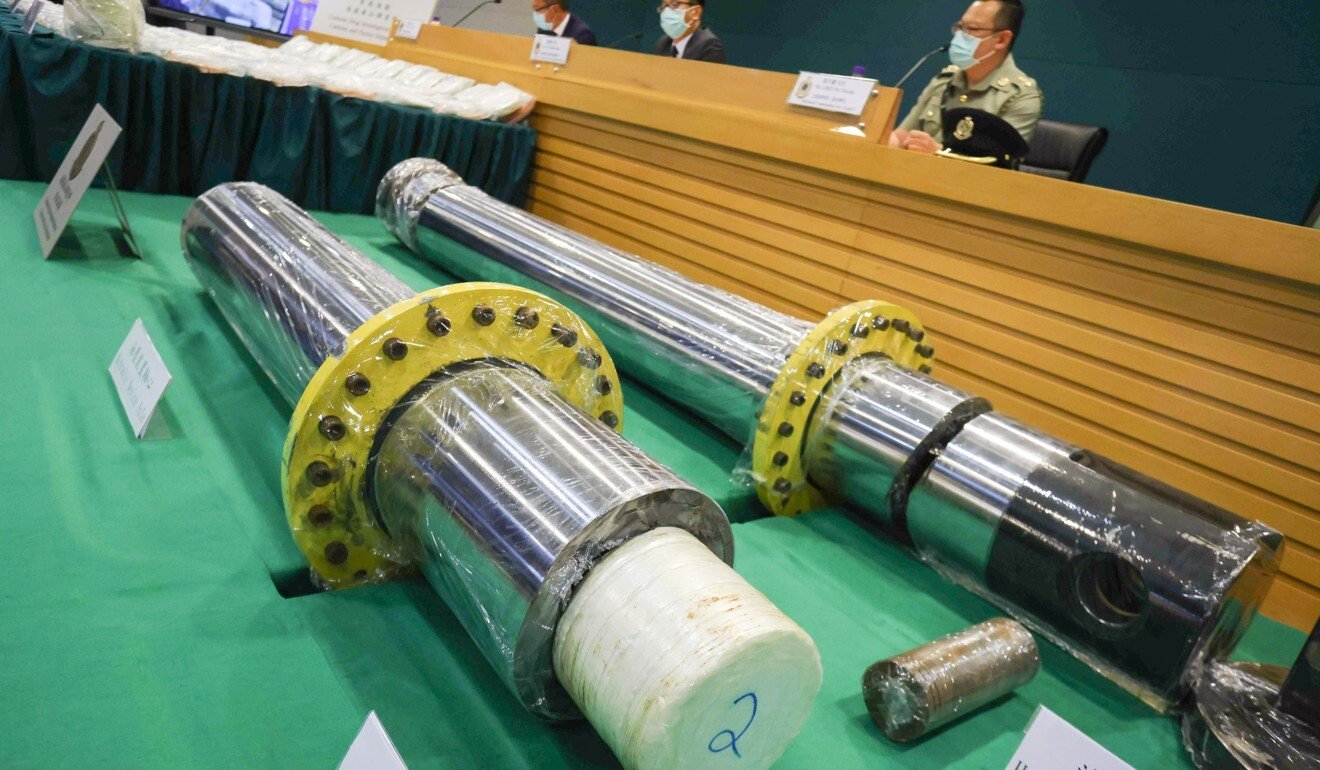 Lee said the surging cases meant more work for frontline officers, as in general, it took more than five hours to examine a 40-foot shipping container.
"This is tough work," he said. "I take my hat off to my colleagues."
In the most complicated case this year, 150 customs officers spent 17 days working round the clock to track a delivery of HK$32 million worth of crystal meth that arrived from Cambodia by sea in February.
The drugs were hidden in 32 child car seats, which raised suspicions as the European brand did not usually arrive from Cambodia.
Lee told his officers to replace the drugs with a fake substance and observe the logistics trail to see who would pick up the contraband.
The case took so long because the smugglers split the goods into different trucks and divided them into three shipping containers that were stored separately at various locations, before taking them to a container yard in Tsing Yi.
At last, a 22-year-old man picked up one of the containers and took it to an industrial building in Kwun Tong. Customs officers arrested him along with the sole director of a newly established company to which the cargo was consigned.
"It is meaningless to arrest the driver only. We need to dig out the masterminds." Lee said. "It is a battle of wits."
Two record seizures last month were of 145kg of liquid meth worth HK$80 million in air cargo declared as avocado oil from Mexico, and about 61kg of heroin worth about HK$65 million, which arrived by sea from Thailand and was declared as snacks.
In the biggest cannabis farm bust to date, customs officers raided a house in northern Hong Kong earlier this month and seized 465kg of marijuana plants worth an estimated HK$70 million. A 47-year-old man was arrested at the property, which investigators said could churn out HK$270 million worth of the drug every year.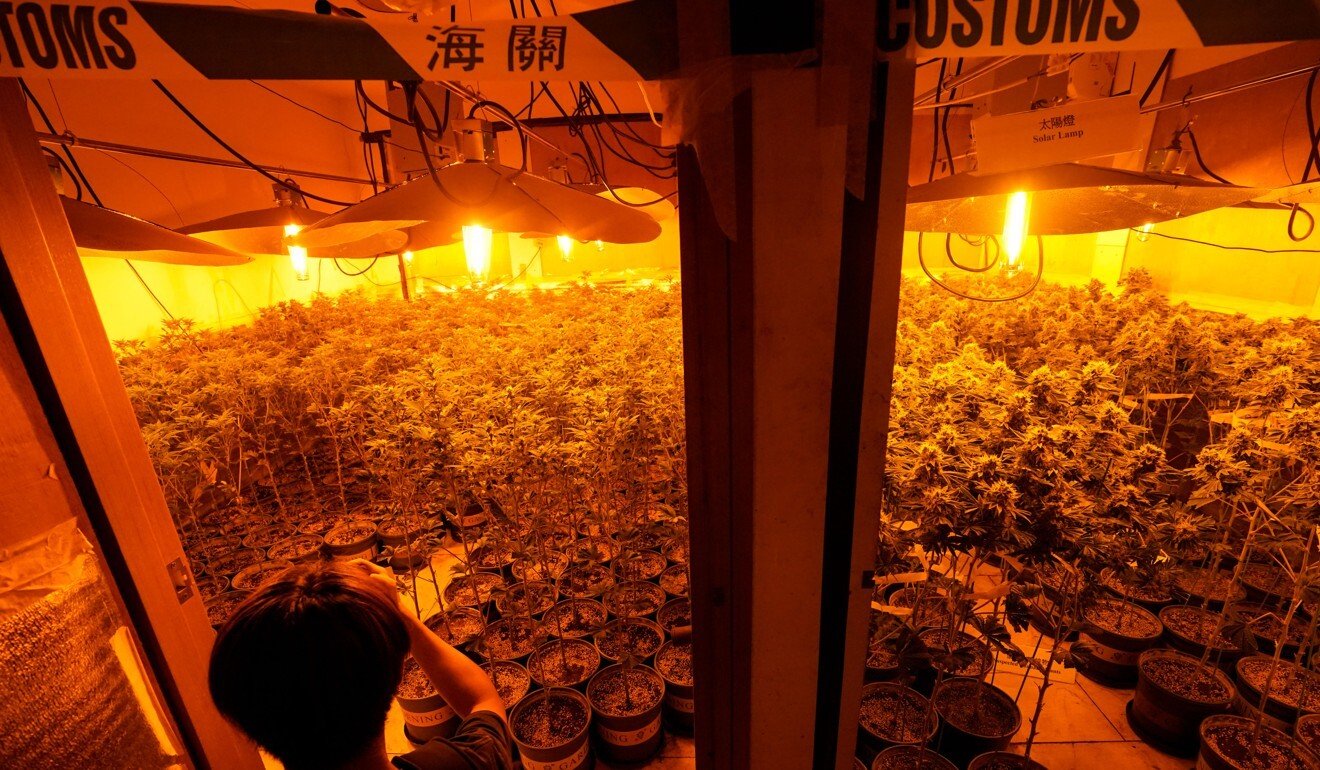 Hong Kong police have also seized large quantities of drugs this year. In February, police made their biggest-yet ketamine bust, seizing HK$437 million worth of the drug hidden in macaroni packages.
In April, police officers seized HK$900 million worth of cocaine in the biggest such bust in nearly a decade.
On August 18, Hong Kong police arrested a university student for drug trafficking, seizing nearly HK$200 million worth of narcotics.
The 22-year-old suspect was stopped when he left a Cheung Sha Wan industrial unit where police found 78kg of heroin and 148kg of crystal meth. Officers found another 8kg of heroin in his backpack.
In Hong Kong, trafficking in a dangerous drug carries a maximum penalty of life in prison and a HK$5 million fine. Those who possess or take a dangerous drug face up to seven years' jail.
Police detained 1,041 people for drug offences in the first three months of this year, up nearly 60 per cent from 652 the same period last year. They included 147 aged under 21, up more than 50 per cent from 97 arrested in the same period last year.
The UNODC estimated that about 275 million people used drugs last year, up by more than a fifth from 2010.
Most countries also reported a rise in cannabis use during the pandemic, with increases in free time and disposable income, and feelings of boredom and anxiety cited as the main reasons.
In Hong Kong, more young people were found taking drugs, as the gloomy social and economic environment after the social unrest of 2019 was made worse by the pandemic, which brought lockdowns and social-distancing restrictions.
There were 220 reported drug abusers aged below 21 in the first three months of this year, up by 47 per cent from 150 in the same period last year, according to Central Registry of Drug Abuse statistics released last month.
Cannabis was the most common drug among the young, with the number of reported abusers rising 58 per cent to 106. The number of young ketamine abusers almost doubled to 31.
Lee said the suspension of recreational activities and closure of entertainment spots, such as bars and clubs, did not halt drug consumption. The high demand was reflected in rising street prices.
The street price for one gram of cocaine shot up from HK$1,100 to HK$1,700 in the middle of last year, while the price of heroin more than doubled from HK$700 to HK$1,900 for one gram, though it has since come down to HK$1,100.
"Substance abusers continued to take drugs habitually. People partied at home or moved to hidden party rooms in industrial buildings at the worst time of the pandemic," Lee said. "The more seizures we made, the higher the market price of drugs rose."
More from South China Morning Post:
For the latest news from the South China Morning Post download our mobile app. Copyright 2021.
Join our Telegram channel to get our Evening Alerts and breaking news highlights