Hong Kong's quarantine exemptions for diplomats and others deemed to have crucial jobs are in need of review, health experts have said after a consulate employee's two children tested positive for Covid-19 during their home isolation period.
The call came as the city confirmed five imported infections on Wednesday. The group included the two children – siblings from Saudi Arabia – and one case each from Cambodia, the United Arab Emirates and Bangladesh.
The city's tally of confirmed infections now stands at 11,970, with 212 related deaths. Fewer than five people tested preliminary-positive for the coronavirus.
Do you have questions about the biggest topics and trends from around the world? Get the answers with SCMP Knowledge, our new platform of curated content with explainers, FAQs, analyses and infographics brought to you by our award-winning team.
The Centre for Health Protection on Tuesday announced that a 13-year-old girl and 11-year-old boy who arrived in Hong Kong from Saudi Arabia on Friday had tested preliminary-positive.
The centre confirmed the siblings had been exempted from quarantine, while a source said they were the children of a staff member at the Saudi Arabian consulate.
There are currently 12 groups eligible to apply for quarantine exemptions when arriving in Hong Kong from foreign countries. They include "government officials carrying out governmental duties", aircrew members and directors of listed companies in Hong Kong on business.
While exempted from compulsory quarantine at hotels or government quarantine centres, they are still required to isolate at home for two to three weeks.
If the family members did not come to Hong Kong together with a consulate staff member, but just for personal purposes ... is the special arrangement for relatives suitable?
Saliva samples from the two children submitted on the third day after arrival were found to be preliminary-positive for the coronavirus. The sister's sample was carrying the L452R mutation, which is linked to a number of variants, including the Delta one. She also developed a fever on her second day in the city.
Yet the children were found to have left home during the mandatory isolation.
Based on the compulsory testing notice issued by the government on Tuesday night, the pair were believed to have visited The Peak Galleria on Saturday, then the Citygate shopping centre and nearby cable car attraction in Tung Chung on Sunday.
The notice did not explicitly state where the pair went, but dates given for Covid-19 positive visitors to those places match the time the children were in Hong Kong.
Respiratory medicine specialist Dr Leung Chi-chiu on Wednesday said the government should review the quarantine exemption arrangements, including who qualified, where they should isolate, and how best to ensure they complied with the rules.
"If the family members did not come to Hong Kong together with a consulate staff member, but just for personal purposes, and this was a regular employee rather than a consul general ... is the special arrangement for relatives suitable?" Leung asked, adding that the children's visit was very likely to be unrelated to business.
He also questioned whether the government had clear rules in place for home quarantine, as the residence where the two children stayed did not appear ideal for self-isolation.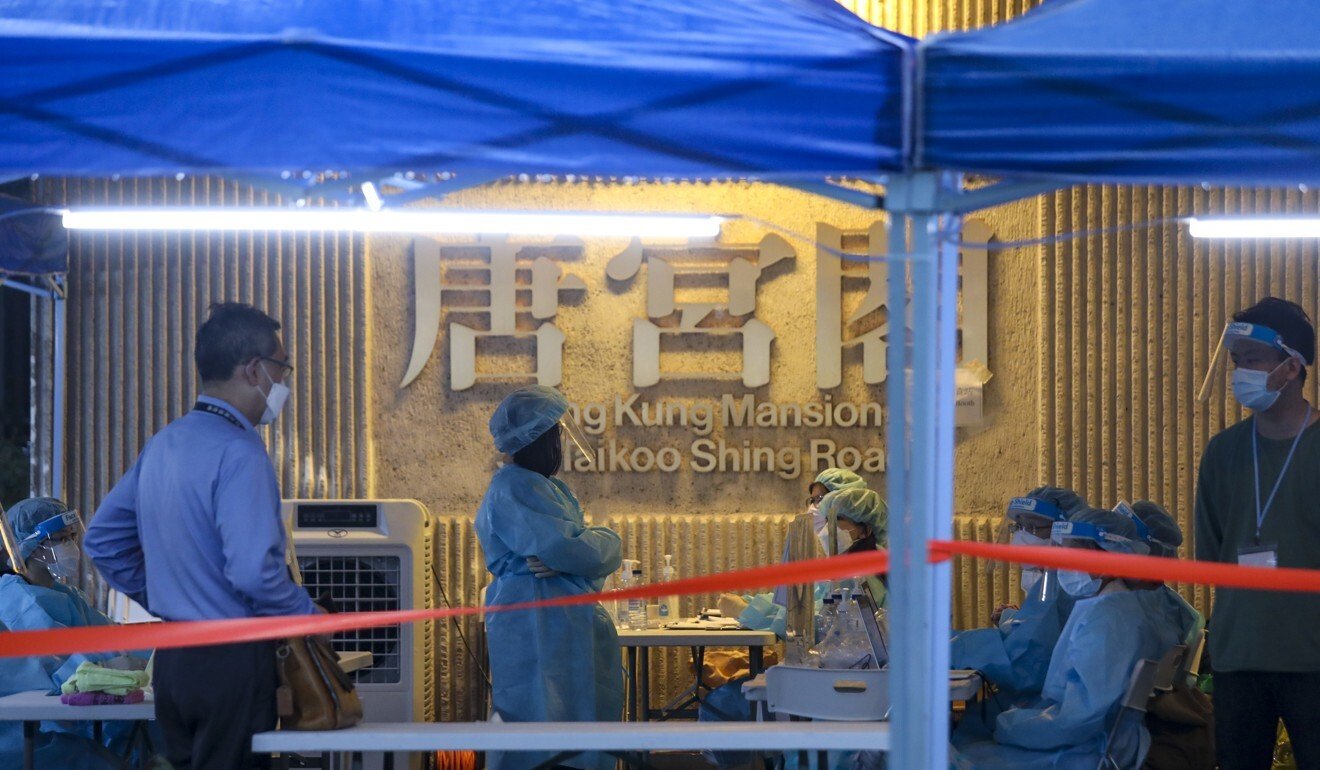 Tang Kung Mansion in Taikoo Shing, where the children lived, is a 27-storey building with 208 units.
"In such a densely populated estate ... we don't know if there were any risks of vertical or horizontal transmission," he said.
He noted that it would be better if people isolated in stand-alone houses or buildings that were separate from others.
The children's travels within the community also appeared to be a violation of existing rules, Leung added.
"Under the home isolation policy, does the government do any monitoring of those people?" he said.
The Post has approached the Chief Secretary's Office and the Department of Health seeking comment.
University of Hong Kong microbiologist Dr Ho Pak-leung expressed similar views, saying those exempted from hotel quarantine when entering the city from high-risk areas should still be safely separated from the community.
"The virus cannot differentiate between people. It can infect diplomats, presidents or prime ministers," Ho told a Wednesday radio show.
"If we want to exempt them from current hotel quarantine rules, then we need systematic measures to prevent them from spreading the coronavirus into the community."
According to the government's classification of countries based on Covid-19 threat levels, Saudi Arabia falls within the medium-risk category.
Ho said measures should take into account the transport they were using and whether their places of residence posed a transmission risk to other people.
He suggested it was inappropriate for exempted persons to be allowed to quarantine at home at all if they lived in ordinary housing estates or flats with others nearby.
"Other countries that still allow home quarantine have a high rate of the virus spreading into the community," Ho said. "If we are trying to maintain our zero infection streak while our vaccination rate is still low, we should avoid allowing people to quarantine at home."
Separately on Wednesday, Secretary for Home Affairs Caspar Tsui Ying-wai said the ongoing coronavirus situation meant authorities had no plans to arrange for a delegation of Chinese medal winners from the Tokyo Olympics to visit Hong Kong as in previous years.
Hong Kong Olympians returning from the Games would require seven days of quarantine, he added.
Additional reporting by Lilian Cheng
More from South China Morning Post:
For the latest news from the South China Morning Post download our mobile app. Copyright 2021.
Join our Telegram channel to get our Evening Alerts and breaking news highlights