For those trapped in submerged underground trains as Tuesday's horror unfolded in Zhengzhou, it was a life-and-death matter of keeping their heads above water in the hope that help would arrive.
The rare torrential rain that began on Saturday has claimed at least 13 lives and relocated 100,000 people in Henan's provincial capital in central China. The cumulative rainfall in the past three days is close to a normal year's worth for the city, and has paralysed its transport system. Many cars were flipped on flooded roads, while ground-floor shops and flats were swamped.
"We are used to ankle-level downpours in the summers," one survivor, who was trapped on his way home on Tuesday evening, told Chinese media. "A recent flood in Zhengzhou [washed away] many cars, but it was nothing like this time, which completely annihilated everything."
Do you have questions about the biggest topics and trends from around the world? Get the answers with SCMP Knowledge, our new platform of curated content with explainers, FAQs, analyses and infographics brought to you by our award-winning team.
According to the Zhengzhou government, all of the city's rail services were suspended at 6pm on Tuesday. More than 500 passengers have been rescued, but some did not make it out alive as water continued to pour into subway stations.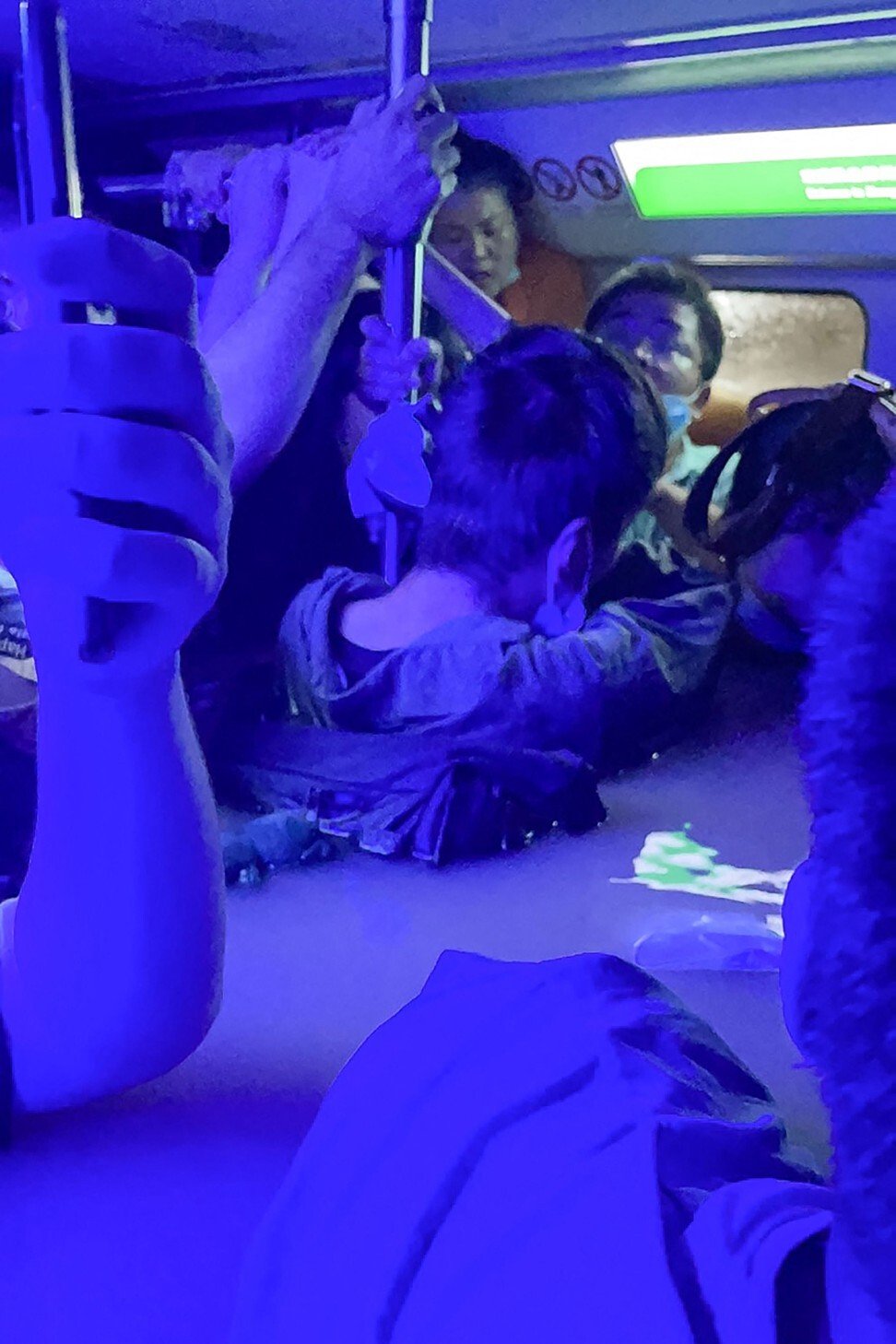 The worst-affected area was between Haitansi and Shakoulu stations on Line 5 of the subway, where many passengers were reported to be trapped for hours in submerged train compartments, waiting in hope for rescuers. Videos shared on social media by anxious passengers, themselves standing in chest-high flooding, showed water outside the train windows reaching above head height.
At 7.30pm, as desperation mounted, a woman identified as Xiaopei, who Chinese media reported to be a CCTV programme host, sent out an appeal for help via social media.
"All emergency rescue units and firemen, please come save us!" read one of her messages, at 7.32pm. "We are trapped in a Line 5 tunnel. Please help spread this message. The water inside the train is chest-deep. I can no longer speak, please help! SOS."
A minute later she posted: "There are hundreds of us. [To us], time is life."
At 7.46pm, she sent her last post before her phone battery went flat, saying the water had reached her neck. The terror would last a further hour before she and fellow passengers were rescued at about 8.50pm.
Another trapped Line 5 passenger who survived the ordeal told Bingdian Weekly of her fear when water started to pour into the train.
"Tears just kept streaming down," she was quoted as saying. "Others were also crying around me; some were anxious and some were impatient, while some were trying to comfort us. We made a pact together to refrain from saying anything negative. Most of us remained silent as we focused our efforts trying to connect to the world outside to get help. But there was almost no response – I guess the phone lines must have been jammed.
"Thankfully, one lady managed to reach rescuers outside and she kept updating the rescuers about our situation. But the worst moment came around 9pm when the water level outside the train window was taller than a person. As we looked towards the tail of the train, most of the compartments were already totally under water."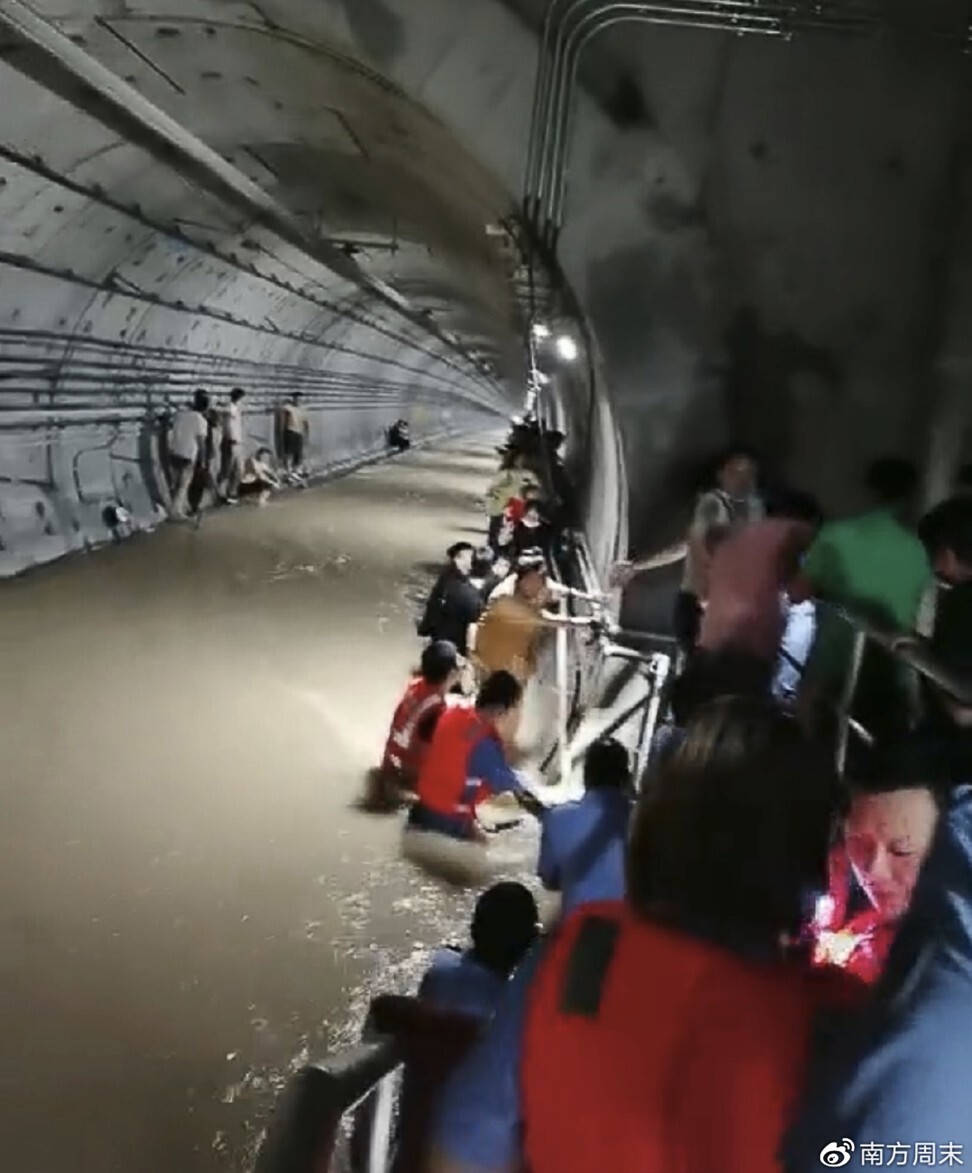 Time was running out, as was hope.
"Some were shaking, gasping and vomiting, and there were children, pregnant women and elderly among us," she said. "Many of us were just exhausted from being drenched in the water for hours.
"A lady said rescuers outside were pumping water, but, looking at the overwhelming flood, I felt hopeless, preparing myself for the fact that I wouldn't make it out alive. When I saw the water level had reached our heads, I began sending out my last goodbye messages and arranging affairs after my death with loved ones.
"Air was quickly running out. Someone attempted to break open the train doors, but thankfully he was stopped, or we would all have died immediately. We came up with the idea to break open with fire extinguishers the higher windows towards the ceiling in the first compartment, where the water level was not so high. Ventilation improved soon after, and that was when rescuers arrived."
Another passenger, who boarded a train on Line 1 at about 5pm on the outskirts of Zhengzhou, told Thepaper.cn that they were trapped inside the Boxue Road station with elderly and children past midnight because exits of the stations were blocked.
"The rushing water began to spill over as we were about to approach Zhengzhou East station, so the train didn't stop, and continued ahead," they were quoted as saying. "Halfway, the train stopped and began to backtrack to the previous station, and that's where we got trapped.
"We are lucky compared with Line 5 passengers – basically, there was no food, and inadequate water. We kept calling for help but no one picked up. We were all very tired, but didn't dare fall asleep."
More from South China Morning Post:
For the latest news from the South China Morning Post download our mobile app. Copyright 2021.
Join our Telegram channel to get our Evening Alerts and breaking news highlights