Hong Kong's security chiefs have ramped up warnings against the spread of "pro-independence propaganda" and "fake news" in response to media coverage of events marking National Security Education Day, and said police would make arrests where there was evidence the law had been broken.
Commissioner of Police Chris Tang Ping-keung and senior ministers waded into a row on Friday over children handling weapons at official events promoting the national security law, and the involvement of youngsters in a police college activity said to resemble one of the most controversial episodes of the 2019 anti-government protests.
In a picture widely shared on social media, a schoolgirl was seen pointing a blue toy gun at the head of another child, as they played in a mocked-up train carriage on Thursday at the police force's tactical training facility in Wong Chuk Hang.
Do you have questions about the biggest topics and trends from around the world? Get the answers with SCMP Knowledge, our new platform of curated content with explainers, FAQs, analyses and infographics brought to you by our award-winning team.
Some media, including the tabloid-style Apple Daily newspaper, quoted internet users comparing the activity to a police clearance operation inside Prince Edward MTR station on August 31, 2019.
News footage at the time showed officers using batons and pepper spray on protesters inside the station, which led to accusations they had used excessive force.
Some internet users questioned whether it was appropriate to let children play with toy guns at the police college, but officials took aim at the way the activities were portrayed by some media.
Responding in the Legislative Council on Friday to a pro-establishment lawmaker asking how authorities could counter misinformation, Tang referred specifically to Apple Daily's use of the picture of the schoolgirl.
"I saw the front page of a newspaper this morning, which carried the photo and sought to demonise a group of happy children who were just playing around, and compared them to the 'black violence'," Tang told lawmakers, using a term the pro-Beijing camp often favoured for describing the unrest.
"This was just immoral. Apart from hurting children's feelings, it also shows that some people are trying to use intimidation to smear anyone who wants to get close with police."
Tang's criticisms of Apple Daily came as pro-Beijing newspaper Ta Kung Pao ran a commentary accusing the former of being an anti-China newspaper, and arguing that such media must be banned to plug loopholes in national security.
At another Legco meeting on Friday, localist lawmaker Cheng Chung-tai asked Secretary for Education Kevin Yeung Yun-hung if he believed police should educate children in a more appropriate way.
"The photo has caused fear among some citizens over the August 31 incident ... In reality, anti-terrorism [operations] might happen in train carriages, but could there have been better, cleverer ways of presenting that, such that the shock [to parents and members of the public] could have been avoided?" Cheng said.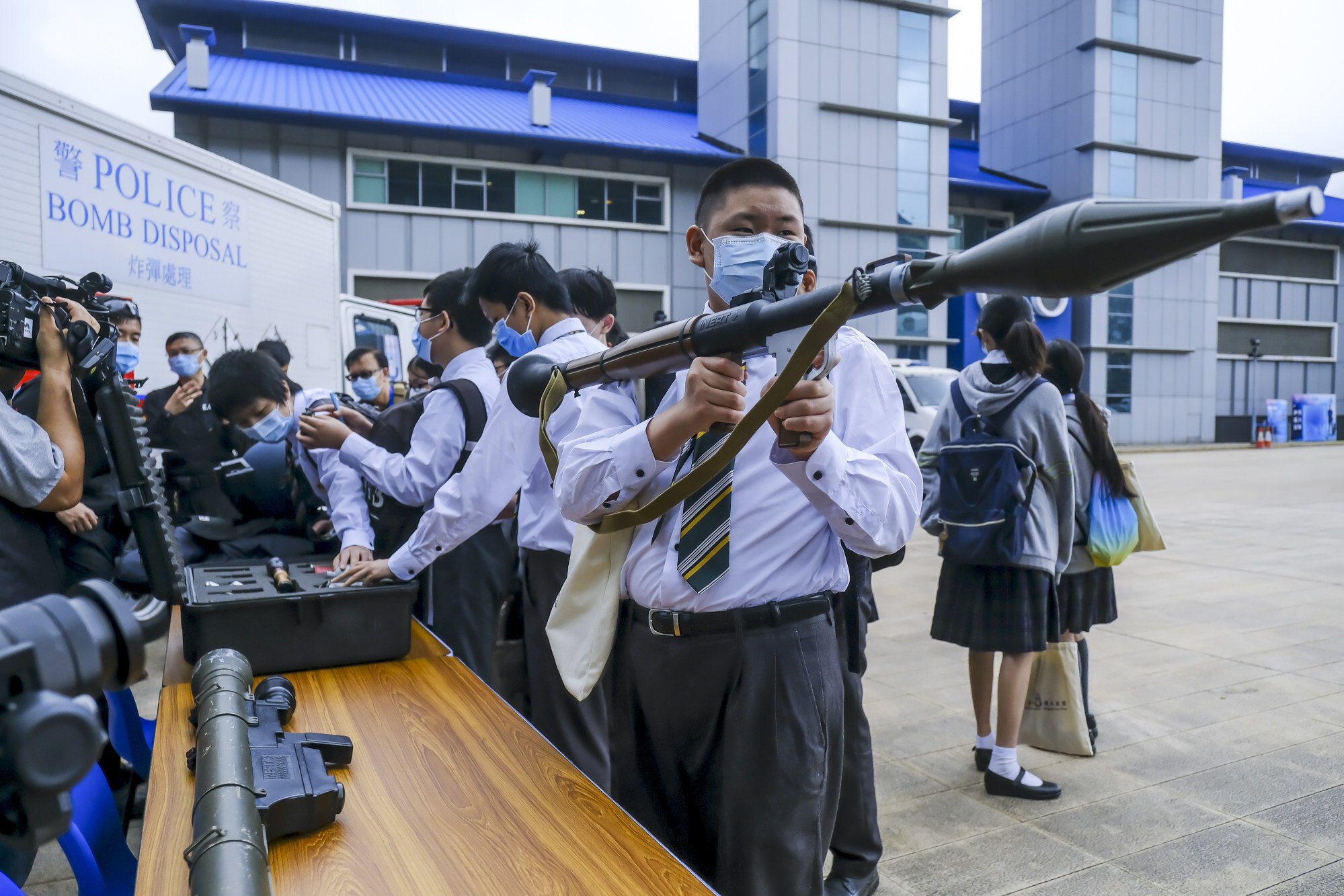 But Yeung said people should not jump to conclusions about Thursday's events based on a single photo.
"I think people should not dismiss the overall efforts made, including police's arrangements and the opening of the venue to the public," he said.
"Looking at the same photo, people might have various different thoughts and associations. We need not [focus] on thinking about that."
Yeung also said Thursday's educational activities – organised in schools and at four other disciplined services academies – were designed to foster greater understanding of national security on campuses and across the wider community.
Schools must also promote related topics "all year round for different grades of pupils", and officials would be monitoring schools' progress in this area through site visits and inspections, he added.
The city on Thursday marked National Security Education Day for the first time since Beijing last summer imposed the legislation, which criminalises acts of subversion, secession, terrorism and collusion with foreign forces.
Celebrations ranged from Chinese military-style marches and anti-terrorism drills, to school promotional activities for children and weapons displays for students. Some pupils were given a chance to hold rocket launchers and other weapons.
At the Immigration Department's training institute in Tuen Mun, children watched goose-stepping parades and were taught how to hold rifles used for drills.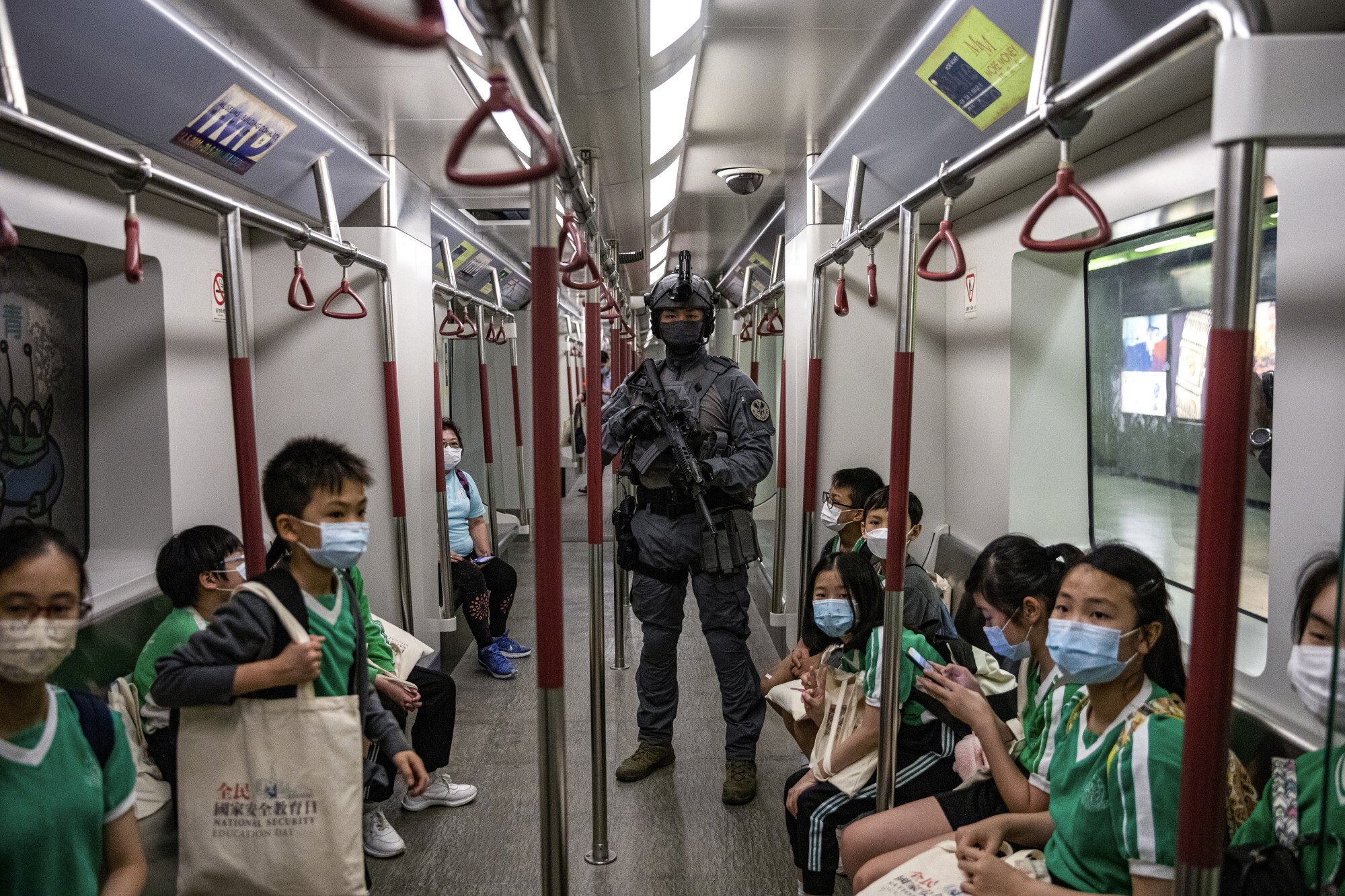 Anti-riot drills were also held at the Correctional Services Department's Training Institute in Stanley, while professional equipment and firearms were on display at the Hong Kong Customs College.
Issuing a stark warning on Thursday, Tang accused some media of using various means to "plant anti-China thinking into the heart of the people". "For anyone who acts as an agent of foreign forces, my team and I will use all our life to go after you and bring you to justice."
The Hong Kong Journalists Association demanded he retract his "inappropriate comments", but Tang on Friday suggested he would not be deterred by critics.
He said investigations and arrests would ensue if it was suspected that crimes had been committed.
"Fake news is directly linked to national security. Many foreign forces are using their proxies in Hong Kong to spread misinformation, hatred and division. We will investigate and arrest if there is evidence," Tang said.
At the same Legco meeting, Secretary for Security John Lee Ka-chiu also stepped up his rhetoric.
"Some media have been spreading independence propaganda, portraying some criminals as heroes," he said. "The whole of society must point out their mistakes and shout louder to overwhelm those voices."
Tang also said police had not stopped investigating the 2019 protests, revealing officers had just a day ago arrested seven people suspected of helping demonstrators trapped by the police siege of Polytechnic University in November 2019.
Of the some 10,000 protest-related cases, there have been more than 2,500 prosecutions to date.
Proceedings were complete in about 1,100 of them, more than 70 per cent of which resulted in conviction or other legal consequences, according to Tang.
Hong Kong's months-long protests were initially sparked in June 2019 by the now-withdrawn extradition bill, but later morphed into a wider anti-government movement.
Tang also said despite a drop of more than 30 per cent last year in applications to join the force, the figures had "stabilised" this year, with police trying to plug the gaps by extending the retirement age to 60 for those officers who joined before 2000.
More from South China Morning Post:
For the latest news from the South China Morning Post download our mobile app. Copyright 2021.