A crowdfunding campaign against the unpopular extradition bill drew more than 22,000 donors, mostly contributing small sums such as HK$100 (RM52.92), according to a financial summary on an online forum, and helped make Hong Kong a buzzword on social media and in international newspapers over the past week.
The leaderless "Freedom Hong Kong" campaign aired in the past week to target the G20 summit in Osaka, Japan on Friday and Saturday, as some young protesters who worked behind the scenes felt they needed to put global pressure on the Beijing and local governments even if few concessions were won.
The largely online movement, which secured HK$6.7mil (RM3.54mil) in funding in one day, took to the offline world by placing full-page or prominent advertisements in 20 mainstream newspapers in various countries, accordingly to a tally on the LIHKG forum.
The hashtag "FreedomHK" was cited 22,000 and 1,900 times on Twitter and Instagram respectively over the past week, analytics tools showed.
On Saturday, more than 100 activists and students from Hong Kong marched through Osaka's business district, chanting "Free Hong Kong". In New York, a similar-sized crowd took part in a silent flash mob and displayed a full-page advert that had run in a local newspaper.
Preparatory work for the campaign was done via social networking tool Telegram or through online forums, sources who took part said.
Those involved, including designers, copy writers and media liaison people, remained largely anonymous to each other and had no intention of meeting in the real world.
Among them, four participants told the Post they felt they made the right call to push the issue during the G20 summit to maximise global attention.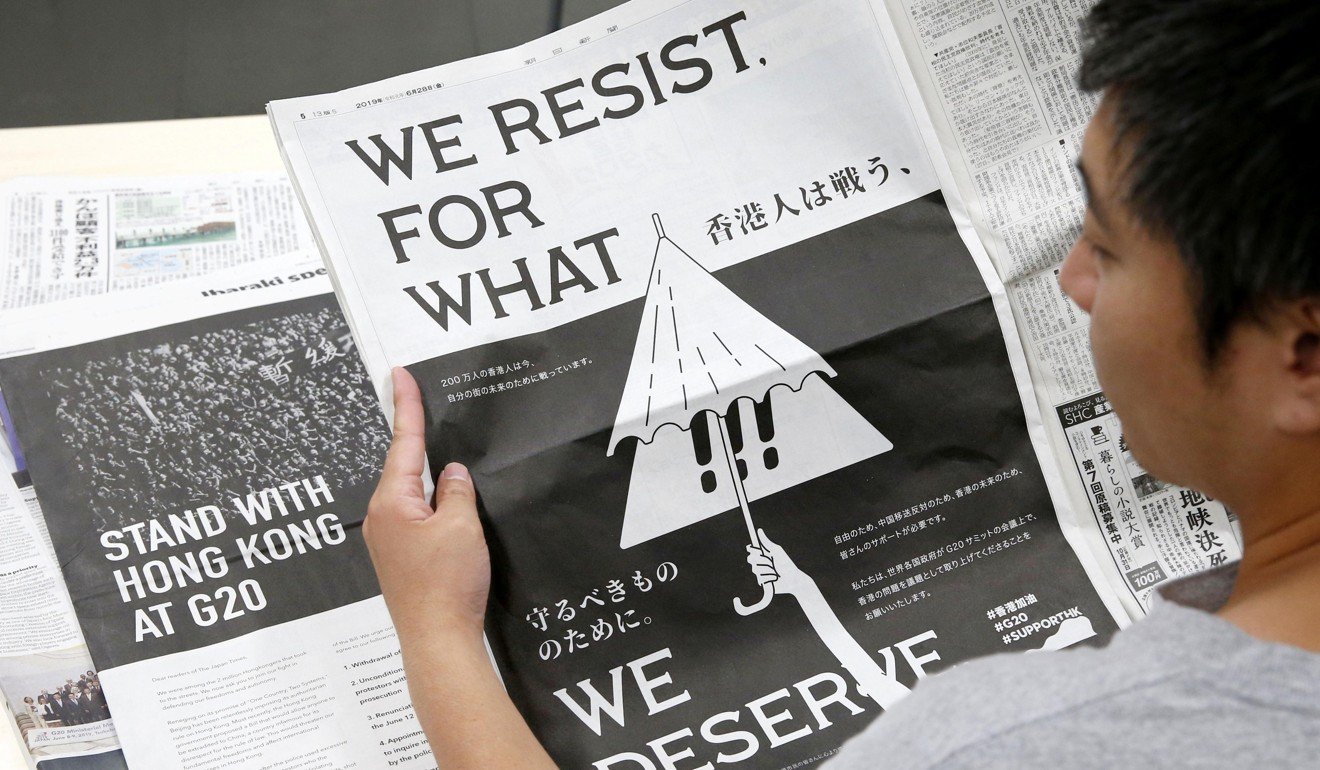 The four, in their 20s and 30s and using aliases, met online and spent a sleepless week liaising with press groups and advertising agencies overseas, and responding to media inquiries.
"We never thought Hong Kong issues would be raised at the international level," "Tony Yeung" said.
Two said they paid attention to international news and politics and felt that putting a global focus on Hong Kong could reverse the unbalanced power struggle between the city and the mainland government in past decades.
"If the issue was only between the mainland and Hong Kong, Beijing could just come and abduct anyone from the city," IT programmer "Tony Lo" said, referring to high-profile cases in 2015 where several Hong Kong booksellers went missing and eventually reappeared on the mainland for criminal investigations.
"But China is now fighting a trade war and appealing to the international community. Also the global media have eyes on Hong Kong, so the Chinese will be under diplomatic pressure not to deal with Hong Kong heavy-handedly."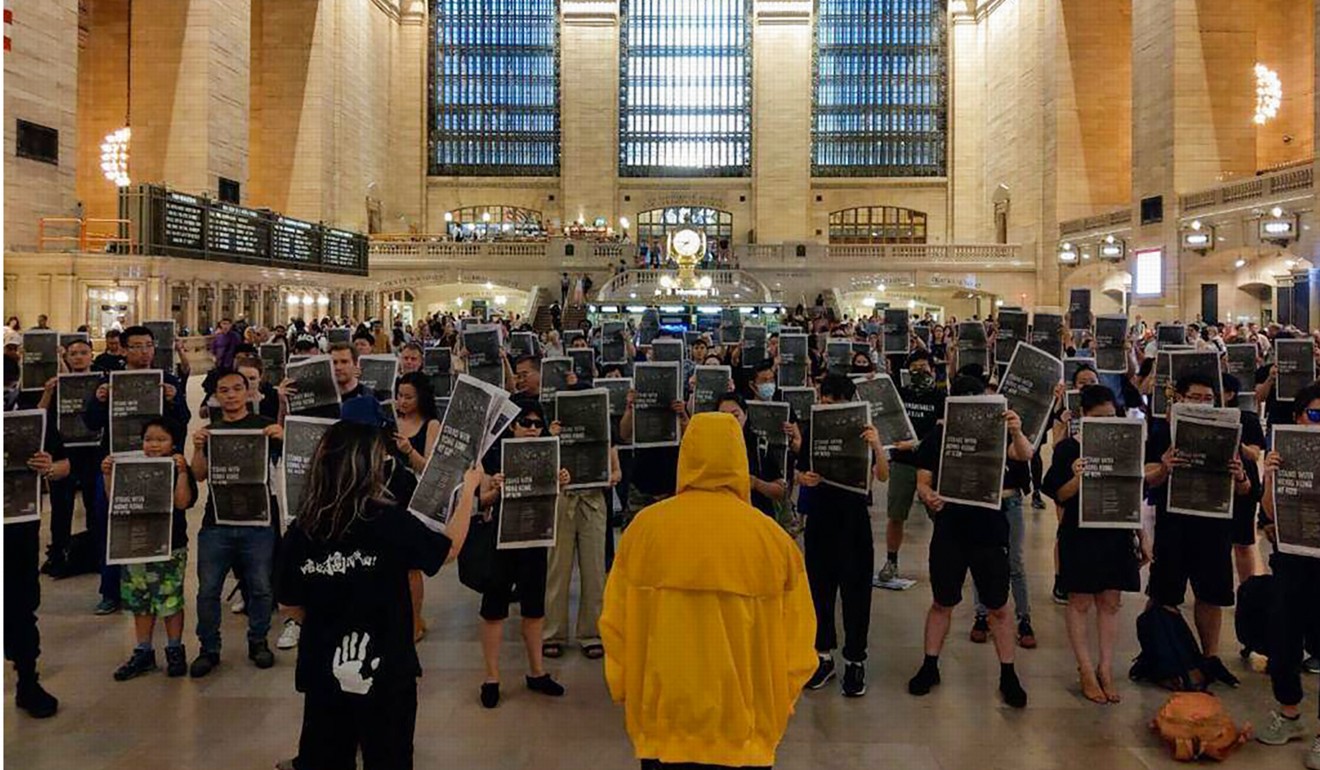 The four all said no one could give an accurate idea of how many people were involved in the campaign nor would they try to meet. "The entire anti-extradition bill movement has already reached a point where no one can tell how many people are actually taking part," Lo said.
But they felt it was never the key issue, as they worked organically across Telegram groups whenever work was needed. They also made clear they played only small part in this collective effort.
"What's most important is we all did our part for Hong Kong, and we may meet some time on some other occasion," said "Toni Wong", who was responsible for contacting advertising agencies in Europe.
After two massive marches against the bill, which would have allowed the transfer of fugitives to the mainland and other jurisdictions with which Hong Kong has no extradition deal, the government suspended the proposed amendments.
The four said it was too early to conclude if the campaign hit its target politically.
"It already told the world Hong Kong still has faith and we can do things this way, united," Lo said. "Whatever happens next, at least people will remember the demands we've made." – South China Morning Post
Subscribe now to our Premium Plan for an ad-free and unlimited reading experience!