A group of middle-aged women in Chongqing in southwestern China have earned praise online for making sure that their morning dance activities do not disturb passers-by – a departure from China's usually noisy square dancers, who are commonly viewed as a public nuisance.
A clip of the women dancing in formation while wearing earphones was published on Weibo by Pear Video on March 26, where it attracted tens of thousands of likes and shares.
"We wear earphones so we do not disturb people going to work," the dance group's leader, Liu Shurong, said in the video.
Morning group dances in public parks and squares are a widespread social phenomenon in China among middle-aged women and pensioners, who use the activity to keep fit and socialise.
But the habit has sparked noise complaints from the public, and several local governments have threatened fines and detention for those who play loud music in public between certain hours.
Local authorities in Guangxi province banned public dancing and singing with musical instruments or loudspeakers in 2016, and Beijing's municipal government banned the practice in 2017. The public use of loud audio equipment is also banned in the city of Xian, Shaanxi province.
Liu said that the headgear also benefited her dancers: "When wearing earphones, everyone's awareness is even more concentrated [on the dancing] because all we hear is the music."
"Most importantly, we want to give young people quiet surroundings for relaxation," she said.
"This is the least we can do not to disturb others."
Liu said that her group of dancers, which appeared to number in the 30s in the video, have been wearing earphones for nearly four years. The group assembles in the same plaza near a bridge in Chongqing's Jiangbei district every day at around 7am to dance and do aerobic fitness exercises, Liu said.
Since every member uses a personal MP3 along with the earphones, the cost is high, according to Liu.
Chongqing locals interviewed by Pear Video also said that the scheme was a good idea, and more "environmentally friendly" due to the lack of sound pollution.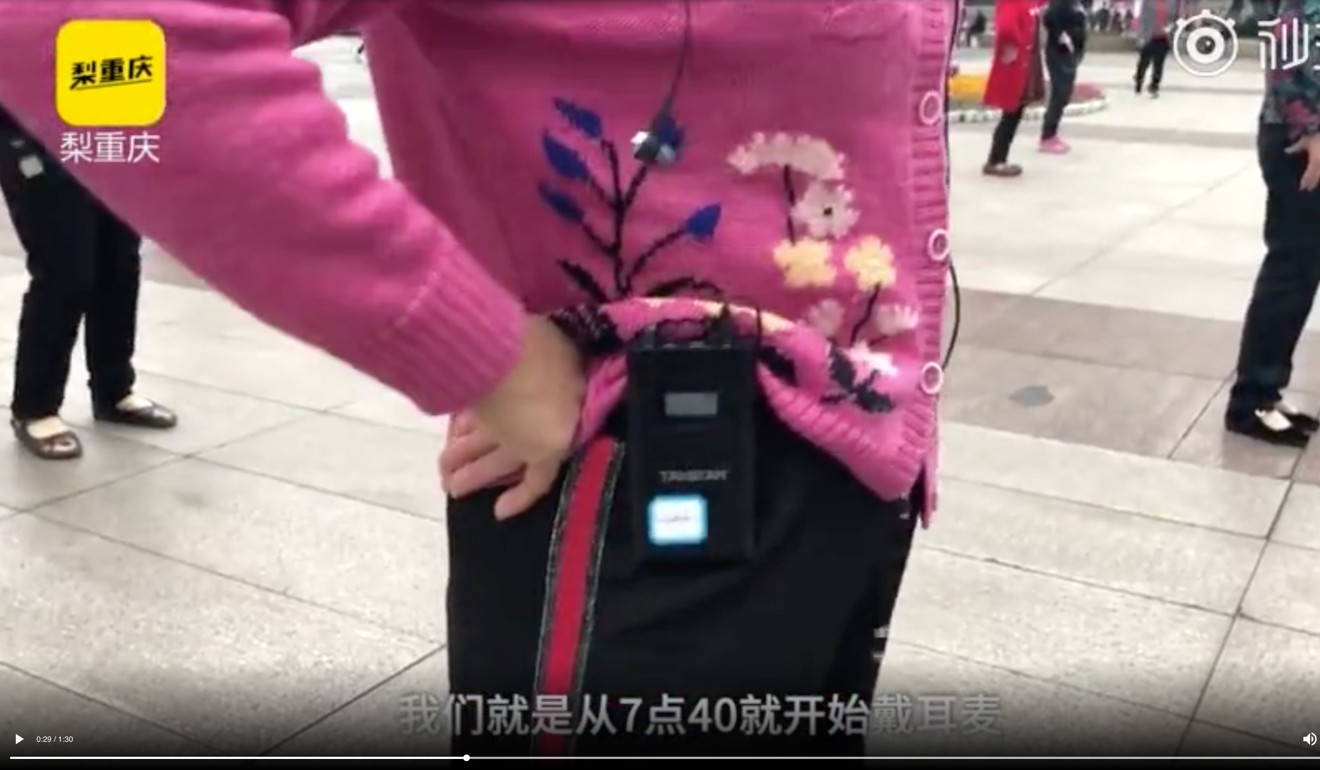 "How is this strange? When they use big speakers they are disturbing the masses, when they are silent they're called strange," read one top-rated comment on Weibo.
"It's good that they're not disturbing others, but they have to be aware of earphone hygiene," wrote another user. – South China Morning Post