China's major smartphone companies are taking a leaf out of the car industry's playbook, as they introduce new devices under separate brands that target specific consumer segments around the world.
Amid a saturated market in China, these firms have been sharpening their focus on India, the world's second largest smartphone market, where the likes of Huawei Technologies, Xiaomi and Oppo are investing resources in their new brands.
Oppo, which was once the biggest smartphone supplier in China, is preparing to soon launch a new budget-priced smartphone under its Realme brand, a separate line that was created for the Indian market, according to an emailed statement from the company.
It said the initial Realme smartphone, which was priced from 8,990 rupees (RM524), was exclusively released online via Amazon.com's Indian portal from May this year. This first batch was sold out after more than 400,000 units got snapped up in two months.
Realme was set up by Sky Li, a former vice-president of Oppo who led its overseas operations, as a separate corporate entity in India. He also served as the head of Oppo's India business when the company rapidly expanded its operations to 31 countries and territories over the past few years.
Oppo, Vivo and OnePlus are the three major smartphone brands under privately held BBK Electronics Corp, a consumer electronics company headquartered in the southern Chinese coastal city of Dongguan in Guangdong province.
Realme directly competes against certain handset models from Xiaomi in the lower-end segment of India's smartphone market, according to Zaker Li, a senior industry analyst with IHS Markit.
"Both Oppo and Vivo smartphones, in the eyes of Indian consumers, are expensive handsets," IHS Markit's Li said. "Oppo is not willing to sabotage its brand image by producing budget phones, so having a sub-brand like Realme to target the low-end market is a wise move for the company."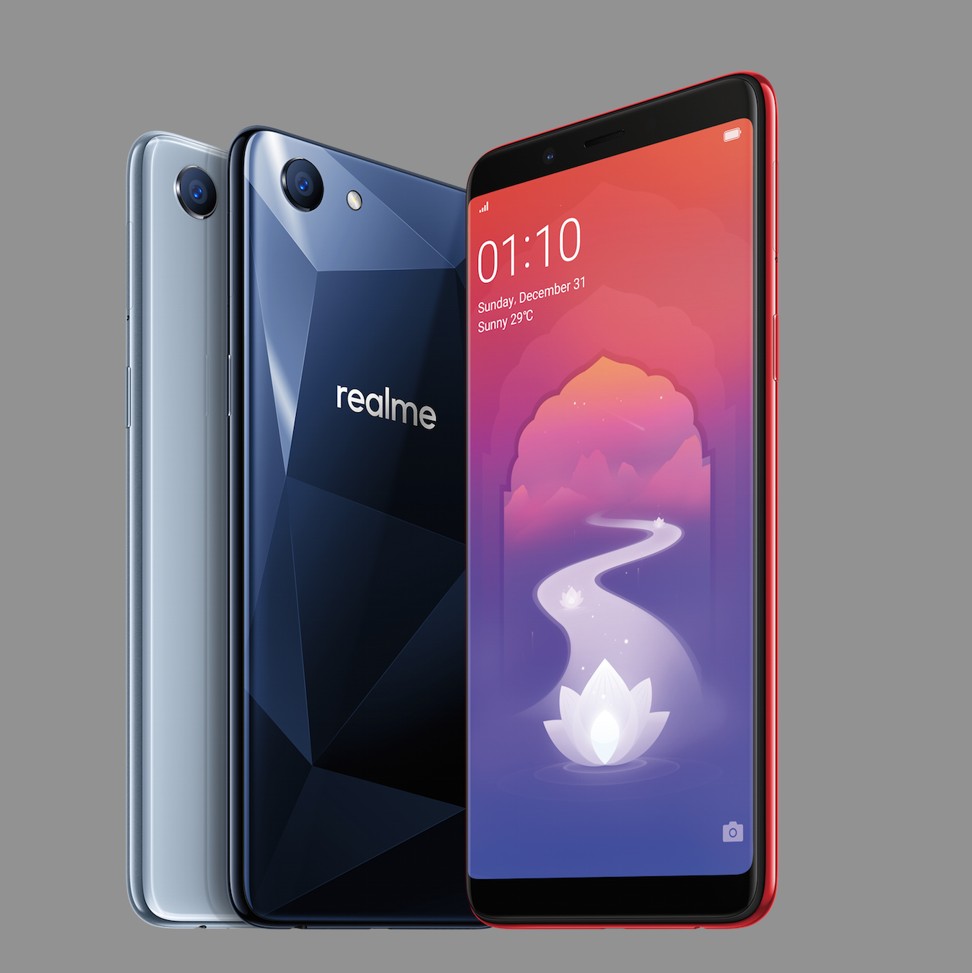 In contrast, a Xiaomi executive announced on Monday the release next week in India of a new smartphone under a separate brand, Poco, that is aimed at the premium segment of the Android handset market.
The push by Chinese mobile phone companies towards different segments of the smartphone market has come at a time when their devices have squeezed those from international brands in the mass market segment.
So they have turned to the marketing playbook of the car industry, which had countered the effects of markets awash with products from the major carmakers by forming new brands aimed at specific consumers.
The major car manufacturers created brands that targeted the more profitable luxury segment of their industry. General Motors has Cadillac and the Ford Motor Company has Lincoln, while Toyota established Lexus and Nissan Motor Company founded Infiniti in Hong Kong.
China's smartphone giants, with the exception of Xiaomi, have targeted the lower end segment of their industry. Huawei, the world's second largest smartphone supplier, established its now-popular Honor brand in 2013 for price-sensitive consumers, while fifth-ranked Oppo recently formed Realme to go after the same market segment.
Still, not all budget Chinese sub-brands have succeeded in the market. Lenovo Group set up in 2015 its Zuk Mobile brand, which also competed in the low-end smartphone segment, until it was shut down last year as the company focused resources on its Motorola brand.
China's top four smartphone brands – Huawei, Xiaomi, Oppo and Vivo – had a combined global market share of 39% in the second quarter this year, according to data from Counterpoint Research.
In India, major Chinese smartphone suppliers Xiaomi, Vivo, Oppo and Transsion had a combined share of 54.9% share of the market, data from technology research firm IDC showed.
Newcomer Realme faces particularly tough competition in India, where it squares off against Xiaomi's Redmi-series handsets.
"Certainly, Realme 1 has all the best available features available [at its price range in the market]," said Upasana Joshi, associate research manager at IDC India. "Xiaomi, however, is a very big player in the online segment, where it commands a share of 56 per cent. It is difficult to match volumes with that giant, even if Realme can manage a volume of more than 1 million units in the coming quarter." — South China Morning Post