ESG industrial development with clean and green environment.
AME is banking on its track records and strong presence in the industrial park development in
Malaysia to continue attracting clients from all over the world.
Property Development Division director Cheryl Lim said over the years, the company has proven its expertise and capability in developing well-planned and well-man-aged industrial parks in Malaysia.
"As one of the leading developers for industrial park projects in Malaysia, we have been able to change the landscape of industrial properties. We drive towards ESG industrial development by creating clean and green environment, highly functional industrial buildings with renewable energy, monthly environmental monitoring, Jabatan Tenaga Kerja (JTK) and Internationally Responsible Business Alliance (IRBA)-compliant workers' accommodation, sports and recreational facilities and so on. All these elements can enhance customers' business values,'' she said.
"Back In 2011, we took a bold step by developing a modern, well-managed industrial park under the i-Park brand,'' said Lim.
The first two i-Park were i-Park@SILC and i-Park@Indahpura then in 2017, the third product i-Park@Senai Airport City was launched.
Lush greenery in overall development of i-Park@Senai airport city.
AME's i-Park@Senai Airport City project is an upgraded version that introduced an industrial resort concept which the company is truly proud of.
The most important thing is that the development has created a work-life balance working environment with clubhouse facilities including saltwater swimming pool, indoor gym, fitness studio, badminton courts and multifunction hall.
Other outdoor recreational facilities are sand volleyball court, futsal court, tennis court, multipurpose court, jogging tracks, outdoor amphitheatre within walking distance from the operator's factory located within i-Park.
Work-life balance industrial development provided convenience, promoted healthy lifestyle and welfare to attract and retain talent pool in Johor, created more than 6,000 job opportunities for both white and blue collar workers.
The 50m saltwater swimming pool.
The development also encompasses well-managed and self-sustained workers' dormitories – i-Stay -- that complies with JTK and IRBA requirements. The workers' dormitory capacity can fit approximately 2,005 beds.
The benefits of having i-Stay in i-Park@Senai Airport City include it being within walking distance to the workplace, thus saving costs on workers' transportation, low medical leave that increases workers' productivity as well as reduction in social problems.
Lim said among the facilities available at the dormitory are separate male and female blocks with biometrics security system, entertainment such as Astro and free WiFi at common areas, table tennis equipment, arcade game machines, park gym, digital automated teller machines (SOCASH Solutions) and online remittance system, first-aid room, multipurpose hall, laundrette shop, grocery shop, canteen and mineral water vending machine.
"With over 25 years of experience in industrial development and construction activities, our
team of professionals cater to the specific needs of the business operations," she said.
The needs include ready-built industrial units and provision of customisation services, including renovation fit-up, highly efficient and fast speed delivery, option to lease or outright purchase and end-to-end solar PV solution and green building features.
"We offer ready-built or flexible tailor-made factories that are fully customisable to suit the specifications of local and international corporations," said Lim.
The focus is in big scale factory size with the gross floor area ranging from 30,000sq ft to 100,000sq ft for the standard unit as well as 200,000sq ft and above for larger and custom-built factories.
Launderette shop inside workers' dormitory.
The strong selling point of i-Park industrial development projects is the strategic location within Iskandar Malaysia surrounded by matured townships such as Senai, Kulai, Kempas, Impian Emas and Skudai.
The projects are accessible via the North-South Expressway and Second Link Expressway with easy access to Johor Baru town and Singapore, Senai International Airport, Port of Tanjung Pelepas and Johor Port.
"Johor's close proximity with Singapore is also an added advantage as businesses and companies operating in Iskandar Malaysia have the best of both worlds," she said.
It is a well-known fact that Johor and Singapore have been complementing each other in economic activities resulting in a win-win situation for both parties.
AME has successfully attracted major investments from multinational corporations (MNCs) from Malaysia and other countries invarious sectors.
The sectors include pharmaceutical and medical devices manufacturing, warehouse and storage, electrical and electronics, research and development, plastic injection moulding, assemblies, trading and precision engineering and more.
The company's i-Park@Senai Airport City has become "A Home for Multinational Companies'' from Australia, China, Denmark, France, Germany, Japan, Netherlands, Switzerland, Taiwan, the United States and many more with high value manufacturing products and high-tech solutions.
i-Park@Senai Airport City successfully attracted more than 64% of multinational corporations and 33% of local companies to date that make up overall occupants of the park and yet becoming the most happening and conducive workplace for locals as well as foreign expertise and international workers.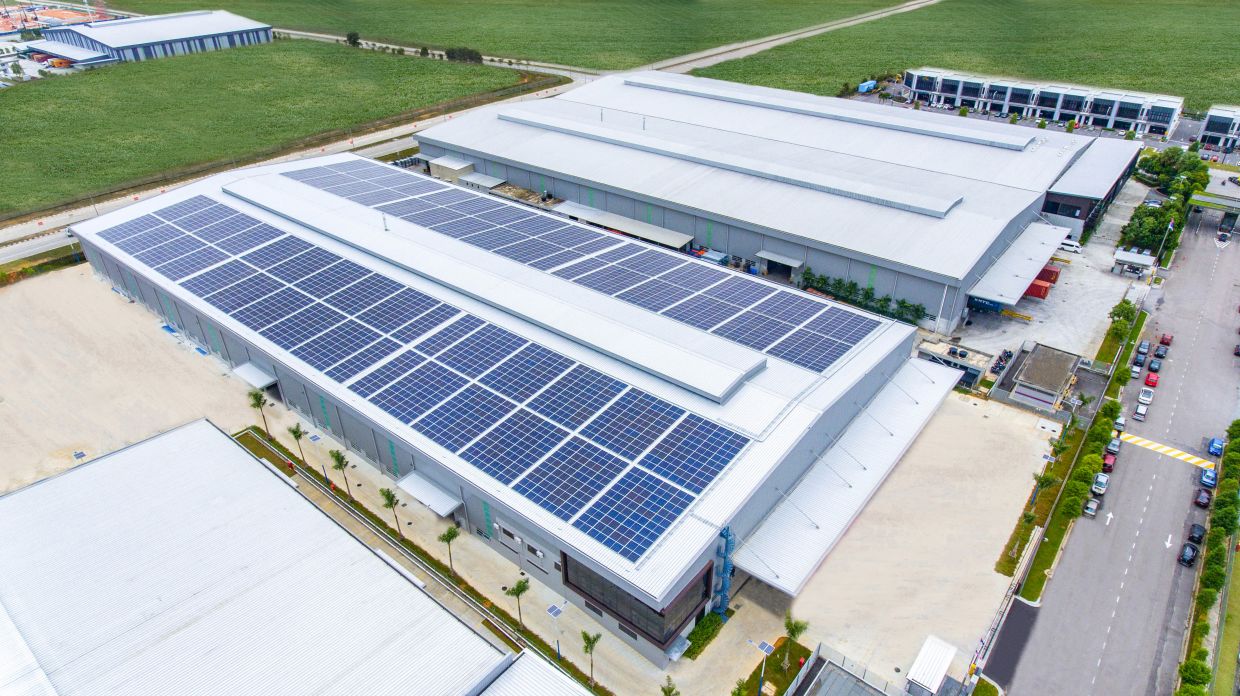 Energy saving end-to-end solar PV solution.
On winning the Malaysia Property Award (Industrial Category) Lim attributed the achievement to continuous commitments from the company's team members who continue to work hard to strive for the better.
"Action speaks louder than words and we truly believe and are proud that our end products have such an overwhelming response,'' she said.
Moving forward, AME aims towards a 5G industrial park, Industrial 4.0 as well as promote renewable energy, Green Building Index (GBI) to create an environment, social and governance (ESG) - compliant industrial development that enhances customers' business values.
"We hope to attract high-technology or more different industries like medical and pharmaceutical, data centre, R&D centre, electronics and electrical, semiconductors and aerospace engineering. AME will continue its role to become the benchmark for future industrial park development not only in Malaysia but also in the region." Lim said.
Subscribe now to our Premium Plan for an ad-free and unlimited reading experience!