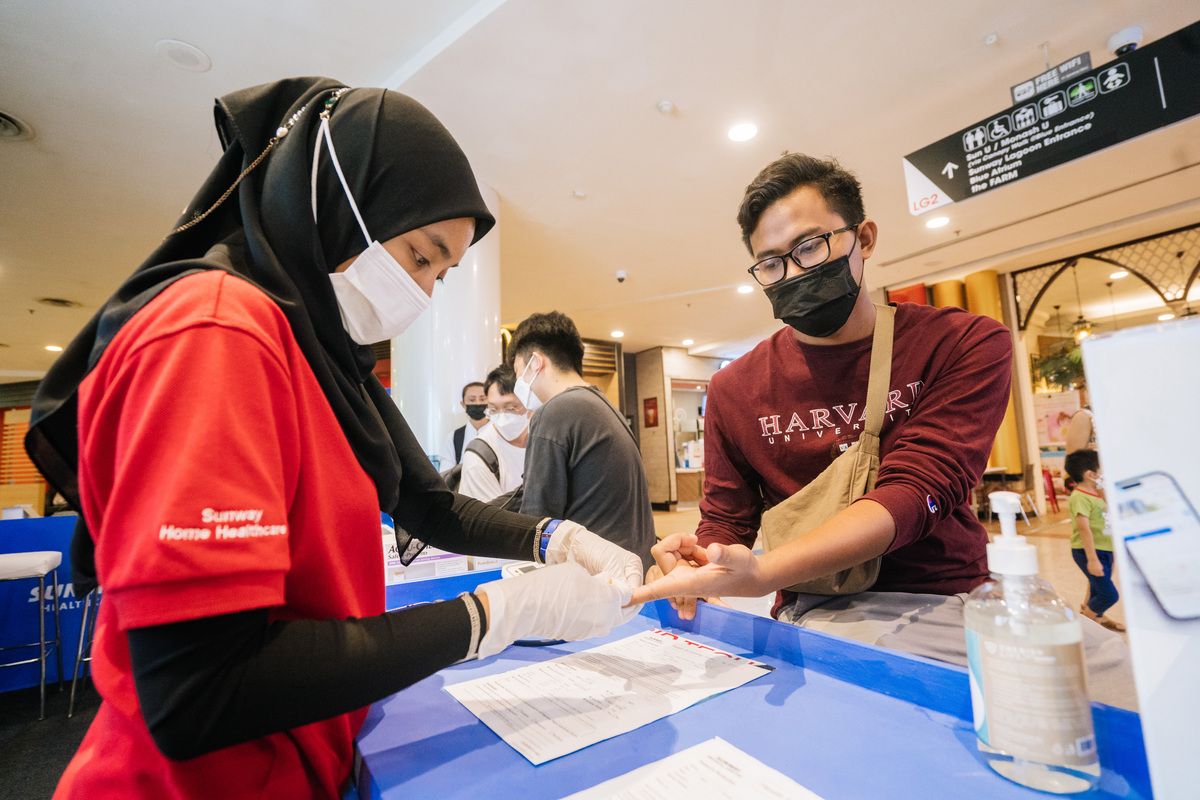 Free glucose tests were available at the KNOW Diabetes Fair organised by Sunway Healthcare Group.
SUNWAY Healthcare Group recently launched its KNOW Diabetes 2022 campaign in conjunction with World Diabetes Day. The campaign kicked off with a diabetes awareness fair at Sunway Pyramid that took place from Nov 11 to 13, with free health screenings, exciting games, gifts and a special lucky draw, too.
The KNOW Diabetes campaign strives to bring awareness surrounding prediabetes, diabetes prevention and diabetes management to empower Malaysians to improve their health and manage their condition.
According to Sunway Medical Centre consultant endocrinologist Dr Alexander Tan, many times, diabetes goes unnoticed and is known as a silent disease.
"You won't know you have diabetes until you do a blood test. This disease creeps up on you without any symptoms in the early stages and (only when blood sugar is high) is when you realise 'why is my infection not getting better, why am I thirsty all the time or why am I going to the toilet frequently?' That's when it gets detected.
"(Blood sugar readings) tend to be different for most, but typically when your reading reaches the teens or 20s, that's when people start to show symptoms," he said.
Dr Tan shared that there are several types of diabetes to look out for with the most common being type 2.
"Generally there are type 1 and type 2 diabetes, as well as patients who develop diabetes when they are pregnant, called gestational diabetes. Others might have high blood sugar levels due to other reasons like surgery, but these are quite rare.
"For gestational diabetes, it tends to go away after delivery, but for some women, their diabetes will persist and they will have type 2 diabetes. For others, it won't come back until they are pregnant again and some would not have any issues until later on in their lives, in their 40s or 50s," he said.
'This disease (diabetes) creeps up on you without any symptoms in the early stages,' said Dr Tan.
Dr Tan also opined that most of the time, people do not go into remission for type 2 diabetes and never for type 1, but women with gestational diabetes tend to go into remission.
"It is rare for people to go into remission for type 2. Not many people are able to achieve remission. You will need to achieve normal blood sugar readings, without consuming medication for a minimum of three months.
"Falling into the pre-diabetic reading range is also considered remission. If you are able to keep your diabetes under control, everything associated with it like amputation or kidney and eye damage will be avoidable.
"While remission is great, control is what you should aim for," he said, adding that many Malaysians struggle with going into remission because of diet.
He also added that to prevent diabetes, it is important to lead a healthy lifestyle and to be aware of risk factors such as family history, history of gestational diabetes, being obese, high blood pressure and cholesterol, as well as long-term consumption of certain medication such as steroids.
"Don't be overweight, eat healthily, exercise and if you are at risk with family members especially parents with diabetes or you have had gestational diabetes, be sure to get your annual medical check-up done to ensure you are not at risk.
He added that lack of sleep and stress is also known to increase blood sugar.
WDD Socks Collection exclusively handcrafted by Komuniti Tukang Jahit (KTJ) sold at the KNOW Diabetes Fair organised by Sunway Healthcare Group
Sunway fair
Dedicated to shedding light on the prevention and management of diabetes in conjunction with World Diabetes Day, the campaign was underlined by the KNOW Diabetes Fair with the release of an exclusive handcrafted socks collection by Komuniti Tukang Jahit (KTJ) – all proceeds benefiting the National Kidney Foundation of Malaysia – as well as a comprehensive diabetes e-guidebook.
The WDD Socks Collection was created in collaboration with KTJ to bring awareness to the impact of diabetes on five major areas of the body – the eyes, kidneys, nerves, feet and the heart.
The latest version of the diabetes management guidebook written by Dr Tan and Sunway Medical Centre Velocity KL's Dr Lim Kim Piow last year has also been released to better encourage awareness and education of diabetes in Malaysia. It is available in three languages: English, Bahasa Malaysia, and Chinese.
Subscribe now to our Premium Plan for an ad-free and unlimited reading experience!