HUAWEI celebrated the successful conclusion of its 'Huawei Developer Day' event in Kuala Lumpur last Tuesday (Nov 15), where leaders expounded on the evolution and growth of the Huawei Mobile Services (HMS) ecosystem.
Since announcing its plan to build its own mobile service ecosystem in 2018, the HMS ecosystem has experienced tremendous growth and now has six million global HMS Core developers, with 25,030 open APIs.
The event also marked Huawei's official launch of its HMS industry solutions in the Asia-Pacific (APAC) region.
Huawei APAC mobile ecosystem business growth director Rei Xiao believes that the HMS solutions can help partners and developers achieve business growth.
"The HMS solutions we launched today give full play to Huawei's industry-leading capabilities, helping partners and developers in various industries to create innovative app technologies and achieve business growth," said Huawei APAC mobile ecosystem business growth director Rei Xiao.
Esteemed speakers were also invited to speak to over 300 Huawei partners on current industry trends and their experiences in tapping into Huawei's tailored solutions in four key areas – e-commerce, gaming, entertainment and travel.
E-commerce
Huawei anticipates that the e-commerce industry in Southeast Asia will continue to grow in the coming years, with the region already home to five of the top 10 global e-commerce markets, in terms of fastest growth.
To capitalise on this, Huawei's industry solution for e-commerce is to leverage its hundreds of millions of monthly active users and its global leading technologies to achieve impressive results through partnerships with multiple global e-commerce companies.
E-commerce practitioners can now look to new sources to increase user traffic and conversion by leveraging products and technologies such as HUAWEIAds, push notification and geo-marketing.
User experience can also be improved by making use of Huawei's services as the organisation helps e-commerce companies improve conversion rates and reduce product return rates by using intelligent technologies such as AR Engine, 3D product display and multi-modal search.
Petal Search, Huawei's AI-powered mobile search engine, has also proven to be a big hit with business partners in boosting traffic through nearby search results and other search features.
Gaming
Similar to the e-commerce industry, the gaming industry in Southeast Asia is one of the fastest-growing markets for mobile games in the world, thanks to the large and young user base, and improvements to communication infrastructures in the region.
Huawei's gaming industry solution provides a one-stop services platform for game developers, as the company believes that immersive and successful gaming experiences are created using leading technologies and integrated promotion capabilities.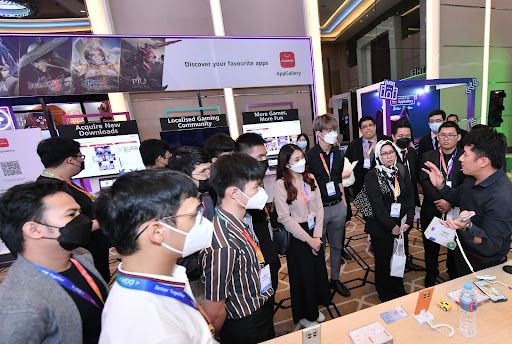 AppGallery can offer insights on innovative technologies for app development and expansive distribution efforts by leveraging its extensive reach.
By tapping into Huawei's services, game developers will be able to get play insights and even leverage technologies such as image rendering, network acceleration and innovative interactive experiences in terms of app development.
Huawei also invites local game enthusiasts to help developers test their games before release and provides analytics tools and player profiling to improve operations efficiency.
The company even provides support in terms of distribution, with more than 7,000 Huawei stores in the Asia-Pacific region.
Developers can also leverage HUAWEIAds to quickly acquire users and improve their revenues, with the platform having 49,000 qualified publishers and more than 3,100 advertisers onboard globally as of this year.
Travel and Transport
There has been a rapid increase in demand for digital maps and navigation services as people have adapted to a new way of working and travelling.
HMS industry solutions for travel offers capabilities including Map Kit, Location Kit and Site Kit on Huawei's Petal Maps, which could bring a boost to navigational experiences when travelling.
Petal Maps, launched in 2020, features state-of-the-art technologies such as lane-level guidance and high-fidelity 3D modelling which can recreate roads and buildings in detail to give users a more realistic and representative view of their surroundings.
The app also allows users to pair their Huawei devices to sync information for a smoother navigation experience.
Media and Entertainment
In the entertainment scene, Huawei has made promising advances in software and hardware technologies that will allow anyone to create professional-looking videos.
Using the innovative functions of Huawei's Petal Clip, technologies such as face masking, AI filters and person tracking have been integrated into the HMS media and entertainment solutions.
Developers can now simply integrate the software development kit to incorporate a wide selection of video editing functions into their apps such as object masking, subject tracking and filter cloning.
The total number of collaborations from global HMS Core developers has risen to six million, with 25,030 open APIs.
Huawei has also worked on improving video export speeds and resolutions to levels that far exceed industry standards, with GPU-accelerated decoding and synthesis and HEVC-based encoding and decoding.
Huawei has pledged to continue to build connections with developers and to organise various developer activities, like the 'Huawei Developer Day' event.
There have also been a number of community programmes initiated, such as Huawei Developer Groups and Huawei Student Developers, where tutorials and incentive activities are provided.
Huawei Asia Pacific consumer business group president Louie Lyu thanked developers and partners for their collaborations.
"The theme of this year's event – 'Better Together' – encapsulates the value of partnerships and it is only with the continued support of developers and partners that we have created so much success, and witnessed significant growth and improvements to the HMS ecosystem," said Huawei Asia Pacific consumer business group president Louie Lyu.
For more information, visit https://developer.huawei.com/consumer/en/activity/detail/401663571160329082 or visit Huawei's Facebook page at https://www.facebook.com/HuaweiMobileServicesAPAC/
If you're interested in working together with Huawei, contact huaweimobileservices.apac@huawei.com
Subscribe now to our Premium Plan for an ad-free and unlimited reading experience!