KUALA LUMPUR: AmBank Group became the latest from the corporate sector to sign up with SportExcel in promoting the development of junior sports yesterday.
Ambank signed a three-year deal worth RM45,000 as one of the charter members of SportExcel.
And they will also be providing sponsorship to a tune of RM26,800 for the SportExcel Malaysian Junior Grand Finals, which also incorporate the International Junior Golf Championships, which begin tomorrow at the Rahman Putra Golf Club in Sungai Buloh.
SportExcel now have 21 charter members but their executive director, Teng Mui Ngee, hoped that more would join up, especially those from public listed companies.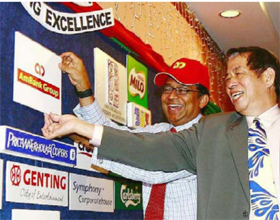 "We are doing something good for Malaysian sports but private sector support has been lacking," said Mui Ngee.
"It is sad that many big corporations who we approached to work with us have been turned down. For just RM15,000 a year, one can become a charter member and it's just a pin drop in the ocean for them."
SportExcel began in 1991 and they are currently running 13 junior circuit programmes in 10 sports — aquatics (swimming and diving), bowling, cycling (track and road), gymnastics (artistic and rhythmic), cricket, golf, shooting, sepaktakraw, squash and tennis.
Among the top Malaysian athletes who have received assistance from SportExcel include Nicol David (squash), Ben Leong (golf), Shalin Zulkifli (bowling) and Jeffrey Ong (swimming).
In the meantime, SportExcel can lay claim to playing a big role in the development of young golf talent as they are already running a total of 18 legs on their junior circuit.
"We have a total of 132 participants, who will be playing in the Malaysian Junior Grand Finals, not including a group of 40 from Thailand," said Mui Ngee.
"The response is good and we will have a cut-off mark for the number of participants for the final day."
The Thai golfers will be staying back for the Asia Pacific Junior Match-Play Championships, which will be held at the same venue from Dec 21-23.
Also competing are juniors from Singapore, Indonesia, South Korea and Australia.