MOST of us are nostalgic when remembering people, places and events in our lives. For me, this happened during my family's recent trip to Komtar in Penang.
It has been a family tradition to have Christmas dinner at my home. My husband, TH normally slaves for two days to prepare a lavish meal for us. But this time, he asked if I fancied attending a Tribute to Teresa Teng concert at The Top@Komtar in Penang on Christmas eve instead.
The late singer's melodic voice and evergreen songs continue to pluck at the heartstrings of millions of fans worldwide, mine included, despite it being 23 years since her demise.
But wouldn't it be sad to spend the festive season in an old building built over three decades ago, I asked. TH assured me that Komtar has changed.
So I agreed and we invited our parents to join us and three generations of two families headed north a day before Christmas eve.
The Top
It had been more than 20 years since we last set foot into the iconic building and I expected it to be neglected, dimly lit and dull.
Stepping into Level 6 though, I was amazed by the recent makeover. What a vibrant scene – a bright and colourful arcade with a huge LED screen lit across the entire ceiling and the whole place filled with cheerful faces of all ages.
TH explained that the 65-storey tower has been revitalised. Three additional storeys were also built on top of and a complete makeover of five existing floors was done to house a theme park, multiple restaurants, a ballroom, an elite business club occupying four floors and a glass skywalk on the rooftop.
Before the concert, we enjoyed a nine-course Chinese dinner at the palatial Imperial Court Restaurant. It ended punctually at 8.30pm and all the guests were then ushered to the ballroom for the concert featuring renowned Teresa Teng impersonator, Tong Yao from China. The hall is filled to capacity.
The songbird's imitation of the voice and girlish mannerisms of the legendary Taiwanese singer was uncanny. She even looked like the original! No wonder she is the most famous impersonator.
Needless to say, the audience was mesmerised by Tong Yao's enchanting performance and off-stage interactions.
Educational theme park
The next day we returned to The Top to spend Christmas at the Avenue of Adventures theme park.
We began with the Jurassic Research Centre as my toddler Baby Cat and baby Miss Hair love dinosaurs. Some parts of the park look like scenes out of the movie Jurassic Park.  
Baby Cat squealed delightfully as baby dinosaurs emerge from hatching eggs in the lab. And the life-sized dinosaurs that move with the aid of the latest animatronic technology, fascinated all of us. "They look so real", we heared ourselves and other visitors say repeatedly as we snapped pictures and shot videos.
I have been to several dinosaur displays abroad but most have only a handful to showcase. This park has 200 pre-historic creatures on display.
Exiting the park, we entered the games arcade where my girls took turns to ride moving baby dinosaurs while the equally excited TH played shooting games.
Baby Cat was also thrilled to see multiple reflections of herself everywhere in the Magic Mirror Maze. It was a pity though the girls are too young to ride the psychedelic-coloured Jelly Bump (bumper cars).
Meanwhile, we saw older children and adults flocking to the Tech Dome, which has over 120 interactive scientific and technology exhibits that deal with science and the human body.
Other major attractions are the 7D Discovery Motion Theatre, Space Time Squadron and Ocean Explorer.
Rainbow Skywalk
As the crowd grew bigger we reckoned it would be better to head up to the Rainbow Skywalk on the rooftop which offers a unique 360° panoramic view of Penang. It was a surreal experience, though, to walk on a steel structure with glass floor protruding out of the tower at 249m above the street.
I have been to many theme parks around the world and give The Top a thumbs up. Being indoors, visitors are protected from the weather. Moreover, some of the 15 attractions are educational.
Rejuvenating old buildings
In recent years many new shopping malls have sprung up in cities across Malaysia, overshadowing the older ones that have seen better days. A viable solution may be to refurbish the latter buildings.
Rejuvenating the iconic Komtar by incorporating The Top entertainment and business facilities is an example of how this can be done.
The Top has drawn nearly a million visitors since its opening a year ago, helping the historic office tower-cum-shopping complex re-establish itself as a must-visit tourist site.
Penang has delicious hawker food, beautiful beaches and heritage buildings to boast. Adding to the island's appeal is the revitalised Komtar and the continuing transformation of its vicinity.
I am glad I agreed to TH's suggestion to attend the concert and spend this Christmas in a different way. We had such a memorable, happy and fun time that we will definitely look to visit again.
Here's wishing everyone a very Happy New Year and may God bless all of you with peace, joy, excellent health and prosperity! May you feel 20 and look 18 in 2018!
> The views expressed are entirely the writer's own.
Subscribe now to our Premium Plan for an ad-free and unlimited reading experience!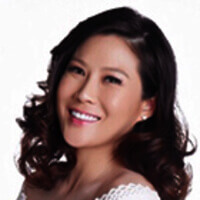 Chermaine Poo is a chartered accountant turned actress, TV host, emcee and columnist. Now she juggles between motherhood and running her classic car restoration workshop, Restoration Performance Design. And because she doesn't sleep, she writes this columns and a blog on www.chermainepoo.com.