I advocate that babies and young children must sit in baby car seats or booster seats while travelling in vehicles. It is not widely practised here but is mandatory in advanced countries.
Rules and regulations aside, our children's safety is most important and we should.
understand the risks.
Most parents here are not aware of the danger their young children especially babies face during the journey. Every now and then we read of babies flung out of cars in motor accidents.
Some men let their babies sit on their laps while they drive to entertain them. Even at a snail pace, clowning in this manner is dangerous and unnecessary.
I was shocked when I came across a mother who straps her baby to her chest while she drives to keep him from crying. A minor motor accident even at a slow speed may cause serious injuries to the fragile bodies of very young children and worse if the other colliding vehicle is travelling at high speed.
I picked up many safe-driving tips from my husband, TH who is a high-speed enthusiast on the Sepang International Circuit, and former F1 champion, Mika Hakkinen when I hosted a road safety campaign. Even so, I would only drive when my children are securely strapped to their car seats.
TH and I may not agree on everything but we are of one mind that our babies must be
trained from birth to sit in car seats – rear-facing till four years old and then forward-facing till seven.
Thereafter, they will be upgraded to booster seats till age 12.
Our mothers used to carry us on their laps while seated on the front passenger or back seat and used their hands as restrains. Education on child safety was non-existent then.
These days more parents endeavour to practise it but cave when their children cry. What will happen to the young child if the car meets an accident and the impact is quite powerful or the car spins or turns turtle?
The sad truth is no matter how much we mothers love our children, in the event of such an accident we are not able to protect them.
It is not surprising that children struggle and cry when they are strapped in car seats and restrained. The wailing is worrying, distracting and sometimes, even annoying to the driver.
But it is better than getting injured or losing lives if a serious accident occurs.
Choosing Car Seats
TH has researched extensively and found that Maxi Cosi makes very good car seats.
Its long history and the many safety tests constantly carried out testify to its superiority.
When I was still pregnant with Baby Cat, he bought a Maxi-Cosi Pebble Plus infant seat which complies with the i-size safety standard.
A day after birth, we travelled home with our newborn snuggled cozily in the inlay of the seat, which offers a better fit and lying position. The impact-absorbing material provides comfort and safety in case of side collisions.
This seat is secured either with a car safety belt or an Isofix installation. As he foresaw that fixing and removing the car seat with the safety belt will be troublesome, he bought the 2wayFix car seat base for the safest and most convenient Isofix installation.
The base is fixed onto the passenger seat and we just have to place the baby seat on it.
A click and a green light confirm it is securely locked in. Thank God for this invention.
For convenience we carry the car seat with our baby in it and similarly secures it onto the stroller.
Stringent safety tests
Before our little girl reached a year old, he had already bought the Maxi-Cosi 2Way Pearl seat for her to sit for the next four years. It can be fixed to forward or rear facing.
Initially I queried the need for so many items and a brand that costs more when there are cheaper alternatives.
He explained in jest that as an accountant I should have worked it out – the more children we have, the lower the cost of the product per child! True enough when Baby Cat turned two, we welcomed our second bundle of joy, Miss Hair (she was born with a head full of silky hair).
She is now using her sister's first seat.
My research convinced me that this manufacturer invests substantially on sophisticated lab tests to ensure its products pass the stringent safety requirements of all the advanced countries it enters.
I shudder after learning that some brands avoid such tests and to further save costs they use cheaper materials that pose a danger.
I was horrified I when came across another brand that is actually an OEM product made of low quality plastic. In a violent collision the car seat may break and turn the plastic into sharp blades! A child seat is meant to protect our child, not stab him!
Safety first
Initially it was easy to put Baby Cat in the car seat but not so after she became aware that there was freedom if she was carried. We persisted in spite of her wailing and finally triumphed.
She has since been very cooperative as she is comfortable sitting in it and knows we
wouldn't buckle.
We went through the same process of training Miss Hair. She too protested, and even more vehemently as she has very powerful lungs. There were times she cried from door to door – from our house to our destinations.
During those initial episodes, Baby Cat will sing remix of songs to entertain her baby sister. On several occasions when the crying and screaming became unbearable, Baby Cat innocently suggested, "Mommy, please open the window, throw Baby Doll outside"! (Baby Doll is Baby Cat's nickname for her sister).
Thankfully through persistency and much prayer, she adapted.
Now Baby Cat sings merrily or narrates stories to us during our car journeys while Miss Hair looks admiringly at her, smiling and clapping occasionally. Both seats are fixed to rear-facing which is five times safer.
It is always difficult at the start. We have learned that the cries are protests and not because they are in pain. So it is imperative both parents work together. Soon the child will happily comply and settle in.
It is always better to be safe than sorry. After all, accidents happen when we least expect it.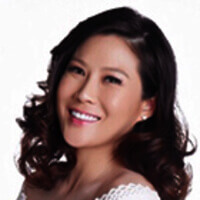 Chermaine Poo is a chartered accountant turned actress, TV host, emcee and columnist. Now she juggles between motherhood and running her classic car restoration workshop, Restoration Performance Design. And because she doesn't sleep, she writes this columns and a blog on www.chermainepoo.com.