MANY people carry out home improvement only when it is absolutely necessary or unavoidable.
I have done that a couple of times and vouch for its benefits. Besides gaining more space for planned usage, a new look can refresh everyone in the family.
We recently converted our lanai, which had been lying idle for years, into a playroom for Baby Cat. Now she paints and swims in a baby pool there daily.
The room is out of bounds for her when her daddy barbecues a whole lamb or juicy steaks at the outer section that opens into the garden.
The maids' quarters, backyard and washing area have been renovated to improve the helpers' living and working conditions.
The guestroom has a new door to the garden.
New trees, flowers and plants have been added and a new turf covers the garden grounds.
Naturally I feel happy, satisfied and refreshed whenever I walk around the house to view the visible improvements. But I feel something is missing and I keep trying to figure out what it is.
Viable solution
TH, my husband, loves wood and so he designed our house like a Balinese resort with plenty of open spaces all around. We even have an outdoor toilet and a roof deck.
The wooden wall panels, cabinets, furniture and flooring are a blend of earthy colours while the curtains are beige. But though they blend well, after looking at these neutral colours for years, we felt the need to spice up the rooms with lively colours.
But it will be very costly to change all these, not to mention having to move out for several months to escape from the noise and dirt of a large scale interior renovation. Besides, the components are of high quality, so it will be a waste to replace them.
"What should we do?" I ask TH.
"Easy. Just change the curtains", the architect replied. "Pick suitable fabrics and change the colours, you will instantly see a vast difference" he advises.
Brilliant idea!
Curtains Place
Soon I chance upon Curtains Place and make some enquiries. A few friends rave about the curtain specialist's services. It seems I have found someone who is good with colours, fabrics, styles and patterns, workmanship and offers good advice and service at a reasonable price.
The senior technical consultant, Mr Yap, comes over to take measurements. He is experienced, efficient and offers some useful suggestions.
Next, I visit the company's showroom to select materials, feasting my eyes on countless types of fabrics, colours and styles of curtains and draperies and accessories.
For the living and dining rooms, I choose a light green drape similar in colour with the heliconia plants in the garden and which complement it with a shiny light coloured sheer.
"The texture of the fabric plays an important role as it determines the way the curtain falls and folds, giving the desired effects," explains Ms Tiu who helps me choose my fabrics and style.
The selected materials are smooth and heavy enough to flow luxuriously while maintaining a breezy look.
For the guest bedroom, TH has voiced his preference for a silver shade with a sexy black sheer as the room, being exposed to sunlight, is quite warm. "Darker shades render the ambience of a cozy hotel room for the comfort of our guests," he adds. 
The master bedroom has a completely different look after changing grey curtains to beige ones. I prefer a brighter and livelier room now that I have two young children. The lighter shade brightens our day but doubles as a blackout.
Ms Tiu takes the order and ensures that the new curtains will be ready in six weeks.
However, after only three weeks she gave me a pleasant surprise, calling to say that the curtains are ready for installation.
The two installers who come are efficient, polite, helpful and neat in their work. They keep my existing curtains properly in labeled bags for storage and teach us the art of tying the new curtains.
Cozy ambience
By changing the curtains, the whole house looks so different with minimal spending.
Upon seeing the effects of the curtains, my in-laws are eager to rejuvenate their homes for Hari Raya. With my specialist's help, their curtains will surely be ready before the festival.
I have realised that curtains, through the styles, colours and texture of the fabrics contribute to the ambience which affects our mood.
This inexpensive make-over has transformed the ambience of my home and made it so pleasing to the eyes that I am even more homebound!
> The views expressed are entirely the writer's own.
Subscribe now to our Premium Plan for an ad-free and unlimited reading experience!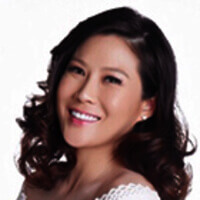 Chermaine Poo is a chartered accountant turned actress, TV host, emcee and columnist. Now she juggles between motherhood and running her classic car restoration workshop, Restoration Performance Design. And because she doesn't sleep, she writes this columns and a blog on www.chermainepoo.com.