VIENNA, known as Wien to Europeans, is one of my favourite cities.
Having visited it three years ago I have been yearning to return as there is so much to see and do. So I included it in my recent Eastern Europe itinerary and I am glad I did.
The capital of Austria is one of the most fascinating cities in the world – rich in music, art, history and architecture. Its baroque architecture is at every turn and corner.
No other city has produced so many great musicians – Wolfgang Amadeus Mozart, Johann Strauss, Franz Schubert, Johann Strauss II, Arnold Schoenberg, Joseph Haydn, Johannes Brahms and Gustav Mahler.
The many museums exhibiting thousands of fine paintings and regal artifacts reflect its history of aristocracy and nobility. The Viennese Waltz is a public display of elegance and grace.
I love the architecture of the buildings in Innere Stadt or Old Town in the centre of the city. The whole district is absolutely free of modern or tall buildings yet bustles with business and cultural activities.
With more than 20 tourists attractions located within, naturally I gravitate towards staying there.
Artistic Wilhelmshof
The family-owned Der Wilhelmshof Hotel is a few minutes away from the Praterstern main station and situated on the less noisy north-eastern fringe of the old town. 
Knowing that I am a returning guest, the management graciously assigns a newly-renovated premium double room to me. The friendly receptionist explains that all 85 rooms are uniquely designed by two famous artists and assures me that I will like my room.
True enough, I love the modern decor of the spacious room which has separate areas for sleeping, sitting, writing, coffee bar and bathroom. The well thought out space has wall-to-wall painting behind the headboard which livens up the room.
I feel at home in this place as the owners are very particular about guest satisfaction, excellent service, hygiene and environment protection. Lounging in my room, I dipped into the delicious bottle of their home-made raspberry jam presented by the hotel management.
At 8pm it is still not too late to go to Prater amusement park which is on the other side of Praterstern main station. In less than 10 minutes I stand at the base of the 120-year old Giant Ferris Wheel known as Wiener Riesenrad. As it is off-peak season and cold, most rides and stalls are already closed.
After a light dinner, I head back to the hotel to relax in a hot bath to wash the travel off and then slumber in the soft bed.
One of my prerequisites in choosing a hotel is their breakfast. I always eat breakfast like a king especially when holidaying. The spread here is quite wide and I eat a bit of everything to stay warm and energetic for the day.
Attractions Abound
Energised and refreshed, I start my adventure for the day. Within three minutes I reach the metro station to take a short ride to Stephansplatz in the heart of the Old Town. The first structure I see there is St Stephen's Cathedral built in 1160.
The morning sun softens the sting of the cold winter air as I stroll the streets paved with cobblestones or granite slabs.
On both sides of the city's most elegant shopping street, Karntner Strasse are top-brand shops housed in buildings of Baroque architecture, a few of which were constructed in the 19th century. This street and another called Graben have their origins in the Roman Empire era.
Turning left is Michaelerplatz and I see the majestic Imperial Palace called The Hofburg that occupies 59 acres and comprises 18 groups of buildings, 19 courtyards and 2,600 rooms. Having previously visited the Sisi Museum and Silver Collection inside, I tour other attractions within the compound.
The sun sets early at around 4.30 pm and I am delighted at my next activity – hunting for an early dinner of Viennese culinary exquisites – Wiener schnitzel (veal coated in breadcrumbs and fried), Tafelspitz (boiled beef), Beuschel (a ragout containing veal lungs and heart) and Selchfleisch (smoked meat) with sauerkraut and dumplings.
The best part of a holiday is indulgence in all kinds of local food and not worry about weight gain. All I have to do is to walk it off while sightseeing.
The next morning I take a long walking tour starting from Rathaus City Hall and Parliament Building on the west and walk south to Naschmarkt, Vienna's oldest and biggest street market and then east to the House of Music.
After that I travel to the 18th century Belvedere Palace which was the summer residence for Prince Eugene of Savoy. It has been converted into a museum that houses the greatest collection of Austrian art and works of Vincent van Gogh, Claude Monet, Max Beckmann and Gustav Klimt.
Disappearing Act
My parents have an unusual assignment for me – to take photos of the hotel they stayed in during their honeymoon in Europe.
Their travel agency booked them in a hotel that was converted from a very old mansion along a dimly-lit road called Landstrasse Hauptstrasse in the south-eastern part of the city.
Their description of the building befits the eerie castles featured in Dracula movies – 12ft high thick walls, tall doors that creaked when swung and tall windows stretching from the floor to the ceiling.
Curious, I follow their instruction and take Tram 0 that runs along that road. Surpisingly, the entire district has been redeveloped and all the buildings are new. Alas, Count Dracula's mansion has been demolished.
Still early, I travel westward to visit the glorious Schonbrunner Palace, one of the most impressive Baroque palace complexes in Europe. It was built more than 300 years ago and has 1,441 rooms.
Returning to Old Town, I head to the Vienna Opera House to take some pictures and indulge in the Viennese cafe culture of sipping aromatic coffe and eating the famous Sachertorte (pronounced "Sucker") at the famous Sacher Cafe.
To many Viennese people, patronising this particular cafe is a tradition worth queuing in the blazing cold weather. Suddenly the two couples queuing in front of me quarrel over who came first. The cafe manager politely leads them away from the entrance and invited me in. What a blessing!
Aptly, Vienna is rated the most liveable city in the world. Each visit to this rich city surprises and captivates me. I doubt I will ever tire of it. On my next visit I vow to attend an opera and a classical music concert. Until I see you again, Vienna – Auf Wiederschauen, Wien!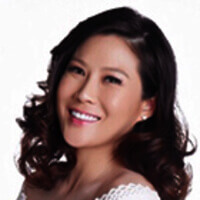 Chermaine Poo is a chartered accountant turned actress, TV host, emcee and columnist. Now she juggles between motherhood and running her classic car restoration workshop, Restoration Performance Design. And because she doesn't sleep, she writes this columns and a blog on www.chermainepoo.com.