London is an ever popular destination. Whenever I think of travelling to Europe, I yearn to visit the capital and largest city of England and the United Kingdom.   
City abuzz and activities aplenty, there is so much to see and do. No wonder 19 million international visitors flock to this cosmopolitan city, according to The Telegraph. I am one of them.  
The recent Islamic State terror attack on Wednesday in the heart of Westminster saw five people dead and 50 injured. This atrocious crime shook Londoners but they will quickly recover from it.   
Business will return to normal and this horrendous episode will not deter visitors from all over to world to choose London as their preferred destination.  
Good promotional fares continue to be one of the pull factor. During my recent plan to travel to East Europe, London is my chosen stop-over. 
The need to recuperate after a 14-hour flight and recover from jet lag are added incentives for me to use London as my gateway to eastern Europe.  
Despite long queues at Heathrow International Airport, I managed to whiz through the check points and collect my luggage in under an hour and board a black cab to the city centre.  
My executive river view room in the Royal Horseguards Hotel has a good view of River Thames, the London Eye and Golden Jubilee Bridges. 
The decor, furniture and bathroom fittings are elegant. I entered the room to find wine and tidbits laid out for me.  
It is past 8pm but still early for a 400m stroll to Westminster Bridge to revisit the Palace of Westminster where the Houses of Parliament and Big Ben are located.  
On the way back, I passed by more iconic sites like Westminster Abbey, 10 Downing Street, the official residence and office of the British Prime Minister and Scotland Yard.  
My struggle against jet lag to rise early the next morning eases upon the thought of a hearty English breakfast in One Twenty One Two Restaurant downstairs. The wide spread of fine food in a cozy setting stimulates my appetite.  
Famous attractions abound  
There are so many famous tourist attractions within walking distance but I can't visit all of them in two days. My plan is simple – I will go one direction on each day to cover my favourite places.  
Today, I walked north-east towards Trafalgar Square. I am interested in the National Gallery nearby which houses more than 2,300 paintings by great painters including Michelangelo, Leonardo da Vinci, Vincent van Gogh and Rembrandt.   
The designs of buildings along the way to Covent Garden seem unique to this area. The main attraction here is the Covent Garden Market but the absence of carts selling delicious snacks disappoints me.  
A visit to London is not complete without going to Chinatown, Soho. Here I conversed in Cantonese with older local Chinese people who still speak with a heavy Guangdong or Hong Kong accent.  
Catching up with long-time friends is always a highlight of my trips. I managed to squeeze in a dinner appointment with my childhood friend who has settled down here and operates his own private equity outfit.   
We met in Westfield Mall in Shepherd's Bush. It is Europe's largest shopping centre built on the 43-acres site of the 1908 Olympics and houses 265 shops. 
Being Asians, we opted for Thai food in one of the many large restaurants fringing one side of the mall.  
After a long day, I relished my time in the hotel – soaking in the hot bath and tucking into the comfortable bed in Royal Horseguards on this cold night. It's like home sweet home.  
Interesting districts  
After a restful night, I headed towards the north-west route in the morning which is more exciting as it covers some of my favourite places.   
In a matter of minutes, I was in the theatre district. Her Majesty's Theatre and Royal Haymarket Theatre flank Haymarket street with another five more theatres within a few blocks.
I was hoping to watch a musical but time did not permit. So I walked on to Piccadilly Circus.  
Instead of taking the usual route to the famous shopping district, I ventured into a pedestrian street.   
I saw an unexpected sight – a large and modern whole foods market that sells all sorts of nutritious food ranging from fruits, vegetables, food supplements, dried foods and freshly-cooked lunch and dinner.  
Browsing and shopping for food stuff, soon I was at the lower section of the upmarket Regent Street. I was captivated by the building designs and the goods inside the shops.   
On reaching Oxford Circus Station in the middle of Oxford Street, I marvelled at the boldness of a young woman standing on a box sharing her personal testimony of her faith through a loud-hailer.   
An elderly woman shouted derogatory remarks at her. Amazingly, the girl smiled and greeted her with "God bless you". Certainly, this high-level of tolerance and civility makes London a great city.   
Fine dining
Satisfied with my walking tours, I replenished my fuel by indulging in a fine dining meal at the 1212 Restaurant in the hotel.
The meal starts with foie gras and ham that is prepared to perfection and rich mushroom soup. Then I moved on to the highlight of the meal – the succulent fillet mignon, charred to perfection on the outside, bursting with juices within, evenly seared inside and cooked to a medium doneness. 
The delicious meal is made perfect with lemon tarts with raspberries and candied walnut and honey for dessert.   
The sommelier recommended a full-bodied French red wine. The soft classical music in a cozy ambiance elevated the experience.  
With a full tummy and bursting with London goodness, I sank into my bed as I have to catch an early flight to start my five-city holiday in Warsaw, Prague, Vienna, Budapest and Salzburg.  
Dare I return to London? Nothing will deter me from visiting one of my favourite cities.  
> The views expressed are entirely the writer's own.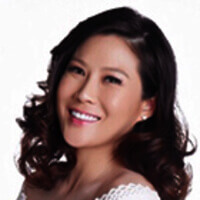 Chermaine Poo is a chartered accountant turned actress, TV host, emcee and columnist. Now she juggles between motherhood and running her classic car restoration workshop, Restoration Performance Design. And because she doesn't sleep, she writes this columns and a blog on www.chermainepoo.com.