THERE is a popular saying that goes: "Where there is sunlight, there are Chinese".
Our biggest traditional festival is the Chinese New Year or the Spring Festival. As the Chinese live in every country, the festival is celebrated all over the world.
Today we say goodbye to the Year of the Monkey and welcome the Year of the Rooster.
Many people rush around the last few days before the festival doing the necessary including buying new clothes, shoes, traditional delicacies like Chinese sausages and waxed ducks and beverages. Some bake cookies and new year cakes while the married ones prepare ang pow.
My maternal family follow the traditions strictly. We make sure all the "ingredients" for a prosperous Chinese New Year are ready -- lettuce, black moss, dried oysters, groundnuts and fish.
The Rooster looks set host significant events, including the general election, which is expected to be held this year.
My maternal grandmother -- Mama, a rooster child aged 97 -- has gone through eight zodiac circles. My baby, Cat, is the first and only child of the fourth generation.
I am due to deliver my second child in May. Another rooster in the family.
My hands are full right now.
I had plans to breastfeed Baby Cat for at least two years until May but my gynaecologist has advised me to stop now so that my body can prepare itself for the new baby growing in my belly.
With the newborn, my breastfeeding duties will have to continue for at least two years. Difficult as it has been and will be, I won't complain because I want to give the best to my children, especially during their formative years.
Now I understand how overwhelming it is to be a pregnant working mum.
Stretching myself further, I am going ahead with house renovations as it was planned before this pregnancy.
I am blessed that my mum has been a great help, giving me some time to manage my new classic car restoration workshop in Petaling Jaya which began operations last year.
This Year too will see my favourite cousin who resides in Atlanta visit us. She is like a merchant ship. Each time she visits, she comes bearing gifts for all her friends and every member of her extended family. It is incredible that a woman can carry so many things including clothes, chocolates, cookies, toys and one time, a porcelain dining sets for my mother.
Looks like nothing is missing except that I will miss the very important and joyous reunion dinner on the eve of Chinese New Year because I am holidaying with my family in Portugal this week and will be in Spain next week.
I will miss the traditional dishes like the waxed duck from China, duck liver sausages from Hong Kong, prosperity dishes of dried oyster and black moss, steamed chicken with Guangxi condiments, abalone and fish maw, lotus root soup and not forgetting the lo sang.
To compensate, however, the trip gives me the opportunity to observe how the Chinese in Lisbon celebrate the New Year. Many of them came in the 1980s from Zhejiang, China where Jack Ma of Alibaba is based. Hopefully, I will bump into him if he is visiting his relatives here.
A happy and blessed Chinese New Year!
> The views expressed are entirely the writer's own.
Join our Telegram channel to get our Evening Alerts and breaking news highlights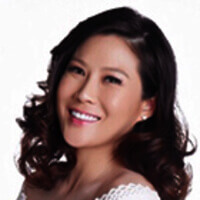 Chermaine Poo is a chartered accountant turned actress, TV host, emcee and columnist. Now she juggles between motherhood and running her classic car restoration workshop, Restoration Performance Design. And because she doesn't sleep, she writes this columns and a blog on www.chermainepoo.com.