I was supposed to be watching the Rolling Stones concert this weekend. I read a few months ago they were touring the world and the only places Mick Jagger would tour Asia were Shanghai, Tokyo and Macau (this was way before Singapore decided to showcase the Stones with an extortionately expensive intimate performance). 
I was eager to cease this opportunity to witness this 70-year-old "most influential frontmen in the history of rock 'n' roll" on stage. I confess, I know nothing much about the Rolling Stones, as I was born in 1969, and was a mere baby during the "summer of love". But despite such ignorance, I purchased the concert tickets online and was ready to have this once in a lifetime opportunity to witness a true rock icon on stage!
There is something mesmerizingly mysterious about Mick Jagger. It is not about his distinctive voice or performance, nor his humble beginnings in Dartfort, Kent. I admit I find this man's rebellious counterculture vibe simply hypnotic. After all, Jagger has fathered seven children with four women. Despite expecting to become a great-granddad this year through the daughter of Jade Jagger, this legend rocks-on unstoppably! To me, that sums up what all men wish but dare not!
This reminds me of a letter I received this week:
"Dear Dr. G, 
I am a healthy 60-year-old man. My problem is whenever I make love with my young wife I feel no ejaculation. There's no problem with my erection. Please advice whether there's any medicine or vitamins I should take? Thanks.
Warmest regards
Sam"
Sam's problem sounds like a common sexual dysfunction called retrograde ejaculation. This medical condition occurs when the semen is redirected backwards into the bladder, often termed "dry orgasm". 
In normal circumstances, when a man ejaculates, the sphincter of the bladder contracts to allow the propulsion of the ejaculate forwards and outwards of the penis. In a man with retrograde ejaculation, the malfunction of the sphincter can lead to the back flow of semen, with the climax completely unaffected (hence dry orgasm!).
The commonest cause of retrograde ejaculation is actually the side effects of medications such as alpha-blockers. Such drugs are usually prescribed for men to control the blood pressure or the relaxation of the prostate to allow better emptying of urine. Other medications like antidepressants may also have such an affect. Thankfully, in most men, stopping these medications will usually reverse the ejaculatory disorder.
Retrograde ejaculation can also occur in men after operations such as TURP (Trans Urethral Resection of Prostate). This operation is intended to relieve the obstruction caused by the prostate tissues, but will result in the backwards flow of the ejaculation. Anther cause is diabetes which can cause neuropathy and result in uncontrolled ejaculation.
Sam's ejaculatory problem is incurable unless the etiology is the side effect of medications. For most sufferers, the "dry orgasm" is an inconvenience with minimal bother. After all, the libido, erectile rigidity and climax are completely unaffected, why worry?
Retrograde ejaculation only becomes a problem when men are accused of faking an orgasm, as there is completely no "liquid" evidence of the climax. Sharon Stone once said, "Women can fake an orgasm, but men fake the whole relationship." Well, with this medical condition, men can now do both!
Of course, when there is a complete lack of emission of semen, for a man who still would still like to father a child, it is problematic.
Unquestionably, I am making the assumption that Sam is not too concerned about having a baby at the age of 60. On the other hand, I truly cannot postulate that he would completely disregard the possibility of "doing a Mick Jagger".
Just in case Sam is indeed contemplating fatherhood soon, I would like to highlight a recent study published in the Journal of American Medical Association (JAMA), where researchers identified children born to older fathers as having a higher risk of autism (threefold), psychiatric disorder (twofold), bipolar disorder (twenty-fivefold) and are two and a half times more likely to have suicidal tendencies or problems with drugs. Researchers warned that advancing paternal age posed a "public health and society problem" and this is attributed to mutant sperm in older fathers. With this research in mind, firing blanks may not be so bad after all for Sam.
I did start the column by saying that I was supposed to go to see the Rolling Stones. When my wife discovered this "mischief" she dismissed my "Jagger-envy" as nothing more than a mid-life crisis. Although I protested, I still gave in and sold my ticket. After all, not everyone can have the moves like Mick Jagger.
> The view's expressed are entirely the writer's own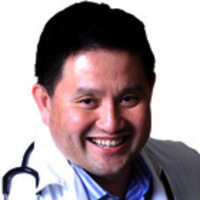 Dr George Lee is a consultant Urologist and Clinical Associate Professor whose professional interest is in men's health. The column "Ask Dr G" is a forum to help men debunk the myths and taboos on men's issues that may be too "hard" to mention. You can send him questions at askdrg@thestar.com.my