HONG KONG (SCMP): A ban on face masks at protests in Hong Kong could be similar to a law introduced this year in France, despite resistance to it there – but European legal experts said the continent's other such bans had little force or were religious in nature.
Hong Kong was due to introduce a ban on Friday after claims by some pro-government politicians that criminalising the wearing of face masks during demonstrations would be comparable to similar measures in Europe.
France has this year banned demonstrators wearing face masks, prompted by the nationwide "yellow vest" movement.
That, however, came into effect through the legislative process in the National Assembly. According to the South China Morning Post's sources, Hong Kong's embattled leader Carrie Lam Cheng Yuet-ngor planned to introduce the ban through executive powers conferred upon her by the colonial-era Emergency Regulations Ordinance.
Her allies in the Legislative Council have repeatedly called for such a ban, on the grounds that similar measures had already been adopted in Europe.
The anti-mask law, expected to be gazetted on Saturday, would threaten a jail term of up to one year or a fine of HK$25,000 (US$3,200).
Being convicted for wearing a mask in France can incur a one-year prison sentence and a 15,000 euro (US$16,450) fine. "Icing on the cake, our supreme court said that this new crime [complies] with our constitution," Nicolas Catelan, a criminal law lecturer at Aix-Marseille University, said.
Catelan said he had no knowledge of how the Hong Kong government intended to act, "but, for sure, here in France, those misdemeanours do indeed exist".
In common with the anti-government protests in Hong Kong – triggered by a now-shelved extradition bill that would have allowed the transfer of Hongkongers to mainland China's opaque legal system – the French public were also resistant to a mask ban because of the police's use of force.
The tactics used by French police have come under scrutiny, in particular the firing of "flash ball" riot guns, which have caused serious injuries, including at least one person being blinded in one eye. In Hong Kong, a journalist has been left blind in one eye after being shot in the face with a police projectile last Sunday, according to her lawyer.
One opposition lawmaker, Charles de Courson, criticising French President Emmanuel Macron's mask ban at the time it was introduced, said it was worthy of France's fascist one-party dictatorship during the second world war. "Where are we heading? You might think we've returned to the Vichy regime," De Courson said.
The yellow vest movement erupted last November as a grass roots protest against fuel taxes but morphed into a broader revolt against inequality and Macron's presidency. It took its name from the fluorescent vests motorists in France carry in their cars.
A European expert said Hong Kong police might follow their French counterparts' practice of tracking protesters with facial recognition technology, empowered by the mask ban.
"The ability to use facial recognition to identify protesters will permit the [Hong Kong] government to track down dissidents and prosecute them once the dust settles," Ray Walsh, digital privacy expert at ProPrivacy.com, based in the UK, said.
Other European countries have enacted bans against protesters wearing face masks but they come with little to no punishment, experts say.
In Norway, there is a ban on face masks in the Police Act, but it is not part of the criminal law, Johan Boucht, professor of criminal law at the University of Oslo, said.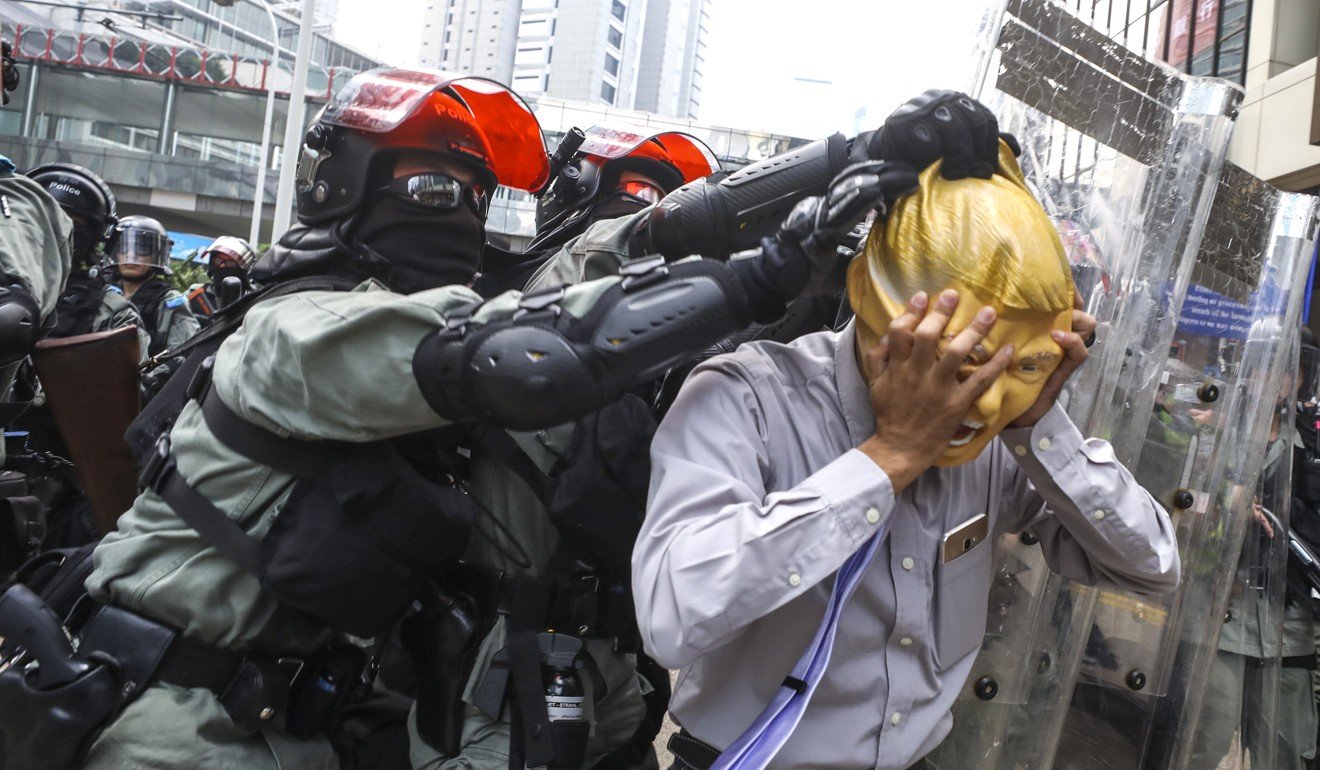 "There is a marked difference between preventive measures and criminal law," Boucht said. "It only gives ground for the police to intervene, but as to what action the police can take, it is a matter of proportionality depending on the circumstances."
In Germany, where wearing masks during demonstrations has been forbidden since the 1980s, there are no jail terms for offenders and the fines do not normally exceed 300 euro. If a large number of protesters defy the ban, German police disperse the crowd rather than make mass arrests.
Full-face coverings also become controversial in France and other parts of Europe for a different reason. Islamic veils such as niqabs and burkas were seen by some as a form of discrimination against women and violation of freedom of religion, with some countries banning them in public places.
A spate of attacks against civilians claimed by militant group Islamic State, notably in Belgium, France and Germany, sharpened the debate. A large influx of mainly Muslim migrants to the continent was also greeted by resentment among some Europeans.
Last year, the Dutch upper house of parliament passed a law banning the wearing of face-covering veils in public buildings such as schools, government offices and hospitals.
Germany's parliament had already backed a ban on full-face veils for civil servants, judges and soldiers, while Austria and Bulgaria have also banned facial coverings.
France's veil ban was upheld in 2014 by the European Court of Human Rights. But the United Nations Human Rights Committee said last year that France's ban on the niqab, the full-face Islamic veil, was a violation of human rights and called on it to review the legislation.
It said the ban disproportionately harmed the right of women to manifest their religious beliefs and could lead to them being confined at home and marginalised.
Did you find this article insightful?
% readers found this article insightful