UFC fighter Polyana Viana has rubbished a fake news report that she received an arrest warrant for leaving a would-be mugger bloodied and beaten in Rio de Janeiro.
The 27-year-old strawweight – known in the Octagon as the "Iron Lady" – was waiting for an Uber on Saturday outsider her flat in Rio's West Zone when she was approached by a man claiming to have a gun, and the results weren't pretty.
But debunked online reports in Brazil claimed a prosecutor named "Juan Carlos Rosario" – whose name does not show up on the website of the Public Ministry of Rio de Janeiro, nor the members list of the Federal Public Ministry's website – had ordered her arrest for the crime of serous bodily injury and excessive self-defence.
"I just finished training, my sparring for today. Many people ask me about the 'bad' news that was published on a website," Viana said to her 424,000 followers on her Instagram on Tuesday night.
Rio mugger attempts to rob UFC fighter Polyana Viana, also known as 'The Iron Lady'. Bloody bad idea
"It says I received an arrest warrant. I didn't receive anything. The case is, I reacted to the assault … I acted and defended myself within the law.
"I haven't received anything, a warrant. I'm very focused, and later I hope to give you good news about my next fight. OK?"
The fake report circulated on social networks and WhatsApp groups in Brazil, with other websites and blogs spreading the story that Viana would be arrested for "exaggerating the blows against the assailant", according to Brazilian fact-checking blog E-Farsas, which exposes fake news.
Brazil has struggled with disinformation in recent years, with fake news flooding social media platforms during the 2018 presidential election.
"I just want to clarify, this affair sucks a bit," Viana said on Instagram. "It's difficult to address this here, normally I always make jokes here, but the reality is no, it's a very serious affair.
"Therefore, I came here to clarify. Thank you everyone for your love."
Viana told website MMA Junkie she had floored the mugger with two punches and a kick, thinking he would not have time to draw the gun because he was so close to her.
She then held him in a rear-naked choke before making him sit and wait for police, when she discovered the weapon was actually a cardboard replica of a pistol.
Viana is a single mother to an eight-year-old boy, and had only recently moved to Rio from Sao Geraldo do Araguaia to focus on her MMA training.
Fans on social media hailed her as an inspiration to women after her heroics.
"I don't know what your fighting career will be but I'm following because you're a hero for girls," wrote one user on Instagram. "I hope this incident makes you a millionaire and you spread the message of learning self-defence.
Another user replied: "I cannot find words to describe what a bad a** you are! He deserved what he got!"
"Just read that you kicked some a**. This is so important to me. I am constantly hoping that as a female I can be strong and prepared for things like this," another user said.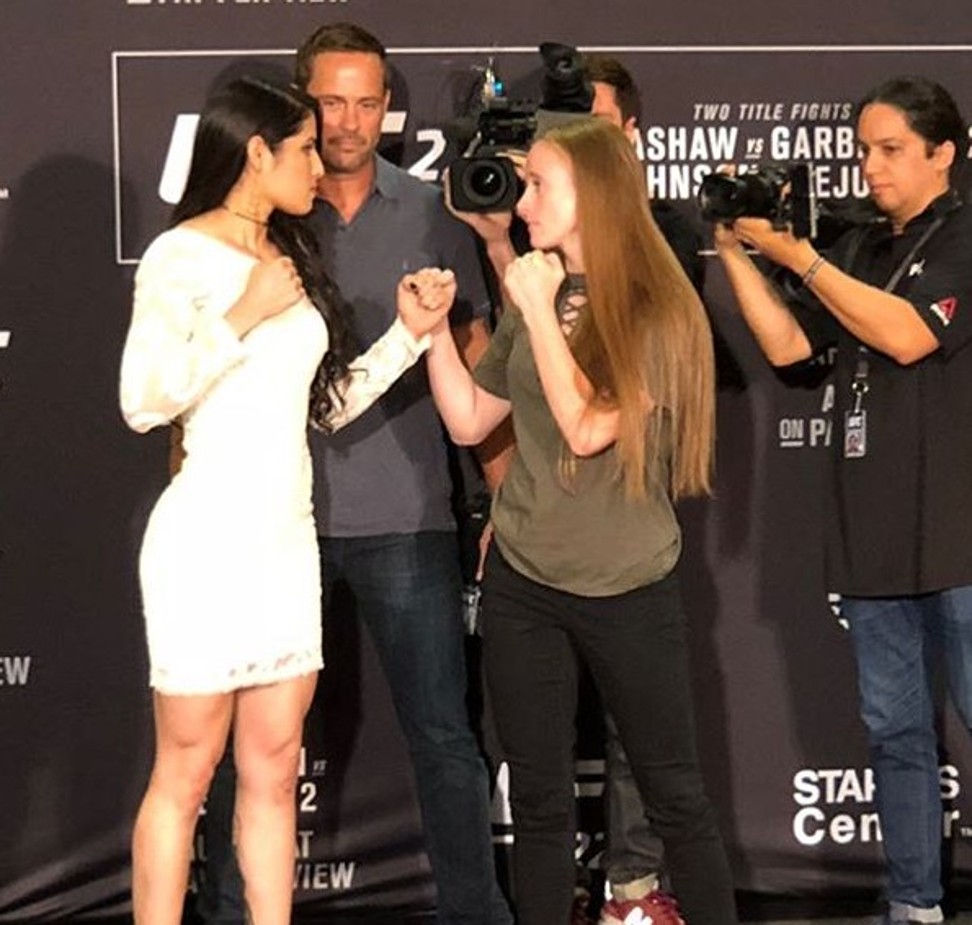 One user said: "I love that you kicked the s*** out of that robber. I'm so tired of women constantly being targets. I'm much older than you but very inspired. You go girl."
"I saw the picture of the jerk that tried to rob you. I showed all three of my daughters. Best thing I've seen in a while!" read another comment.
Another said: "It made me so happy to read you beat up that 'robber'. I wish I could read more stories of women beating the c**p out of their attackers!"
Viana's efforts also got her a shout out from UFC president Dana White.
"On the left is @polyanaviana, one of our @UFC fighters and on the right is the guy who tried to rob her," White wrote on Instagram, adding: "#Badf***ingidea".
Viana joked about the compliment in her response to White's message. "The boss @danawhite posted another one of my cheeky pics … I am so thinking I am all that!"
The comment was a throwback to last February, when White put up an Instagram post congratulating Viana on her debut victory in the UFC.
"Very impressive," he said at the time to his four million followers, after Viana earned her first UFC win in her home state of Para, Brazil, beating Maia Stevenson.
It was only her 11th fight, at the age of 25, and Viana told the media at the arena she was going to get a screen grab of White's compliment and show it around.
Viana last fought in August, when she lost a unanimous decision to JJ Aldrich at UFC 227 in Los Angeles, which was her second loss in 12 fights.
For the latest news from the South China Morning Post download our mobile app. Copyright 2019.
More from South China Morning Post:
Did you find this article insightful?