A Chinese whistle-blower has created another storm online by posting a video that purports to show staff in more than 100 upmarket hotels not following hygiene protocols when cleaning rooms, using the same soiled towels to wipe drinking cups and toilets.
The online celebrity, a businessman-turned-whistle-blower who goes by the pen name Huazong, shot to fame in 2011 after he began blogging about the luxury watches worn by government officials.
He released a video online on Wednesday in which he claimed he had spent more than 2,000 nights in 147 five-star or luxury hotels and found hygiene problems were typical in almost all of these chains. He claimed he shot the 11-minute video – which lit up Weibo, China's Twitter-like service – with a secret camera placed in separate hotel rooms.
The first hotel shown in the video is purportedly the Conrad Beijing, a high-end establishment under the Hilton Hotels and Resorts brand, where rooms cost more than 1,800 yuan (US$260) a night. In the video, a cleaning woman is seen picking up a dirty towel from the floor and wiping glasses, a mirror and bathroom basin with it. Another staff member is seen using a dirty towel to wipe a coffee mug.
In another shot, supposedly of a Park Hyatt hotel room, a member of staff uses her apron to dry a cup. In a hotel room said to be at the Sheraton Hotel in Guiyang, the provincial capital of Guizhou, cleaning staff are seen using one towel to clean a bathroom mirror, basin, toilet and cups.

Other luxury hotels seen in the video include the Bulgari in Shanghai, where rooms cost up to 4,500 yuan per night. The video purports to show a member of staff lifting a plastic cup lid from a bin and wiping it on their T-shirt. At a Shangri-La Hotel in Fuzhou, capital of Fujian province, cleaning staff are said to be seen wiping a basin and cups with the same towel.
The online community was outraged by the video, which received more than 66,000 "likes" and prompted 30,000 comments within 12 hours of its release.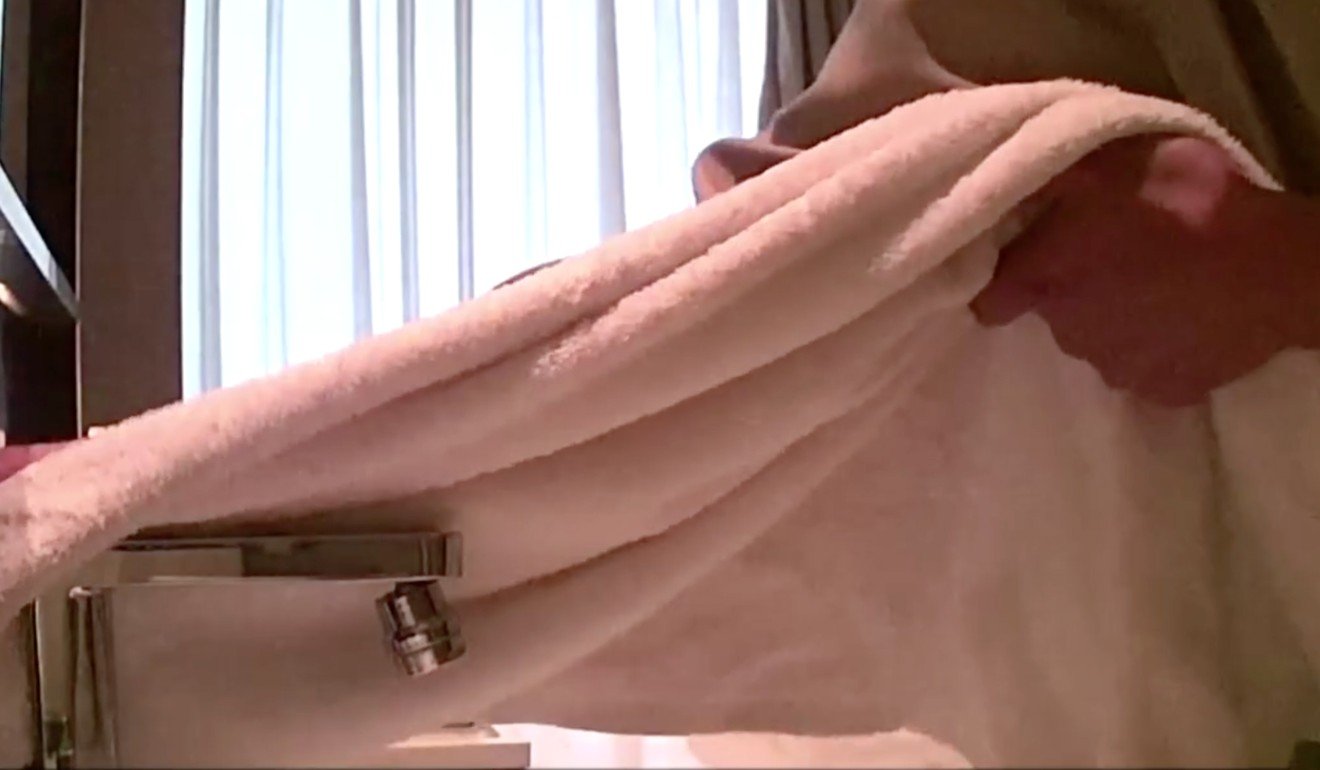 Many web users took to the Weibo accounts of hotels named, saying they could not imagine such behaviour from staff of such well-known, upmarket brands.
One Weibo user complained that advertisements for these hotels seemed so high-end, but the hospitality chains did not attend to basic hygiene.
"Such poor supervision, and it's highly irresponsible to consumers," another user said.
In response, a member of staff at the Conrad Beijing said managers were aware of the video, were investigating the matter and would make a statement.
In Beijing, the Park Hyatt Hotel's Weibo feed on Thursday verified the authenticity of the images but said they did not represent the hotel's hygiene standards and practices. Management launched an investigation and said it would improve staff training and supervision.
The Shangri-La Hotel in Fuzhou told Sina.com the video was genuine and that its hygiene standards had not been upheld. It apologised to customers and said it would retrain staff.
The Shanghai Tourism Bureau announced an investigation and said that if the video was found to be genuine, the hotel staff concerned would face disciplinary action.
The Beijing Tourism Bureau said it would talk to the hotels concerned and send inspectors to investigate.

There is a national hygiene standard for hotels that stipulates cleaning methods such as the daily changing of sheets and bedcovers. It says cutlery and crockery must be cleaned daily, and sets levels for bacteria counts in hotels.
For the latest news from the South China Morning Post download our mobile app. Copyright 2018.