A Chinese tourist narrowly escaped with his life when a safety cord broke while he was crossing a high altitude bridge at a Chongqing theme park known for its extreme thrills in southwestern China.
Footage of the incident, which happened on Monday at the start of China's National Day Golden Week holiday, went viral after it was posted on the video-sharing platform Douyin, according to Wednesday's Chongqing Evening News. 
The man was leaping across a giant walkway suspended in mid-air with gaping holes between each plank. As he made the final jump, the rope securing him to an overhead frame snapped from his safety harness, just as he reached the opposite podium.
The man appeared calm throughout, turning around and smiling after reaching the other side. About a second later he realised what had happened and can be seen in the video holding up the severed cable. He has not yet been identified.
There is no safety net beneath the bridge, which is suspended over a sheer drop of 152 metres (500 feet) onto the rocks below.
Netizens quickly identified the attraction as a sky bridge at Wansheng Ordovician Theme Park, located in a scenic area 100km outside Chongqing.
The park is popular with adrenaline junkies for having the world's longest glass footbridge, suspended 120 metres (400 feet) above ground, as well as a death-defying rope swing on the edge of a 300 metre (900 feet) high cliff.
Authorities at the Wansheng Economic and Technological Development Zone confirmed the location and said the incident was under investigation. Meanwhile, according to Chongqing Evening News, the attraction remains open to visitors.
Park management officials could face a fine of at least 10,000 yuan (US$1,500) if major safety hazards are found.
The park has previously claimed to Britain's Daily Mail Online that its high-altitude attractions are "100 per cent safe".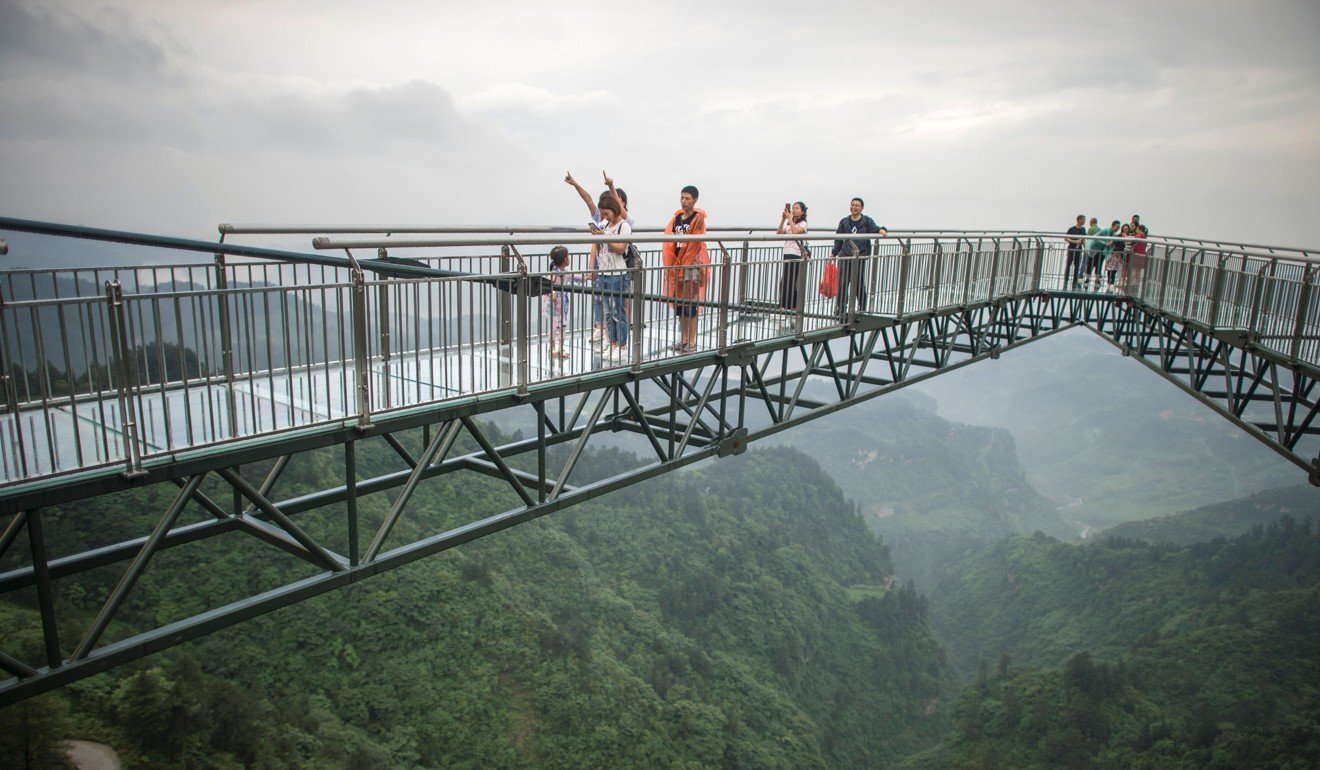 The theme park is named after the prehistoric Ordovician period when the spectacular karst stones of the Wansheng ecological area were formed, 465 million to 600 million years ago.
China's theme parks have been plagued by a number of safety scandals in recent years but so far there have been no reported incidents at Wansheng Ordovician Theme Park, which attracts several thousand visitors per day at peak season.
In April, a 23-year-old man died after being thrown out of a ride at a theme park in central China's Henan Province. An investigation found that the ride had malfunctioned, causing his seat belt to open unexpectedly.
In February 2017, a teenage girl was also killed when her seat belt broke and she was flung out of a fast-revolving ride in a different Chongqing theme park.
For the latest news from the South China Morning Post download our mobile app. Copyright 2018.
Join our Telegram channel to get our Evening Alerts and breaking news highlights