I'm gazing out across a vibrant green summer landscape from 38 metres above the River Dee in North Wales, sitting in a rubber raft. To achieve this feat I've travelled to the Snowdonia National Park, an area of wild, green mountains and hills through which runs the world's highest navigable aqueduct, and paddled my 'packraft' across the aqueduct, which transports the 200-year-old Llangollen Canal across the River Dee.
My 'packraft' is essentially a lightweight inflatable raft that is carried in a backpack until ready to use, with collapsible paddles attached to the outside the pack; the raft folds down so small when not in use that you can also get all your other travel essentials inside your pack and then set off across the countryside to explore for a few hours, days or even weeks.
In its current form, it is one of the newest outdoor adventure sports, although the original concept actually dates back to Victorian times, when British inventor Lieutenant Peter Halkett invented a collapsible and inflatable boat that could also be worn as a cloak.
?Six things to do in Bhutan, where even your arrival is an adventure

Inflatable, transportable assault craft were used by both sides in second world war, and then through the 1980s and 90s Thor and Sheri Tingey (son and mother) of Alpacka Packrafts developed the concept of the modern packraft for outdoor adventures in Alaska, since when packrafting has become increasingly popular, especially in North America and Scandinavia.
The Pontcysyllte Aqueduct, an elegant, 18-arch structure completed in 1805 and a Unesco World Heritage Site, marks the spectacular finale to an introductory day of packrafting led by Jason Taylor, chief guide with Tirio, one of only two packrafting companies in the UK.
I began my day by meeting Taylor in the car park beside the aqueduct. Along with his friends and fellow packrafters Mark and Mette we would be heading out into the foothills of the Berwyn Mountains with our packrafts on our backs for a morning of hiking and exploring before we hit the water in the afternoon.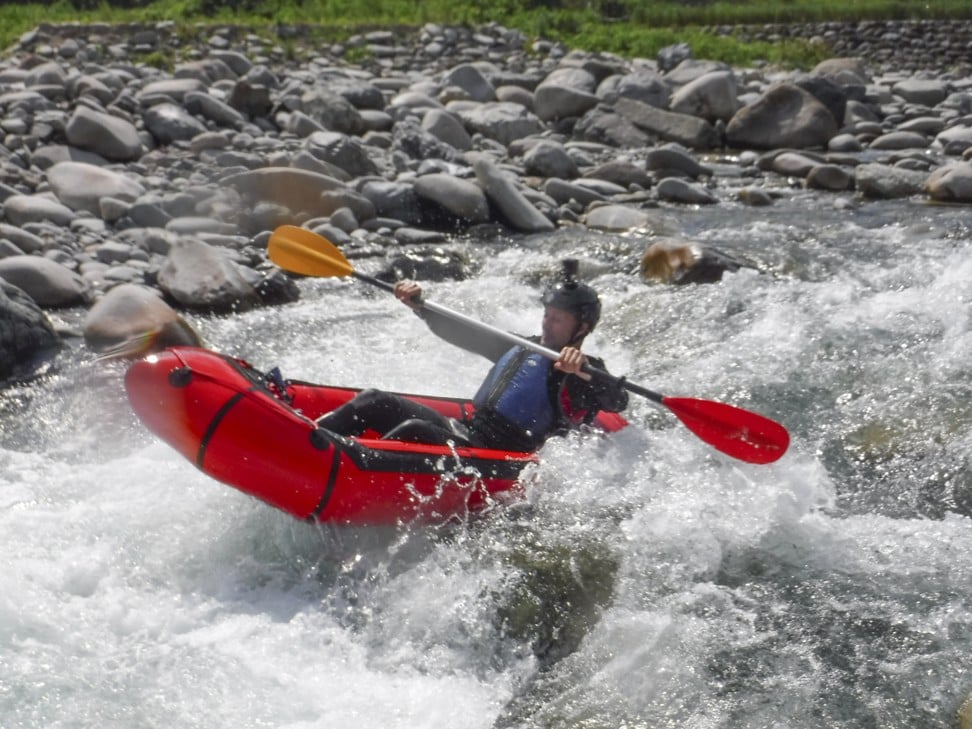 A raft and paddles may sound like heavy and awkward kit to lug around on your back, but modern packrafts such as the German-made Anfibio models we're carrying weigh only 2kg, yet will carry up to 180kg in weight when inflated, whilst the paddles can be split into two for ease of transport.
Taylor, who was a mountain rescue expert in the RAF before setting up Tirio in 2017, leads us up through woodland onto the Offa's Dyke long distance walking trail and then onto a scenic balcony known as the 'Panorama Walk' where we enjoy views across the meandering, wooded Vale of Llangollen directly beneath us, and to the north the sparsely populated slopes, crags and remote valleys of the Berwyn Mountains. Along the way he imparts information on everything from edible and poisonous plants to how to carry fire on your travels with tinder fungus.
Summer at the 'world's coolest ski resort', Club Med Tomamu

We're aiming for Castell Dinas Brân, a ruined medieval hilltop fortress straight out of Game of Thrones that sits more than 300 metres up in the hills. It is a steep climb, but I'm not really aware of the weight of the packraft on my back and it's only when another hiker stops to ask why we've got paddles strapped to our packs when there's not a body of water within a mile of us that I remember I'm carrying a boat through the mountains.
After a stop to admire the view, which takes in the attractive town of Llangollen far below (renowned for its annual Eisteddfod, an international festival of literature, music and performing arts that has its roots in medieval Welsh culture) and reflect on what life might have been like in Castell Dinas Brân 800 years ago, we make the 45-minute descent to the valley far below, where the River Dee and the Llangollen Canal meander alongside each other.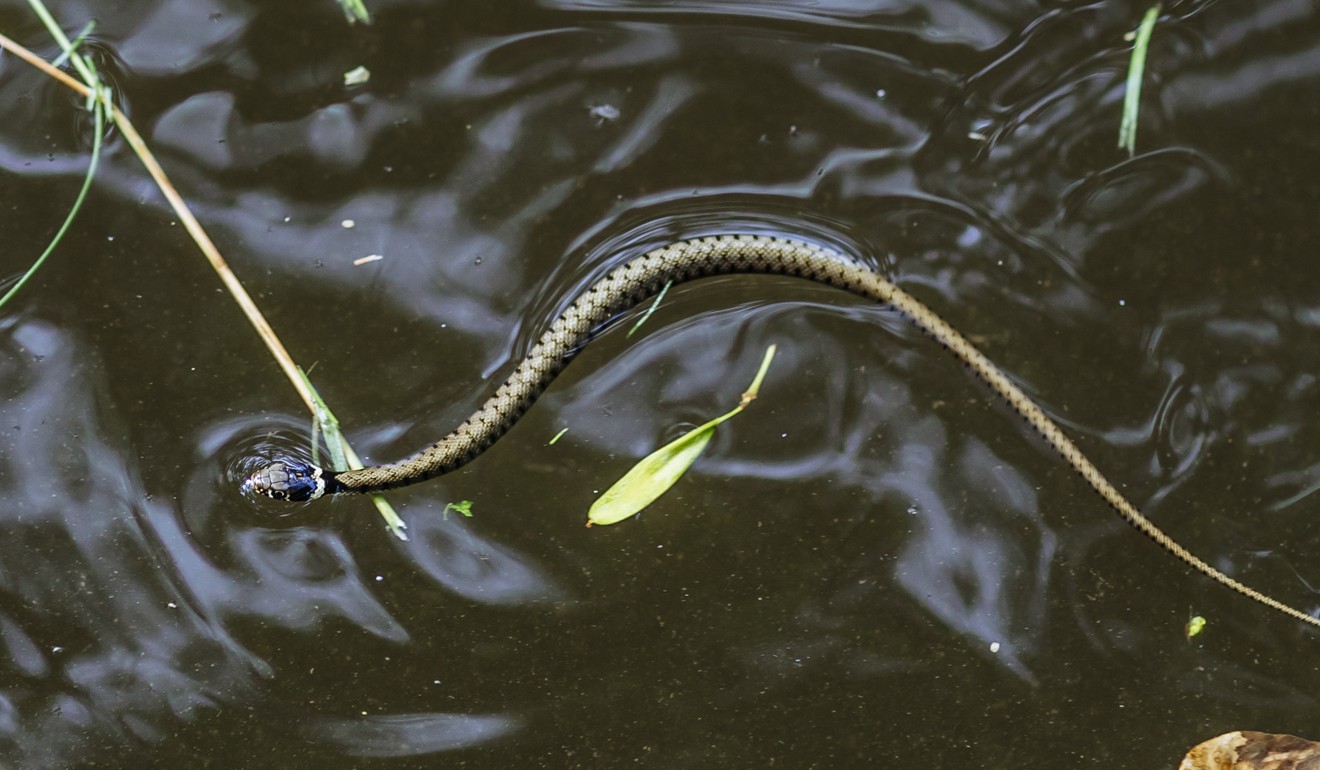 We're opting for the canal for our trip – the placid waters are ideal for first-timers, with the only 'hazards' you're likely to encounter being slow-moving narrow boats, the occasional flotilla of ducks or – in our case, rather bizarrely – a stray baby adder swimming upstream.
We unpack our rafts on the canal bank, and inflate them using an 'inflation bag', a large nylon bag about the size of a pillow in which you capture air from the prevailing breeze to then squeeze into the raft through a one-way valve – it takes an expert a little more than a minute to inflate a single-person raft.
I then clip my paddles together, drop the raft in the water and lower myself in. For something so small, light and buoyant a packraft is a remarkably stable craft, whilst at the same time being incredibly manoeuvrable – one sweep of the paddles almost sends you around in a complete circle on the water, so it takes a while to get the hang of paddling in a straight line.
Deep dive into Borneo's wild heart with these five exciting river trips

But it's not difficult – you do not need any previous experience to do this trip, and the minimum age is 10, so it makes a fine family outing (as Taylor points out, children are usually better and more confident rafters than their parents).
The four of us set off on the 3.2km paddle back to our starting point at Pontcysyllte. It's a lovely way to see the countryside. In places thick tree cover provides shade from the summer sunshine and dappled light flits across the water; elsewhere, the trees thin to allow glimpses across fields and rolling hills – views that have changed little since the aqueduct we're heading for was built.
There's a frisson of excitement as we approach said aqueduct; yes, the waters are as calm as a bathtub, and there's even a towpath on one side where walkers can cross (as well as narrowboats, of course), but that has a chest-high fence along its side.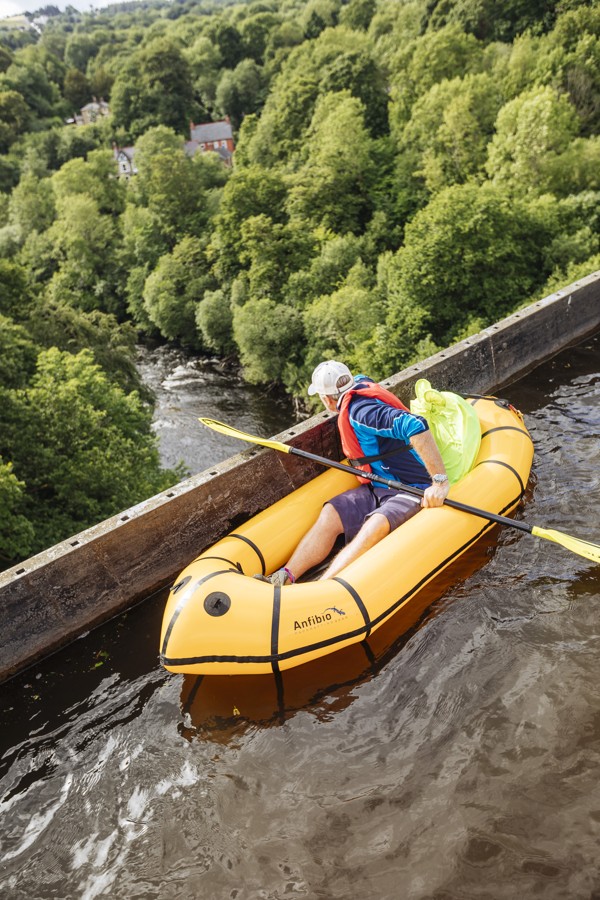 On the 'wet' side of the aqueduct there's just a low cast iron barrier to keep the water and the narrow boats from plunging over the side, which means that as we paddle across we can stop and lay our arms on top of the barrier to gaze out across the void.
It's not something I'd recommend for anyone who suffers from vertigo; indeed, it is quite surreal to be bobbing about on the water over 30 metres above the ground – I see now why the Pontcysllte Aqueduct was known as the 'Stream in the Sky' when it was built.
We paddle back and forth across the aqueduct a couple of times before our outing comes to an end. It has been an unusual and enjoyable little adventure, encompassing hiking, mountain top castles and paddling over the world's highest navigable aqueduct. There's no doubt that packrafting can offer you as varied a day out as you're ever likely to want.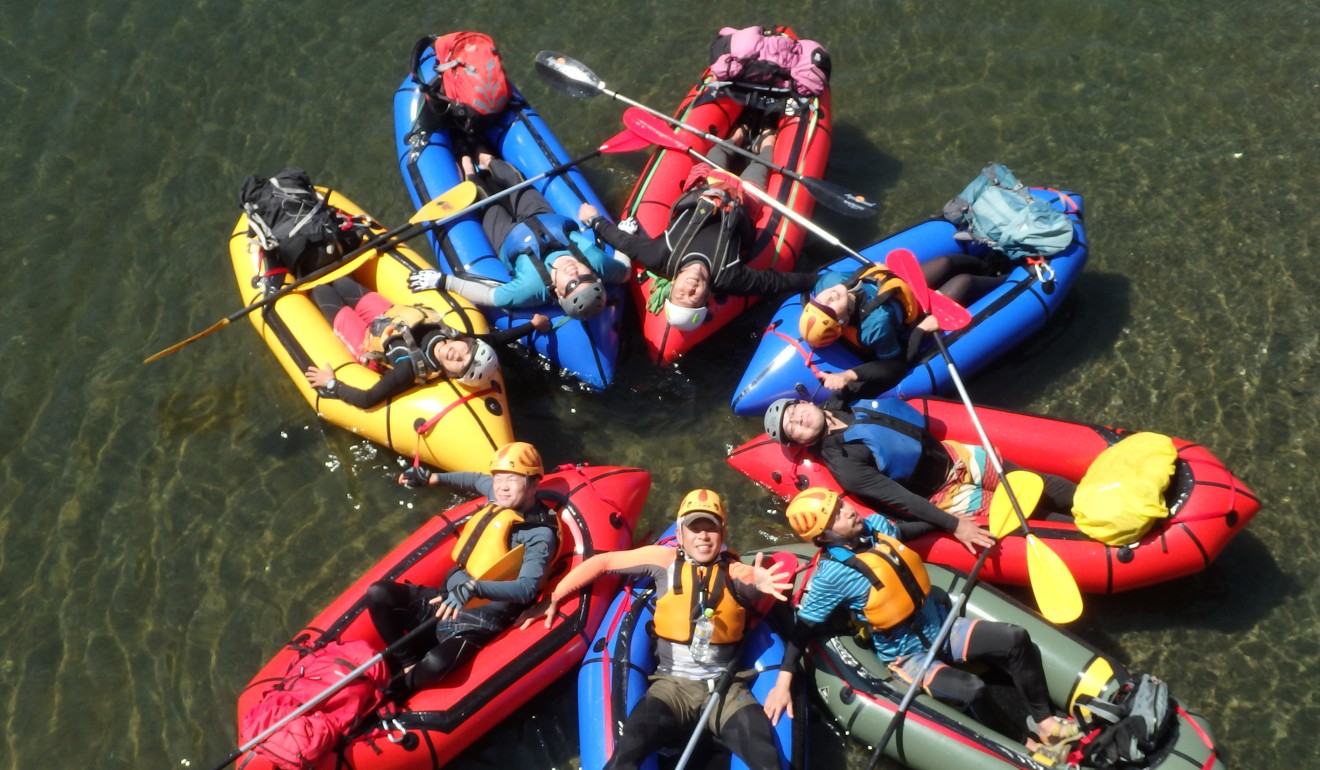 Where to go packrafting: 
Japan – Hiroko Taratsuki (explore-share.com) a Japanese mountain guide, leads one- and two-day packrafting trips down the Tone river from the mountain town of Minakami, about a two-hour's drive from Tokyo.
Slovenia – Multiday whitewater packrafting adventures are available on the spectacular turquoise-blue waters of the Soca River (land-water-adventures.com).
Norway – Try a three-day/two-night packrafting microadventure (little-big-adventures.co.uk) in the dramatic Nوrّyfjord region, which is a Unesco World Heritage Site.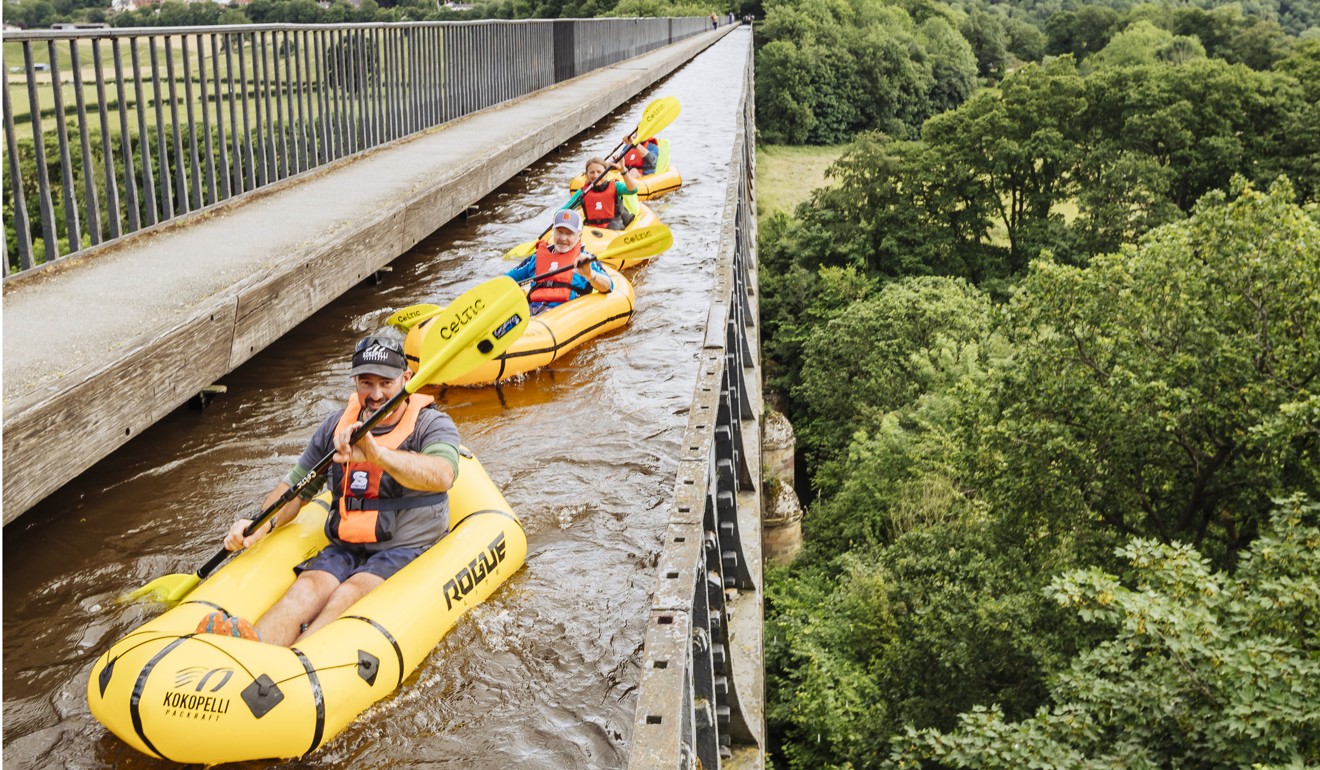 Wales – Wales has endless opportunities to hike and paddle through its mountains and hill country, which are dotted with lakes and rivers. Alf Alderson was on Tirio's 'Do not look down' packraft adventure which costs £120 (US$153) per person including all equipment (tirio.co.uk).
For more ideas on where to packraft go to explore-share.com
For the latest news from the South China Morning Post download our mobile app. Copyright 2018.
More from South China Morning Post: