KUANTAN: Known as the southern end of Pahang by locals, Simpang Pelangai is a small quiet town in the district of Bentong and less than 2km from the Negri Sembilan border.
It is a place less traversed and would not generally be well known to Malaysians, if not for the by-election on Oct 7 following the death of its assemblyman Datuk Seri Johari Haru in a plane crash in Shah Alam last month.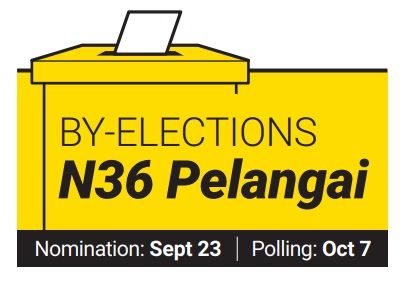 A native of Simpang Pelangai, Ahmed Wafiuddin Shamsuri, 28, said the town centre – where various facilities including a health clinic, an automated teller machine and post office are located – is where the people gather to run their errands.
Most of the residents live at three Felda settlements, Orang Asli posts, traditional villages and in the estates, said the Pakatan Harapan candidate for the state seat in the 15th General Election (GE15) last year.
"They work at oil palm and rubber plantations; some are self-employed or do odd jobs," he told Bernama.
Siti Najwa Syafika Zaini, 33, who lives in Kampung Bukit Gajah, said although isolated, the town is peaceful and calm.
"The people know and help each other as a community," she added.
Currently, those who need to deal with bank matters or buy provisions have to go to either Simpang Durian in Jelebu, Negri Sembilan, which is about 10km away, Triang (44km), Karak (43km) or Bentong (64km).
Volunteer firefighter Mark Lai, 46, hopes the construction of the Lingkaran Tengah Utama (LTU) highway will pave the way for more facilities, including petrol stations and supermarkets, in the area.
In addition to improving socio-economic aspects, he said the new road could also make it easier for people to go to nearby towns.
"The current main road that goes through Jalan Karak-Kuala Pilah is long and winding, this slows down the pace.
"And at times when it rains heavily, there is a risk of flash floods on the road that crosses Sungai Telemong," he added.
With the LTU, formerly known as the Central Spine Road, Simpang Pelangai has a huge potential to be developed.
The expressway, connecting Kuala Krai in Kelantan and the East Coast Expressway interchange in Bentong, is one of the projects the late Johari had fought for.
It is expected to be completed in 2026.
Nor Ain Yazid, 57, who grew up in Kampung Chemomoi, said the highway would boost the town's economy and help increase the income of small traders selling food and local products, or those in the eco and agro tourism sector.
"Besides setting up drink and food stalls, should a marketplace be provided, locals can take the opportunity to sell their garden produce or get involved in the tourism industry," she said.
On Aug 17, Johari, 53, and nine others died in the plane tragedy in Shah Alam, Selangor.
The Election Commission has fixed Oct 7 as polling day for the Pelangai state seat by-election.
Nominations and early voting have been set for Sept 23 and Oct 3, respectively.
In GE15, Johari who represented Barisan Nasional won with a majority of 4,048 votes against Pakatan Harapan's Ahmed Wafiuddin, Kasim Samat (Perikatan Nasional) and Isa Ahmad (Pejuang).
Subscribe now to our Premium Plan for an ad-free and unlimited reading experience!