Fiery start in Parliament
INFORMATION Minister Datuk Ahmad Shabery Cheek is thinking of scrapping the live telecast of proceedings in the Dewan Rakyat after the circus-like atmosphere on the first day yesterday.
"That is the problem with live TV. People tend to play to the gallery. I will have to seriously reconsider whether to continue or stop it," he said at the Parliament lobby.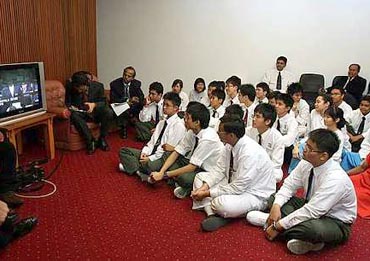 Ahmad Shabery said he would not allow the proceedings to be telecast live in full until the Opposition MPs started behaving like "first-class MPs".
"They act like third-class MPs, which was proven today, and I feel that to broadcast it in full would be a waste of taxpayers' money. Maybe some people like to see the circus, but Parliament is not a circus," he said.
Ahmad Shabery said he was disappointed with the proceedings yesterday.
"What was supposed to be more substantial about Parliament, democracy and the people were sidelined. If I extend the live broadcast, then it would be like this (chaotic) all the time," he said.
Meanwhile, Foreign Minister Datuk Seri Dr Rais Yatim said the live telecast should be reviewed in view of the unparliamentarian behaviour of several MPs.
He said he would propose to the Cabinet to have a more productive format for beaming proceedings in future.
"From what happened this morning, the public will have a negative impression of their MPs," he said, adding that the proceedings were disrupted for about an hour.
He said he was also disappointed with the harsh words used in the House and the name calling by the MPs.
Dr Rais, who hosted a luncheon with the media yesterday, said a study on the benefits of having live telecast should be done.
On another matter, he said he would propose to Prime Minister Datuk Seri Abdullah Ahmad Badawi to attend only major international events and conferences, leaving other minor events to the Deputy Prime Minister or others to represent him.
However, he said the final decision would still be left to Abdullah to make.
Join our Telegram channel to get our Evening Alerts and breaking news highlights