The grand finale dinner of the Malaysia International Gourmet Festival raised RM315,000 for the Tuanku Najihah Foundation for disadvantaged Malaysians.
Held at Palace of the Golden Horses recently, the dinner generated bids from the traditional Chefs' Charity Auction hosted by celebrity auctioneer and sports personality Justin Samson.
Guests of honour at the Oscar-style awards ceremony were Tunku Ampuan of Negri Sembilan Tuanku Najihah Tunku Besar Burhanuddin and the festival's royal patron, the Regent of Negri Sembilan Tunku Laksamana Negri Sembilan Tunku Naquiyuddin Tuanku Ja'afar.
The Hilton KL's Senses won the festival's prestigious Golden Cauldron Award for the best all- round restaurant for the second year running.
The restaurant's chef, Michael Elfwing, bagged four more awards, — Most Creative Festive Menu, Most Outstanding Festival Cuisine, Most Innovative Cuisine and Most Creative Food Presentation at the gala launch.
Chef Lam Hock Hin of the Hilton KL's Chynna was the recipient of the Chef Congeniality Award. He was voted by his fellow chefs.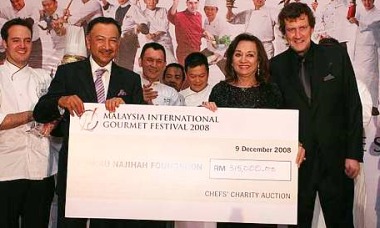 The other awards and the winners were:
·Best Marketed Restaurant of the Festival (Sunway Resort Hotel & Spa — West Lake Garden and Avanti),
·Most Creative Dining Expe-rience and Most Creative Restau-rant Station at the Gala Launch (Marriot Putrajaya — Tuscany & Summer Palace),
·Best Value Menu of the Festival (Hilton PJ — Red).
Guests at the dinner were also treated to performances by Dreamz Acrobatic Troupe from Genting and Figaro from Australia.
This year's festival, with the tagline Chef Attack, was organised by Asia Reach Events from Nov 1 to 30.
Join our Telegram channel to get our Evening Alerts and breaking news highlights