While most people, both Muslims and non-Muslims, are enjoying the Hari Raya festive season with family members and friends, there are some who have to spend the holiday period taking care of the country's security, safety and other essential services.
Those making such sacrifices during the various festive seasons are our soldiers, policemen, firemen, hospital personnel and highway toll plaza workers.
Take the case of the C Unit members of the SS2 fire station in Petaling Jaya who are on duty during the Hari Raya season this year.
Although lemang, rendang and an assortment of cookies were on the menu during the Hari Raya eve dinner yesterday, the men were having the meal among themselves, away from their families.
Instead of wearing new baju Melayu, the men seated around the dinning table were all in their work uniforms.
Zulhalim Mahful, 38, has been with the fire department for the past 15 years and he has gotten used to working during the festive season.
"My family members would go back to our hometown in Muar and I would join them later. It's not so bad because I have my colleagues here," said the father of six.
Suahimi Omar, 25, who has been with the fire department for seven years, shared similar sentiments as Zulhalim.
"We are used to it, so that it's not a big deal now. We would get off days for Hari Raya once every three years," he said.
Rapid Intervention Motorcycle (RIM) unit fire officer Mohd Daud Kamal Hashim Othman, 27, said they were scheduled to patrol the highways during the festive period.
"This year, we started patrolling on Sept 24 and will continue to do so until Oct 15 because we anticipate more accidents along the highways," Daud said.
The SS2 fire station has three RIM vehicles.
The youngest group member is Mohd Zulhilmi Che Ismail, 21, who is celebrating Hari Raya away from his family in Kelantan for the first time.
"I feel sad because I've have always spent Hari Raya with my parents. However, they understand that this is the nature of my job and they advised me to work hard," Zulhilmi said.
According to unit supervisor Mohd Yunus Mohd Yusof, 56, it is a tradition among the officers working on the first day of Raya to bring a dish each to work.
"That way, we celebrate it with our colleagues so we won't be missing out on the festivities," Yunus said.
Meanwhile, for Nazrol Idris and Hazlinda Zainal, who have served at the Monterez Golf and Country Club in Shah Alam for more than 10 years, working during the Raya holiday is not something new.
The couple has always been on duty during the festival on alternate years.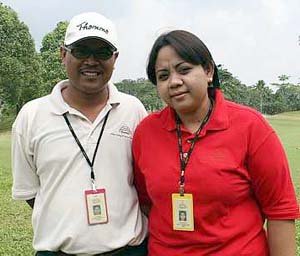 Their love blossomed after meeting at work and they got married five years ago. They have a four-year-old son.
As a local who lives with her family, Hazlinda has no qualms about it but Nazrol, who is from Gemas in Negri Sembilan, admits that he can't help feeling a little sad.
"But it's okay. With a handphone, I can always give my parents a call after the morning prayers," said the 31-year-old course marshall.
The golf club is closed on the first day of Raya, and on the second day, Hazlinda, a senior golf supervisor, will be sharing some Malay cuisine with her other colleagues.
"I will bring ketupat, nasi impit, rendang ayam and assorted kuih-muih to share with them," she said.
When work for the day is done at about 6pm, they will go home to entertain relatives and friends who drop by for visits.
Once the holiday period is over and their colleagues start coming back to resume their duties, Nazrol and Hazlinda will drive off to visit his family in Gemas.
"The atmosphere and feelings will not be the same any more as my siblings would have left Gemas to go back to their respective homes. But next year when we don't have to work during Raya, we will definitely go back to Gemas to celebrate with them," Nazrol said.
This year, when they go back to Gemas, Hazlinda will be taking along her homemade cookies to share with her in-laws.
"I bake every day after work and I have made six types of cookies," she said.
Related story:MPSJ hotline staff ready to roll during Raya