THE parents of 18 Olympians will be honoured at the Young Olympian Nite, organised by the Parent-Teacher Association of Bukit Jalil Sports School (PTA-BJSS), in Kuala Lumpur tonight.
PTA-BJSS president Dom Amy Hussain said they were proud that 18 students of BJSS – either current or former – were in the Malaysian contingent to the Beijing Olympics.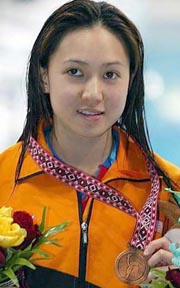 "The Young Olympian Nite is an opportunity for the PTA to show our appreciation to the students who had trained hard and qualified for the Olympics, which is considered the biggest sporting event in the world.
"We have also invited the students' parents to share the stage with them. The parents have made a lot of sacrifices for their children's sporting careers.
"It is appropriate that the PTA give credit to the parents for their part in grooming their children to become accomplished sportsmen and sportswomen," said Dom.
Deputy Prime Minister Datuk Seri Najib Tun Abdul Razak's wife Datin Seri Rosmah Mansor, who is the patron of the association, is scheduled to present the awards to the Young Olympians and the parents.
The PTA-BJSS will also launch the BJSS Athletes Welfare Fund and International Exchange programme at the event.
Dom said the fund was to provide financial assistance to deserving students.
"The primary aim of the fund is to take care of the students' welfare. We want to start an insurance scheme for them, too.
"There are also plans to have exchange programmes with foreign sports schools. The vision is to groom our students for high-level competitions," he said.
The athletes: Bryan Nickson Lomas, Elizabeth Jimie, Leong Mun Yee, Pandelela Rinong Pamg, Siow Yi Ting, Khoo Cai Lin, Daniel Bego, Wan Mohamed Khaimizan Wan Aziz, Cheng Chu Sian, Tan Boon Heong, Koo Kien Keat, Muhamad Edrus Md Yunos, Mohamed Azizul Hasni Awang, Mohamed Rizal Tisin, Roslinda Samsu, Elaine Teo, Lee Hup Wei, Che Chew Chan.