There is talk that Selangor and the Klang Valley would encounter water crisis from 2010 if the sustainability of water sources is not looked into. The already limited raw water supply is compounded by problems of pollution, flood and drought while consumers' unsustainable water usage is also adding to the woes. StarMetro checks out how serious the issue really is.
In Selangor, Putrajaya and Klang Valley, important rivers like Sg Selangor and Sg Langat are the main sources of water.
Sg Selangor provides about 60% of water supply to households in the Klang Valley and Putrajaya.
Universiti Teknologi Malaysia deputy vice-chancellor (research and innovation) Professor Datuk Dr Zaini Ujang said river pollution was due to untreated sewage, untreated industrial waste, wrong connection of pipes and soil erosion.
"When there is extension of a shoplot, the sewage piping is sometimes not linked to the sewage connection but goes straight into rivers," said Zaini, who is also the deputy president of Malaysian Water Association (MWA) and a member of the National Water Commission Services (SPAN).
"There should be more action by all agencies in enforcing regulations, as well as industries, businesses and public complying with the laws.
"For example, storm drains should be dry during hot weather or else the connection is wrong. It should be a joint effort by local authorities and communities to check on this but when I spoke on this to water engineers, some of them are not even aware of this fact," Zaini said.
He also questioned the sustainability of water courses and catchment areas, and also the need for an integrated management of river basins.
"The water management involves different agencies which result in overlapping of authority, red tape and difficulty in managing water effectively.
"In other countries, there is only one body to handle this and so there is full control and effective management.
"What is the role of SPAN if it is only in charge once the water is in the piping system but has no control over how and where water is being extracted, and also the management of catchment areas," he stated.
As for water consumption by consumers, he said: "Regardless of the number of people in a house, they have to reduce their consumption. It's easy to monitor and achieve this since our water bills will show the details.
"Sadly, not many people think much of water. Because it's seen as an infinite source and cheap, especially in Malaysia, many people are taking it for granted," he added.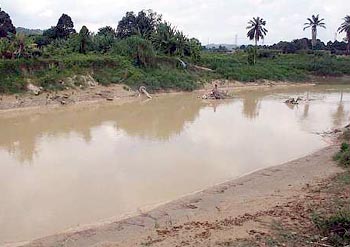 TV3 environment assignment editor Karam Singh Walia, who has been covering river and environmental issues for many years now, certainly thinks so.
"Many rivers have lost their role, with some even listed as dead rivers, unable to sustain living organisms," said Karam Singh.
He recently also spoke to concerned residents about the water crisis and how they could better manage water during a public dialogue organised by the Concerned Consumers Association of Selangor and Federal Territories (Prihatin) at the GrandBlue Wave Hotel Shah Alam.
"When I reported on the pollution in Sg Selangor, I could see how filthy it was from the various suspected culprits like animal farming, industrial sites and agriculture.
"River reserves are illegally cut and the worst is when you have sewage directly discharged into the rivers," he said.
Puncak Niaga Sdn Bhd chief executive officer Datuk Syed Danial Syed Ariffin said water would get even more expensive in the future with tariff increased to treat polluted water.
"Already, raw water supply is limited, and the 189 river basins in the country to draw water from is not efficient enough as the yield is not much," he claimed.
Puncak Niaga is the country's second largest water supply concessionaire, operating, managing and maintaining 29 water treatment plants with a combined capacity of 1,930 million litres per day.
"Even if the inter-state water transfer project (between Selangor and Pahang) goes through, it will only be in 2014 and we are talking about the immediate needs over next few years," said Syed Danial.
The inter-state water transfer project will see Selangor paying Pahang RM0.10 per cubic metre of water supply. It is said Selangor would thus have to fork out RM70mil a year, which is higher than the price of water being sold to Singapore at just RM0.03 per cubic metre.
However, the project has drawn criticism from local and international NGOs which had questioned the benefits of the project given the costs, environmental and social impacts, and the lack of a clear water conservation policy.
Just two months ago at the Selangor state assembly, state executive councillor in charge of infrastructure Datuk Dr Hassan Ali was reported as saying that the state government would review aspects such as the cost and technique used in the transfer of water although the project's preliminary agreement has been signed.
"We are taking all the steps necessary to ensure that scary scenarios like the nine-month ordeal of the 1998 water-rationing exercise will not recur," he had reportedly said.
The Water Association of Selangor, Kuala Lumpur and Putrajaya, which was formed in late 2006 and only became active mid last year, is an independent NGO that aims to propagate water-saving tips.
Its general manager, Noor Shahidah Mohamed Salleh said: According to the United Nations report, the ideal consumption is 50 litres per day but we are using 200 to 300 litres.
"While the question is if we are able to conserve enough, pollution without proper education and enforcement is adding to the woes."
"Using water from washing machines to flush toilets, capping a cup of water to rinse one's teeth and not letting the tap run, cleaning our cars less, and repairing leaking pipes and taking shorter showers are good practices but the percentage of households adopting such practice is still small," Noor Shahidah said.
But whatever the situation may be now, perhaps consumers should start treating water with more care and not leave it to waste. And NGOs and the authorities concerned can continually educate and enforce the laws against polluters, guilty parties and those siphoning away huge amounts of treated water.
What agencies and authorities can do:
i) Education in school and have more public dialogues with parties concerned like academia, engineers, researchers, conservationists, forestry and hydrology department, highlands experts, agriculturists and journalists.
ii) Carry out proper maintenance and management of water catchment areas. Forest and hills, which are sources of water, will lose their water content when they are cut. Detailed studies are therefore needed for the safety, security and continuous water supply of water catchment areas.
iii) List all regulations related to protection of rivers/development on river reserve/development near rivers and upstream/sand mining/ discharge of effluents. Have proper guidelines and best practices to look into pollution control.
iv) Use bioindicators, insects or macrobenthos or algae as good indicators for clean fresh water species. Do more research on improving river water quality, especially at the upper stream of water intake points to the water head in the water catchment areas.
Some water saving tips we can practice at home
i) Collect used water after cleaning vegetables, fish, or meat, then re-use it for watering plants.
ii) Harvest rain water using simple containers, and use the water to wash floors and water plants.
iii) Give incentives to family members to reduce water bills. Like when bills are reduced by 50%, we can use the money saved to pay for a special dinner or deposit in saving accounts.
iv) Repair water leaks, and help report pipe leakages as a concerned member of the public.
v) Parents can show good examples and become role models to children.
Related Stories:Need for a integrated approach Selangor must look at long-term water issues