ARE you still feeling fatigued, suffering from brain fog or shortness of breath months after recovering from Covid-19?
If so, you may be suffering from long Covid.
To raise awareness on the condition, the Malaysian Red Crescent Society (MRCS) Negri Sembilan organised a Long Covid Awareness Day together with a blood and organ donation drive at Mydin Mall in Seremban 2.
"According to research, up to 45% of Covid survivors experience prolonged symptoms months after the infection," said Dr Ling Chuan Kai, medical officer of MRCS Negri Sembilan.
"It is important to recognise these symptoms and seek help," he continued.
Long Covid is defined as having prolonged symptoms more than three months after the initial Covid-19 infection.
During screenings for long Covid at the event, 38.5% of respondents reported that they still felt unwell despite more than three months since their last Covid-19 infection.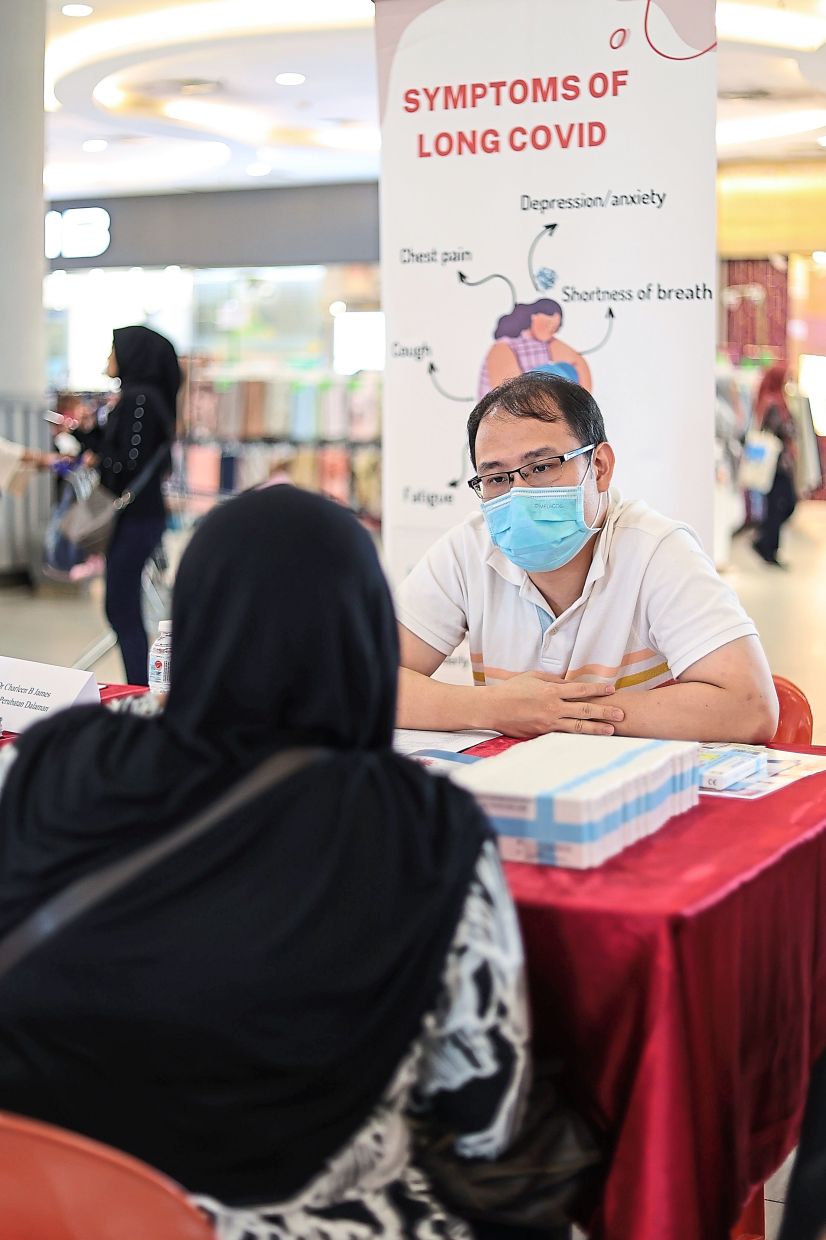 A visitor consulting with internal medicine specialist Dr Loo Wei Hoong about long Covid at the event.
The majority said they experienced fatigue (23.1%), persistent cough (19.2%) and memory problems (17.3%).
"There's no specific treatment for long Covid yet but the best way to avoid it is to not get Covid-19 and to get inoculated for extra protection.
"Vaccinated individuals are less likely to develop long Covid," Dr Ling added.
MRCS Negri Sembilan also produced three short videos on ways to manage common long Covid symptoms.
A colouring contest was carried out during the event to raise Covid-19 awareness among children.
"We always try to include children in our activities.
"While 40 primary schoolchildren participated in the colouring contest, 15 secondary school students helped with the blood and organ donation drive," said the event co-organiser Cheong Yee Chi.
"These experiences help our children to develop empathy and compassion," she added.
MRCS volunteer Teh Jhen Yang doing his bit to save lives by giving blood during the blood and organ donation drive.
In total, 86 pints of blood were collected and 17 people pledged to become organ donors.
MRCS Negri Sembilan collaborated with Hospital Port Dickson blood bank and received funds from Australian Red Cross as well as Australian Aid for the half-day event.
Regular blood donor Charleen Jim said the process of giving blood was painless.
"Blood is a precious gift of life. Donating blood is a painless and quick process.
"When you give, others live. That's the reason I donate regularly," she said.
MRCS Negri Sembilan chairman Datuk Wong Chiang Choy was happy with the good turnout and urged the public to donate blood regularly to help keep the local hospital's blood supply stable.
"Also, always be aware that Covid-19 is still around us.
"We need to stay vigilant and safe," added Wong.
Subscribe now to our Premium Plan for an ad-free and unlimited reading experience!