Campsite in Pahang allows visitors to connect with nature, disconnect from digital devices
IF YOU ask enthusiasts what draws them to camping, the answer will likely be their love for the great outdoors and the respite it provides from city life.
Many yearn to disconnect and find solace in nature, away from their electronic gadgets and social media.
This probably explains the many campsites set up in Janda Baik, Pahang, catering mainly to Klang Valley folk.
Its relatively short distance of about 45km from Kuala Lumpur makes Janda Baik an ideal destination for those wanting a quick getaway.
StarMetro went on a two-day, one-night camping trip to Janda Baik to discover what it has to offer.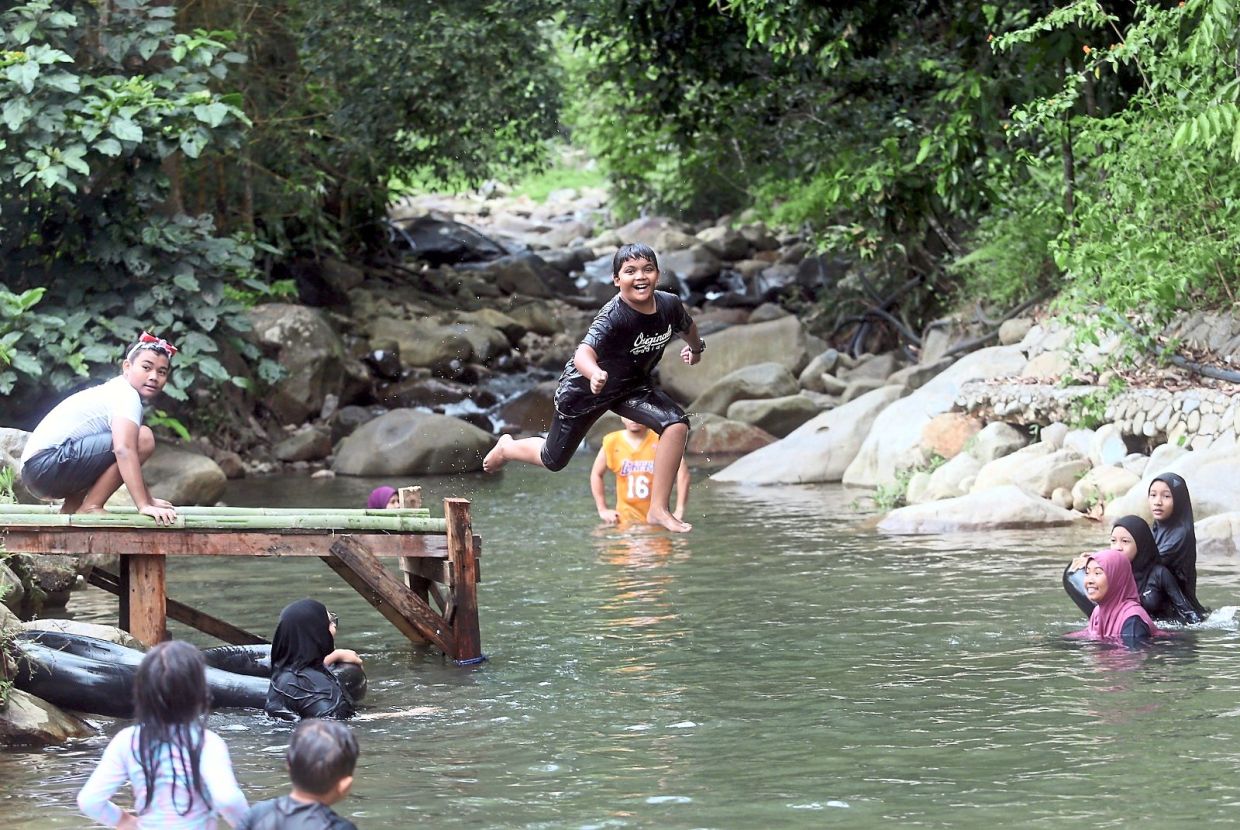 There is a stream located just outside the SIR campsite. — Courtesy photo
The SIR Camping Site, located within Kampung Orang Asli Hulu Chemperoh, is accessible via a narrow one-lane road.
Tall coniferous trees line the periphery of the 1.5ha camping ground, giving it a tranquil ambiance.
A small lake offers scenic views and a chance for anglers to put their skills to the test.
A stream runs just outside the area where families with children are seen splashing about gleefully.
The campsite provides several bathrooms, toilets and sinks for visitors.
Campers are required to bring their own tent.
There is a fee of RM70 charged for each tent per stay.
The check-in and check-out times are noon and 1pm respectively.
(From right) Young Syefura, Salinawati and Mohd Nor releasing fish into the stream near the SIR campsite. — Courtesy photo
They can ask the campsite to prepare a tent, which may fit up to five people, but this will need to be arranged in advance.
Site operator Datin Salinawati Mat Shah said her husband came up with the idea to turn the once idle land into a campsite.
"We started cleaning up the area in 2019 and were about to begin operations when the movement control order came into effect in March 2020.
"We only managed to open last year, and response has been very encouraging," she said.
Salinawati expressed relief that the campsite was not affected by the flash floods that hit Janda Baik in February.
She has launched an online platform to book stays at campsites – SIR, Akiha located in Johol (Negri Sembilan), Natura in Manchis (Pahang), Nomad 1.0 in Desaru (Johor) and Nomad 2.0 in Ulu Bendul (Negri Sembilan).
CLICK TO ENLARGE
During a ceremony at SIR campsite to launch the online platform backtonature.asia, Bentong MP Young Syefura Othman expressed hope that it would attract more visitors to Pahang.
"More Klang Valley folk, especially young people, will be drawn to holiday here and in the process, help the local economy," she added.
Also present were Bentong Forestry officer Muhammat Azman Yahya and Pahang Fisheries Department officer Mohd Nor Ramzan Rohim.
Some 1,500 red tilapia fish, courtesy of the Fisheries department, were released into the campsite's lake during the event.
In addition, some 10,000 pelagic and 5,000 silver sharkminnow fish were released into the nearby stream.
The event also saw the planting of 30 cengal and merbau trees at the campsite, courtesy of the Forestry Department.
Those who are more adventurous would enjoy a visit to the Bidaisari Resort where plenty of outdoor activities await.
Located some 6km from the SIR campsite, among the activities offered are ATV (quad bike) ride.
ATV rides are among the outdoor activities available to visitors in Janda Baik, Pahang. — Courtesy photo
For the ATV, visitors have an option of two trails – fun and escape – which will take them on a one or two-hour ride.
The rides are priced at RM200 and RM250, respectively.
There are two sessions daily – 9.30am to 11.30am and 2.30pm to 4.30pm.
Those planning to visit at the weekends may need to make advance bookings.
Before starting the ride, visitors are given a short course on how to steer the vehicle, including a test drive.
Along the trails, riders can stop at regular checkpoints where they can check out the horse stable and deer park, among others.
The park offers visitors a chance to feed the 15 deer in an enclosure.
There is also a pond nearby where two eight-year-old swans, brought over from the Netherlands, are being cared for.
Subscribe now to our Premium Plan for an ad-free and unlimited reading experience!