ROCKAFELLERS Kitchen + Bar has unveiled itself in Bukit Damansara, now serving the sometimes forgotten newer enclave of Bukit Damansara (aka Damansara Heights).
Perched at the end of the block on one of the two main stretches of the Bukit Damansara enclave, it does come off more as a suburban-type venue taking up the ground floors of three shop lots.
Launched last September, it's the newest and largest of the current five Rockafellers nationwide (the others being Changkat Bukit Bintang Kuala Lumpur, Penang, Genting Highlands and Langkawi) and the 21st outlet under the rapidly expanding Olive Tree Group. The group also runs the nearby Frangipaani (colonial Indian heritage restaurant).
Rockafellers Kitchen + Bar in Bukit Damansara serves the finest British and Irish cuisine with a liberal Indian and continental European touch.
Staff move swiftly between clusters of deep brown tables and high chairs and do check out the distinctive, eclectic posters on lavish wooden wall panels.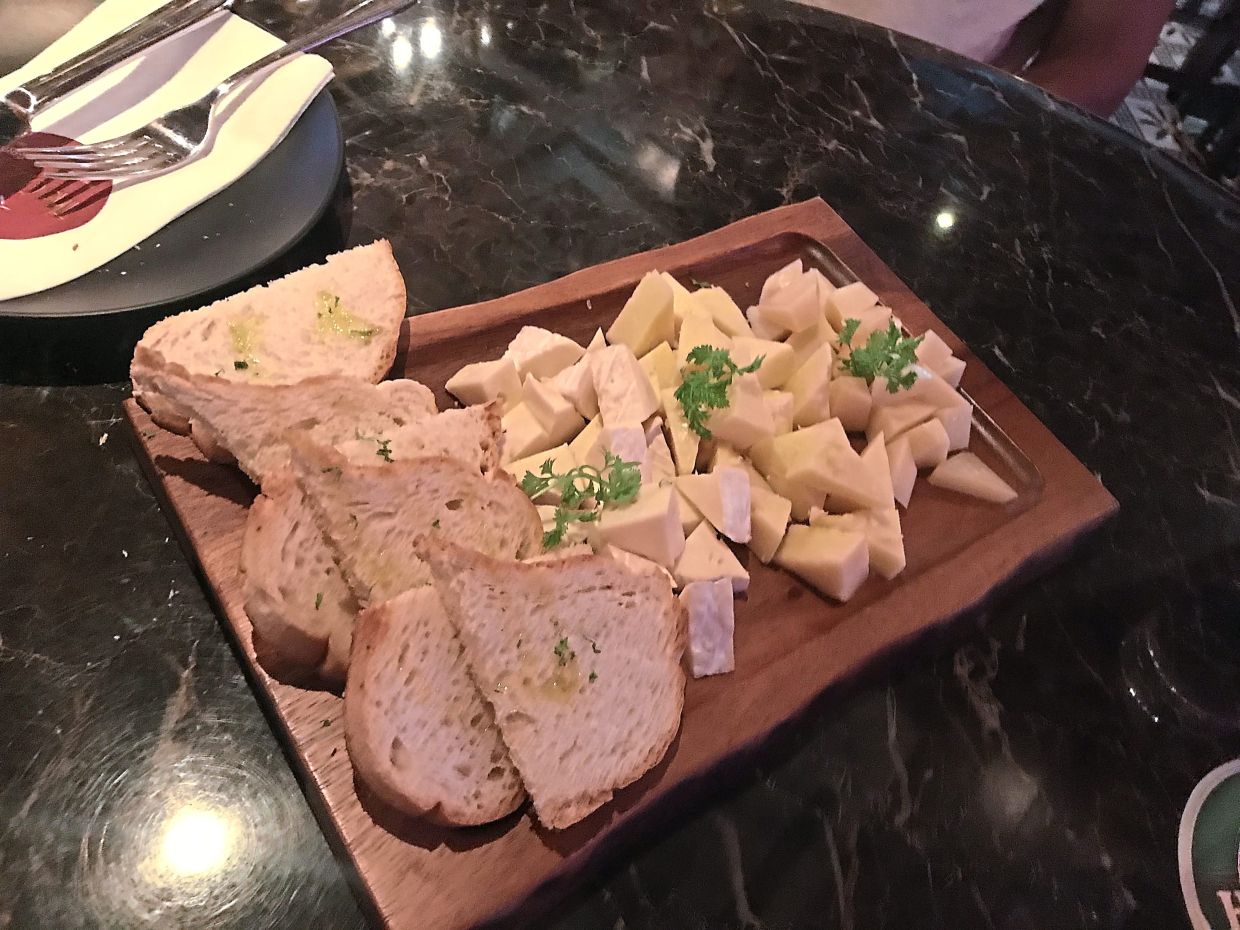 The Charcuterie Cheese Board.
Its dining menu ranges from bar bites, burgers, savoury pies and stews to prime-cut steaks, speciality pizzas and homemade pasta.
There is also a wide assortment of beers, ciders, wines, whiskys and spirits to wash it all down.
Starters and salads include Wild Mushroom Soup and Smoke Duck Breast with Pomegranate Salad
You can build your own charcuterie appetiser board with cheeses, meats, pates and sweets. The Charcuterie cheese board selection shows off Irish Cheddar White Extra Mature, Brie, and Iberica Curado.
Another personal favourite is the special Iberico Platter that brings a selection of Iberico Pork that comes from the distinctive Black Iberian Pig native to Portugal and southern Spain. Mouth-watering indeed with dishes including the superb Chargrilled Jowl, as well as Abanico, Spare Ribs, Collar Chop and Crackling Roast Pork.
For pastries and pies, choose from Mini Beef Wellington, Marinara Pork Tenderloin, Pork Vindaloo Pie, English Bacon Pie, and Angus Minced Beef. For stews, you can have 36 Hours Braised Bone Guinness Black Angus Beef Stew, and for steaks, Angus Beef Short Ribs and Charred Shiraz Black Angus Rib Eye.
Pasta choices include Salmon Bacon Pesto and Crab Spaghetti with Lemon Gremolata.
Meanwhile, the weekend morning types can order a classic breakfast or Full Irish Breakfast when the bar opens at 10.30am on Saturday and Sunday.
The drinks menu is suitably extensive with a swath of a variety of single malt whisky and Scotch, Japanese, Irish and Canadian whiskey, bourbons, brandy and gin, rum, tequila, vodka and other popular spirits.
There's a wine cellar next to the main bar that includes new and old world premium wines as well as special additions of wines from Lebanon and Syria for the more adventurous.
Both classics and Rockafellers Signature cocktails are available. Signatures include Yuzin (Hendricks gin based), Yaca Mexicana (tequila), Cherry Blitz (tequila) and Tropical Heaven (Bacardi). Classic cocktails include Daiquiri's, Clover Club, Cuba Libre, Pimms Cup, Caipirinha and more.
A standard fare of beers is available with a few ciders (including Strongbow and Magners) in the mix. You can order the Snakebite (beer cider) or Black Velvet (Guinness cider) on draught as well as the more common Paulaner and Kilkenny on draught, and bottled Corona, Budweiser, Hoeegarden to add to the traditional Guinness, Tiger and Heineken on draught.
Various mocktails, soft drinks, tea and coffee are also available.
Those wanting more than just food and wine will be pleased to see that LCD screens are placed strategically throughout the venue for sports enthusiasts.
They can spend hours here, and not have to miss a second of their favourite matches, no matter which of the major sports they prefer from football and rugby to tennis and cricket.
There's also acoustic live music on offer with live two-piece band sessions from Wednesday to Saturday featuring a host of local musicians rotating on the roster.
Last week's Mothers Day Sunday, for instance, featured a special jam session with Jeremy D'Costa, Jason Raj, Stan Calvin, Jayvine, Matthew, Aby Law, Samantha Diana and Nico.
This week is the turn of Matthew & Aby Law (Wednesday), Albert & Vijay (Thursday), Mizan & Kyra (Friday), Ice & Colin Jansen (Saturday).
All in all, although this place looks at first sight more convenient for the neighbourhood enthusiasts who are looking for a somewhat quieter atmosphere as an alternative to packed downtown Kuala Lumpur.
Rockafellers Kitchen + Bar,
Bukit Damansara
Block 15-G, 17-G & 19-G, Jalan Medan Setia 1, Bukit Damansara, Kuala Lumpur.
Opening hours: Mon - Fri : 12pm – 1am / Sat & Sun : 10.30 am – 1am.
Phone +6017-761 4088.
email: rfbd@theolivetreegroup.com
Subscribe now to our Premium Plan for an ad-free and unlimited reading experience!