THE view of the Stormwater Management and Road Tunnel (SMART)'s flood retention pond in Taman Desa off Jalan Kelang Lama, Kuala Lumpur, is breathtaking.
The pond, also known as an attenuation pond, which connects to the tunnel below, looks serene.
In fact, some would pay a lot of money to wake up to a view like that and developers are aware of this.
The land surrounding the pond, known as Lot 481153, was alienated for a mixed development project in 2017.
The land was transferred to a private company a few years ago.
The SMART management was in the dark over the matter.
But thanks to the efforts of then Drainage and Irrigation Department (DID) director-general Datuk Nor Hisham Mohd Ghazali, the deal was cancelled.
ALSO READ: '15 flood retention ponds in KL not gazetted'
DID is the custodian of rivers, river basins, retention ponds, water resources, coastal zones, flood management and drainage systems.
Nor Hisham had not only objected to the alienation of the retention pond land, but also brought it to the attention of Federal Territory of Kuala Lumpur Land Exco (JKTWPKL), which decides on government reserve land matters.
The retention pond in Taman Desa comes under the purview of JKTWPKL and Nor Hisham had pushed for certain technical requirements to be fulfilled before the development could go ahead.
In the end, the developer was unable to meet these requirements and the project was eventually cancelled, with the government having to pay over RM40mil to the developer.
"It was a big win for us as Nor Hisham had made it very clear that any development on the pond area would adversely impact the operations of the SMART tunnel in terms of flood mitigation," said SMART chief operating officer Mohd Noor Mohd Ali.
One of the conditions that the developer had to fulfil was a guarantee that the development would not affect the pond's capacity.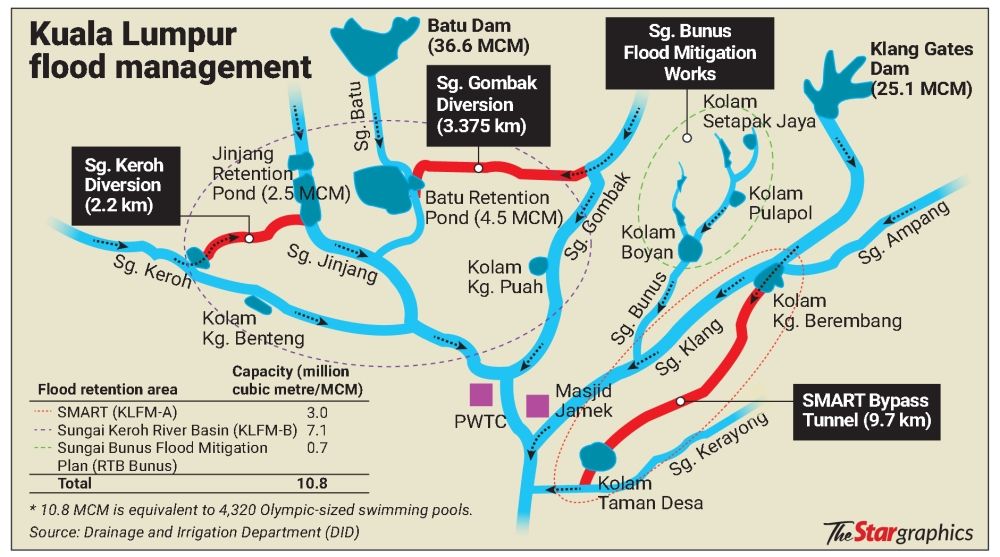 ALSO READ: Land surrounding retention pond strewn with rubbish
"The size of the Taman Desa retention pond is 17.6ha, with a capacity of 1.4 million cubic metres.
"It would be impossible to guarantee that the capacity will remain the same after the development.
"And that condition still remains. Whatever that's going to be done, you have to ensure that the pond's capacity will not affect the SMART tunnel operations and put the city at risk of flooding," he said.
Mohd Noor cautioned that with climate change resulting in extreme weather, including more frequent thunderstorms and floods, development that could jeopardise the SMART tunnel's role should not be approved by the authorities.
Cutting risk of flooding
The 9.7km SMART tunnel, which cost RM1.88bil, has a dual function.
Its main function is to divert excess floodwater at the confluence of Sungai Klang and Sungai Ampang into the SMART tunnel system and to the retention ponds at Berembang and Taman Desa.
The one in Berembang is a holding pond while the other at Taman Desa is a flood retention pond.
It also functions as a motorway to ease traffic congestion at the main southern gateway to the city centre.
Mohd Noor said since the SMART tunnel was activated 15 years ago, it had diverted floodwaters 55 times and averted about RM4.5bil in damage.
And on Dec 18, 2021 – when continuous downpour caused flooding in many parts of the country – the SMART tunnel diverted five million cubic metres of water (equivalent to almost 2,000 Olympic-sized swimming pools), over two million cubic metres above its maximum capacity – preventing major flooding in Kuala Lumpur city centre.
This was done by prolonging the diversion period through SMART tunnel and the existing retention ponds, especially the Berembang and Taman Desa ponds.
If these retention ponds were to be reduced in size and capacity to make way for development, the risks of major flooding in the Klang Valley would be higher, said Mohd Noor.
As it is, several areas in the city were affected during the Dec 18 floods, including Jalan Raja Chulan, Kampung Kasipillay, Jalan Tiong Nam, Taman Hock Ann, Kampung Pasir and Kampung Batu Bata.
At least 73 sites in Kuala Lumpur suffered landslides and 24 areas suffered damaged infrastructure.
According to reports, the total damage, including clean-up works, was estimated at RM32.4mil.
Kuala Lumpur was also hit by another major flood in March 2022.
SMART is concerned about any changes to the carrying capacity of retention ponds such as the one in Taman Desa.
"If the retention pond's size and capacity is reduced to make way for development, we could be in trouble," Mohd Noor said.
He said the motorway operations in the tunnel would also be affected.
"If the rain prolongs for several hours, then the whole tunnel – including the motorway component – would have to be closed for a longer period for clean-up and repair works.
"This will definitely disrupt motorway operations, affecting motorists," he said, adding that it could take at least two to three days to clean up the tunnel.
Mohd Noor also pointed out that every time the tunnel was closed for flood mitigation, it cost the company at least RM500,000 to repair the damage and cracks, lighting and camera system as well as debris clean-up later.
He warned that if water in the tunnel could not be diverted because retention ponds downstream were at full capacity, should there be another thunderstorm, Kuala Lumpur would be flooded.
Threatened by development
Flood retention ponds in Kuala Lumpur are under threat as there have been several moves to alienate the land for development.
Currently, land surrounding four out of 15 flood retention ponds in Kuala Lumpur has already been alienated for this purpose.
A portion of land surrounding the Taman Wahyu and Delima ponds in Kepong was approved for development in 2017.
The alienation of land around the Batu and Batu 4 ½ ponds means that parts of the pond land have been transferred to a third party and could be developed in the future.
And StarMetro reported yesterday that a portion of land near the Bohol retention pond has been proposed for alienation for a mixed-development project.
The Taman Desa retention pond only narrowly avoided the same fate.
Mohd Noor said SMART had been pushing for gazettement of the Taman Desa retention pond for a long time.
"It's our biggest concern and priority right now.
"We have written to the DID and the last feedback we got was in February asking us to write to the land office so we hope that things can move faster," he added.
Global Environment Centre (GEC) river care programme manager Dr Kalithasan Kailasam is in favour of gazetting retention ponds, saying that they are a vital component in disaster risk management.
"Water needs space, and we need to have designated spaces for water to collect.
"Although flood retention ponds only collect and store water temporarily, this is critical during high flow periods."
Kalithasan said that while developments near these ponds typically come with conditions, it boiled down to strict enforcement by the authorities.
"Can they give assurances that pond functions will not be affected and that all conditions are fulfilled and adhered to by the respective applicants?
"Gazetting the ponds would ensure better protection overall," he added.
Meanwhile, Friends of Sungai Klang Taman Melawati River Three (FoSK TMR3) founder Kennedy Michael said any attempt to sell off land that is vital for flood mitigation without an alternative was foolhardy.
"We have seen just in the last three years, cases of major flooding, mostly due to overdevelopment and poor development.
"The development ecosystem includes urban planning development, such as retention ponds.
"As it is, we do not have enough flood retention ponds, and they are not protected," he said.
Subscribe now to our Premium Plan for an ad-free and unlimited reading experience!