OVER the years, speakeasies and cocktail bars are gradually increasing in Ipoh's rustic and quiet parts.
The thrill of exploring hidden bars and creative beverages has given Ipoh folk, especially young adults, a new and exciting experience to indulge in.
These bars are located in the heritage-rich Ipoh Old Town and Jalan Theatre which are also popular with tourists and locals alike.
Each bar carries its own concept and design, successfully wooing discerning clientele to explore and soak up the unique finds within.
This round, StarMetro steered its wheels up north to check out some of the new and existing speakeasies and cocktail bars that make up part of Ipoh's nightlife scene.
Atas
With a warm and dark palette projecting moody accents, this speakeasy bar is where velvet meet satin – a nod to a sleek sartorial style.
Showcasing an interesting cocktail menu, the Atas team aims to appeal to industrial magnates and young upmarket Ipoh trend-setters.
Expect ever-changing cocktails as mixologists here work marvels on seasonal menus that are launched every six months.
Atas bar serves up drinks from a seasonal menu.
The bar is in the midst of launching its third edition.
Mixologists prefer locally sourced fresh ingredients and pairing them with housemade syrups and bitters on a variety of alcohol bases such as gin, whisky, rum and even Mezcal.
The signature cocktail Thrift Store Hipster presents tropical notes and is a concoction of Tequila Blanco, Hazelnut Liqueur, pineapple juice, homemade spearmint syrup and lime juice.
Thrift Store Hipster is a refreshing taste at Atas.
Another signature is the White Rajah, a concoction of vodka, homemade tuak, ginger syrup, lime juice, Lager beer and nutmeg.
Located at 37A, Jalan Theatre, Taman Jubilee, Ipoh, Perak, the bar opens from 6pm to 1am daily except Tuesdays.
Patrons are put to a test to find the bar's entrance which is somewhat a mystery.
Reservations are required at 012-778 7365 or email atas.speakeasy@gmail.com
Caina Bank
Combining both Chinese and western influences in its interior, Caina Bank offers visitors a glimpse of both worlds when stepping in to this nightlife spot.
Using drums and safe boxes for tables and seats, the choice of furnishing lends an insight to the bar's name.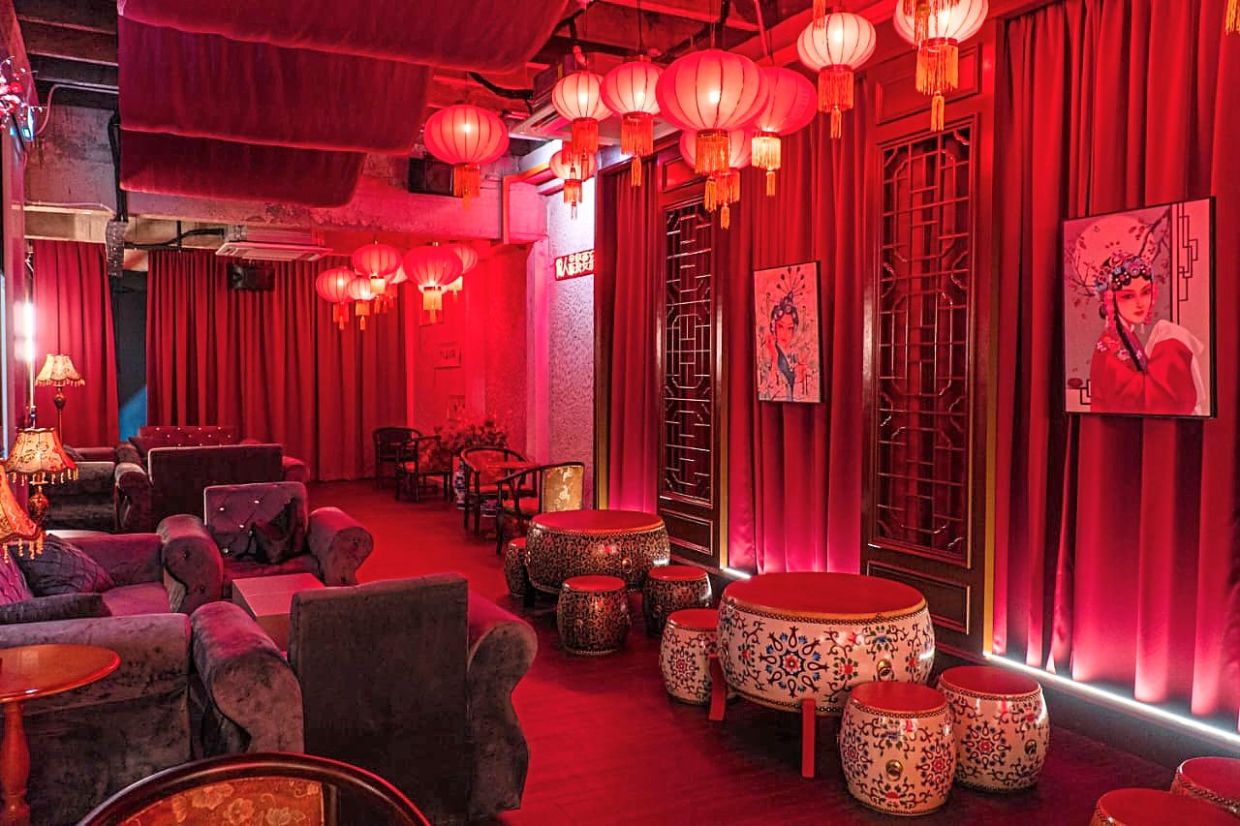 Caina Bank is a contemporary place with Chinese and western influences.
Coined using a combination of east and west, "Caina" refers to Chinese or representing Chinese culture while the word "bank" points to the western culture.
Interestingly, the bar was named such because of its location which is in the heart of town, surrounded by many banks.
Patrons here will walk into a spacious area with red lanterns decorating the ceiling.
A signature cocktail is the 5000 B.C, a concoction comprising Ipoh's famous white coffee, whisky and white chocolate liqueur offering a balanced taste of coffee and chocolate.
Cai Na Yin Hao is a tea cocktail at Caina Bank.
Guests can try other cocktails such as Cai Na Yín Hao – a tea cocktail with gin, lemon and hibiscus while 60 Hao Dang Pu is tangy flavoured made with gin, yuzu and umeshu.
Most drinks on the menu go by their Mandarin names.
Located at 60B, Jalan Bandar Timah, Ipoh, the bar opens at 6pm until 12.30am, daily. For reservations, call 014-944 7287.
Tiga
The bar was set up as a cosy place for close friends and acquaintances to meet and catch up.
It takes inspiration from bar scenes from the 1950s when locals of various races were seen socialising over drinks while listening to jazzy tunes.
Clarified ABC is a bright-hued flavour at Tiga Bar.
Opened in July, 2018, the bar was initially located in Market Lane next to Concubine Lane in Ipoh Old Town.
Since then, the bar has moved to the first floor of a shoplot at 27, Jalan Bijeh Timah, Ipoh.
Signature cocktails here include Market Club – a classic twist of Clover Club cocktail made from Pandan-infused gin, gula melaka, Framboise liqueur, lemon and egg white.
Those with a sweet tooth can try local dessert-inspired cocktails such as Clarified ABC comprising gin, hazelnut liqueur, rose water, corn milk, grass jelly and red bean while those with a taste for creamy cocktails can delight in Buttery and I Know It – a creamy hot peanut butter foam topped on a whisky sour twist with raspberry liqueur, bourbon, maple syrup and lemon.
Tiga Bar's Market Club has pandan-infused gin, gula melaka, Framboise liqueur, lemon and egg white.
The bar will relocate next month to 44, Jalan Sultan Iskandar, Ipoh.
The bar opens from 6pm to 1am on Tuesdays, Thursdays and Sundays; 6pm to 2am on Fridays and Saturdays.
Kikilalat
This is Ipoh's first craft beer bar selling local beers and local moonshine and rice spirits on the tap such as tuak, todi and seasonal on-the-tap cocktails.
It borrows the name Kikilala from a well-known children's clothing brand that will be familiar to those born in the 1970s and 1980s.
Visitors to Kikilalat can enjoy the cosy corner at the bar.
"Kiki" is also slang in the US which means "let's drink, gather and gossip" while lalat refers to a barfly.
The best-sellers are available on the tap namely Fizzy Todi which is coconut flower with fermented wine and Don't Kakajiaojiao (meaning do not disturb) is a mixture of tuak cocktail, yuzu beer as well as Salt and Lime – a hard seltzer.
Imported beers from Taiwan, China, Japan, lager beers and Indian Pale Ale are sold here too.
Busking and street karaoke are signature activities that draw in the crowd.
An interesting selection of craft beers at Kikilalat.
There is also a fun match-making notice board at the back of the bar where visitors can write their contact details.
Located at 27, Jalan Bijeh Timah, Ipoh, the bar opens from 6pm to 1am on Sunday to Thursday and 6pm to 2am on Fridays and Saturdays.
Subscribe now to our Premium Plan for an ad-free and unlimited reading experience!