Businesses in Johor Baru are extending their hours as late-night demand begins to return to pre-Covid-19 pandemic level
TOO busy to get a haircut or have your car washed during the day? Fret not, plenty of businesses in Johor Baru have you covered.
From restaurants to mini marts and even motorcycle workshops, there are many shops that welcome visitors coming at the wee hours of the night, as well as those operating 24 hours.
These include the row of car wash outlets along Jalan Dato Abdullah Tahir and Bukit Chagar, which are mostly open 24 hours a day.
Fahim Mohd Taramia, 53, said that he resumed the 24-hour operation of his carwash shop about two months ago after seeing an improvement in business since the reopening of the border between Johor and Singapore.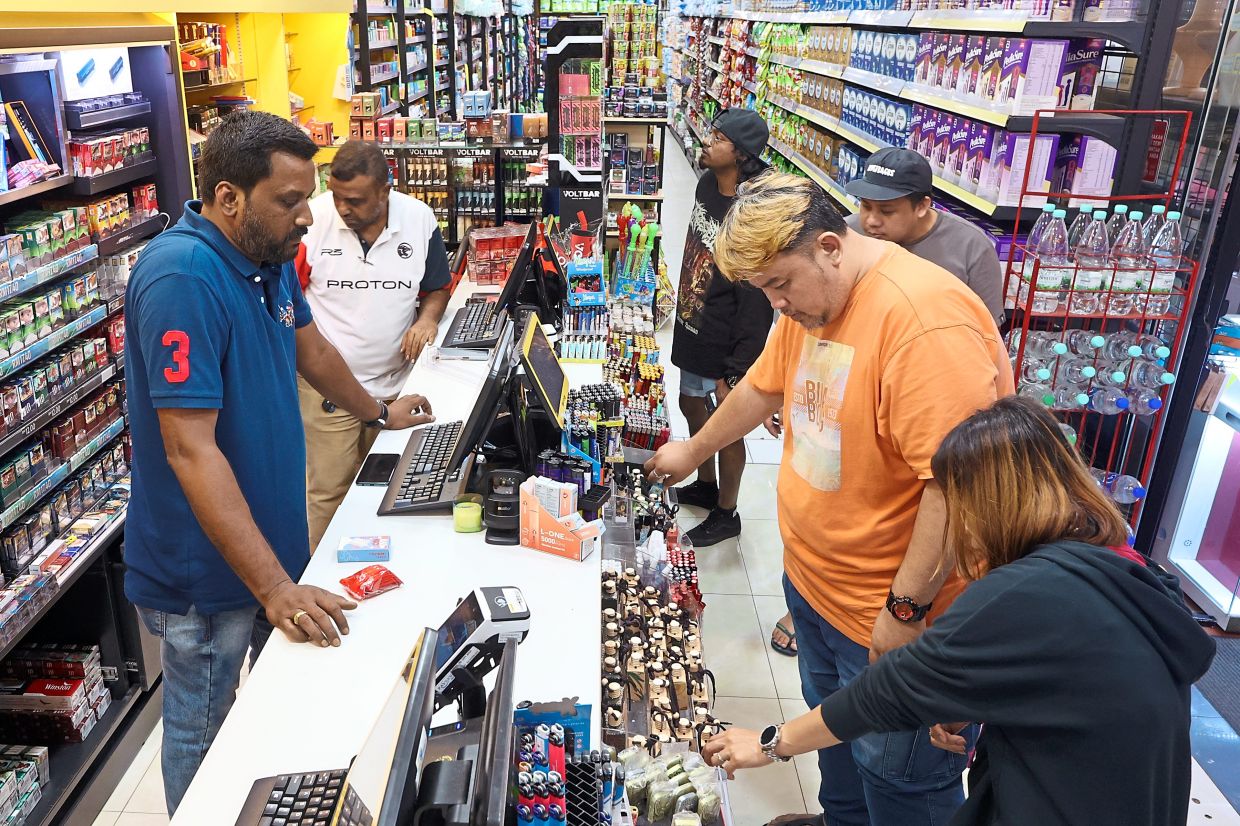 A 24-hour mini mart near Jalan Bukit Chagar gets customers at all hours.
"Over 90% of my customers are Singaporeans. My business was not doing well when the border was closed, especially since there was tight competition with many carwash outlets located in the same area.
"I was only operating for about 12 hours a day until about two months ago. Lately, there has been an increase in the number of Singaporean visitors.
"These days, I can get between 70 and 80 customers in a day, which is about twice compared to the period before the border was reopened.
"However, it is still not as good as pre-Covid-19 pandemic days when I could get more than 100 customers in a day," he said.
Fahim currently has eight workers and is looking for more to cope with the demand.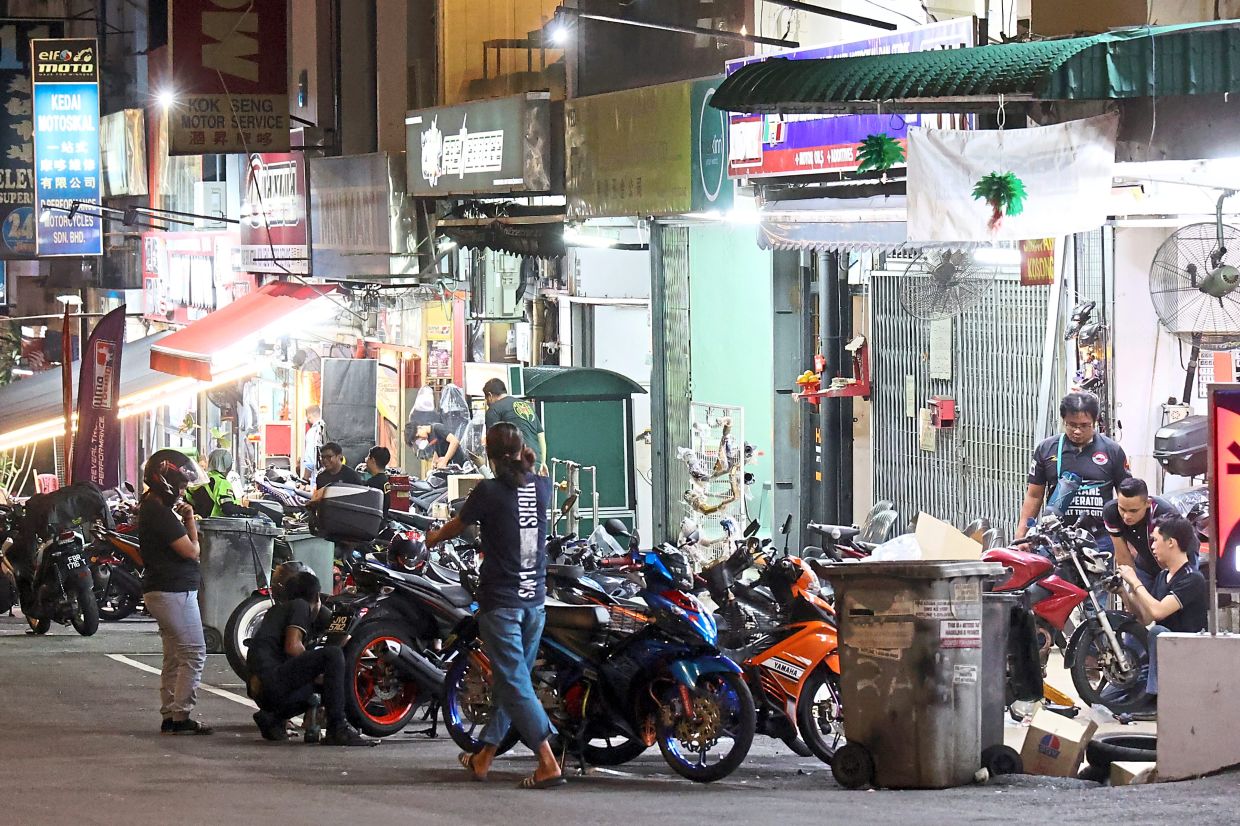 Motorcycle workshops in Jalan Tun Abdul Razak cater mostly to late-night customers. – Photos: THOMAS YONG/The Star
"Prior to the pandemic, I had 12 workers, the majority of who were from Bangladesh and India. They had returned to their home countries.
"I managed to get a few more workers after that, enabling my 24-hour operation but we are still shorthanded, especially during weekends," he said.
In Bukit Chagar, mini mart manager K. Ganesh Kumar, 42, is getting dozens of customers at the shop at night as it is located near the Johor Causeway.
"There are people coming even at 2am or 3am to look for things such as snacks, drinks and even diapers.
"Weekends are typically busier compared to other days as a large crowd will come from Singapore.
"The shop is located very close to the Causeway and there are two petrol stations nearby. So, people will usually stop here to buy some stuff and change their money at the money changer nearby," he said.
Ganesh says he gets dozens of customers at night as his shop is located near the Causeway.
He noted that the current crowd at the shop was nearly the size of pre-pandemic figures and he expected it to increase within the next few months.
Next to the mini mart is a barber shop that used to operate until 3am to cater to late-night customers coming from Singapore.
Barber U. Ramesh, 39, now only opens until 11pm due to a shortage of workers.
"Previously, we were able to open until the wee hours as there were at least three people working here but now, I am the only one.
"While there is still a demand, especially from Malaysians working in Singapore who prefer coming here at night, we are unable to continue operating as before.
"We are still looking for more workers so that we can operate 24 hours," he said.
Said Hakim says the lack of manpower makes it hard for restaurants to operate 24 hours.
Manager of a nearby restaurant, Said Hakim Shah Said Ghafoor, 25, also faces a lack of manpower which makes it difficult for him to operate 24 hours.
"We just started the business after Hari Raya Aidilfitri this year and have since been operating from 8am until midnight.
"The previous owner of this shop was able to operate 24 hours before the pandemic as there was ample manpower back then.
"There are still many customers who walk in around midnight and we want to operate longer but without enough workers, we are unable to do so," he said.
Said Hakim hopes to increase his work force from 10 to 15 people in the next few months.
For Amin Mohd Arfi, 48, who works at a 24-hour money changer in the same area, the end of the month is typically a busy time at the outlet as many Malaysians working in Singapore will come to change their earnings into ringgit.
"Most of our customers are either Singaporeans or Malaysians who are working there.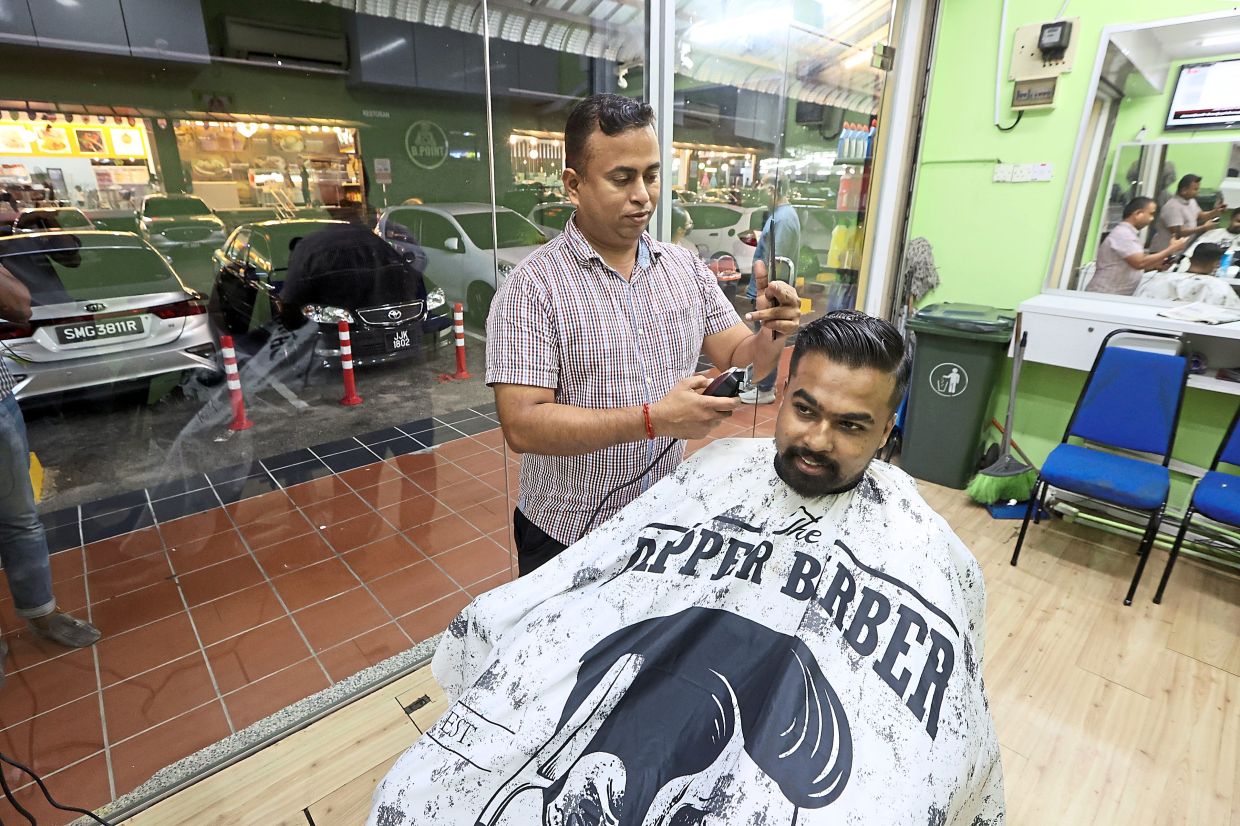 Barber Ramesh, 39, attending to a late-night customer at his shop.
"There are as many during the day as at night, as people are crossing the border all the time.
"About 90% of our customers want to change Singapore dollars into ringgit or vice-versa," he said.
Just 3km away, in Jalan Tun Abdul Razak, is a row of workshops that cater mostly to motorcyclists who commute daily between Johor and Singapore.
The area is typically quiet during the day and only starts to buzz with activity around 6pm.
BM Rajah, 64, is among workshop owners who keep their shops open until midnight to cater to late-night customers.
"I used to open until 4am prior to the pandemic but these days, business is not doing as well as it was before. As such, I decided to only open for 12 hours, from 12pm to 12am.
Workers at a 24-hour car wash in Jalan Dato Abdullah Tahir cleaning a customer's car.
"Most shops here open late in the evening until late at night as that is usually when the Malaysians working in Singapore will come by for repairs.
"However, I keep my shop open during the day to also cater to local customers," he said.
Among those who frequent such businesses is Singaporean Baharuddin Mohd Ali, 59, who visits his family in Johor once every two weeks.
"My wife is a Malaysian and all my children are living with her here in Johor Baru while I work in Singapore.
"Due to work commitments, I am only able to come back once every two weeks and can stay for two or three days at most.
"I am very dependent on shops that are open at night as I want to spend whatever time I have left during the day to be with my family," said Baharuddin, who is a food deliveryman.
For warehouse operator Jason Teh, 27, having the option to service his motorcycle at night is important.
"I usually reach Johor Baru at about 7pm or 8pm and I head to the workshop to service or repair my motorcycle at that time.
"Otherwise I would have to come back the next day and take leave to get it done," he said.
Subscribe now to our Premium Plan for an ad-free and unlimited reading experience!