CONDOMINIUMS for fish. That is what local fishermen are calling the artificial reefs installed some two nautical miles off the Sungai Mesok Jetty at Kampung Batu Laut in Tanjung Sepat, Selangor.
In a clear sign of the fishing community's interest in the artificial reef project by Selangor Fisheries Department, several local fishing vessels were seen surrounding the barge transporting 14 concrete structures to the anchoring point recently.
Designed by the department's engineering unit to increase fish stock, the concrete blocks weighing 18 metric tonnes and measuring four metres in height each were hoisted by crane and submerged one by one into the sea.
The task took five hours to complete and was supervised by Fisheries' Kuala Langat and Sepang district head, Dashalinni Mohan.
Built in the shape of a series of rectangular stacking blocks, the reefs were designed for soft sea beds.


1) The barge transporting 14 concrete artificial reefs that weigh 18 metric tonnes each, to a location two nautical miles out at sea near Batu Laut in Sepang.
Once submerged, the base, which acts as a foundation, sinks deep into the sea bed and anchors the structure to the spot. The top half will be exposed to attract barnacles, marine vegetation and eventually fish.
This is the fourth installation of artificial reefs in the area to-date. The first two were in 2006 and 2008, involving a total of 34 units. Another 19 units were introduced in 2018.
An additional 14 units have been installed this year alone. All units are submerged in the same area. The total cost of the project for 2018 and 2019 is RM600,000.
Interestingly, one of the fishermen in the vicinity landed a red snapper during the reef installation process, causing the project team to muse that it was a good omen for things to come.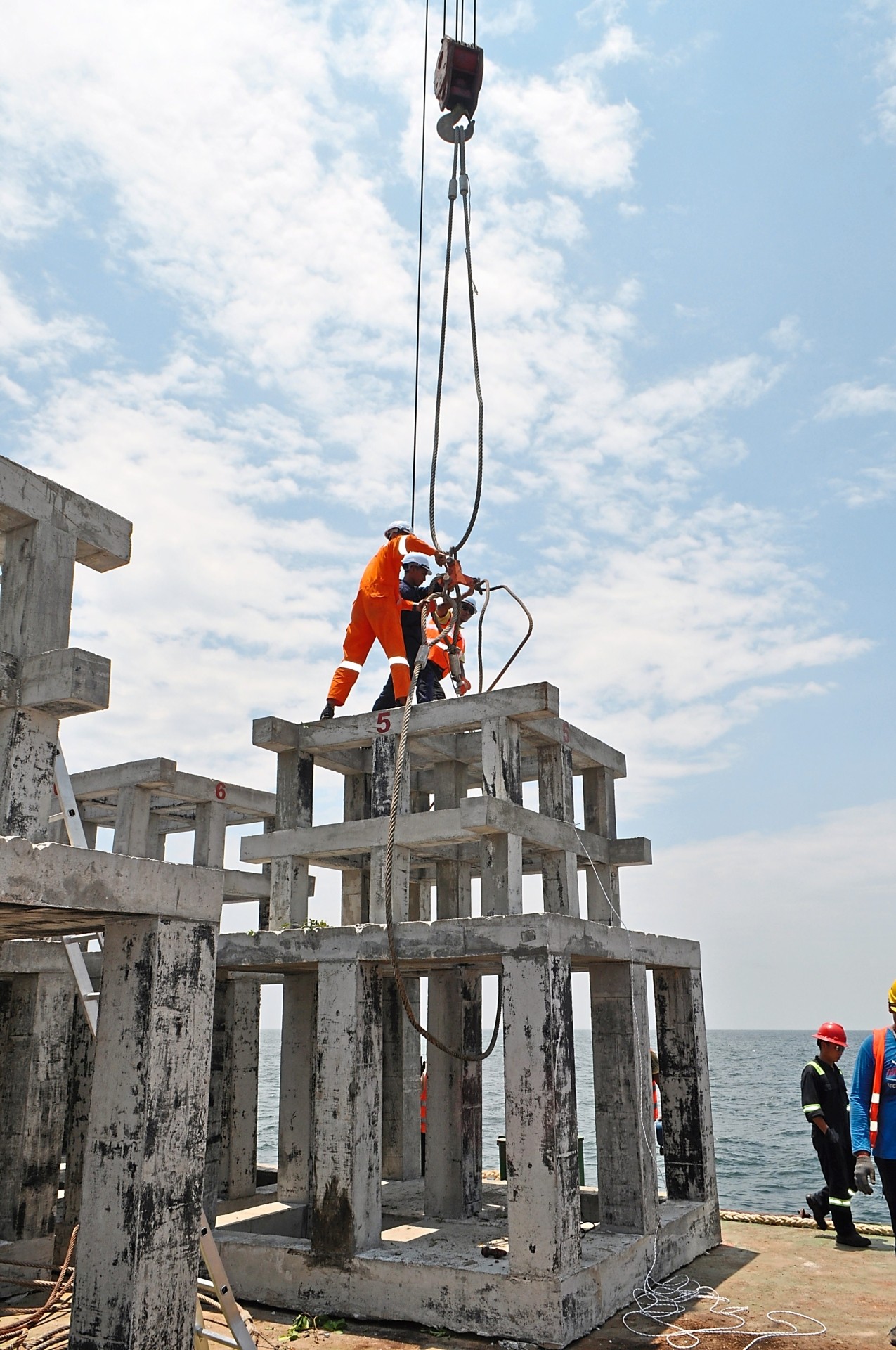 2) Contractors fastening metal cables to an artificial concrete reef. These reefs are designed by Selangor Fisheries Department's engineers for soft seabed.
Sepang Area Fishermen Association chairman Sani Jailani said the reefs were a much welcomed feature as they played a pivotal role in increasing fish stock, which in turn improved the volume of landed catch.
Based on statistics provided by Fisheries Department, Selangor is ranked third after Perak and Sarawak for the highest volume of landed marine fish --- at 164,310.28 metric tonnes --- in 2018. This is an increase of 38,694.28 metric tonnes from 2017.
From the 2018 figures, it was recorded that 3,814.46 metric tonnes were landed by fishermen in the Kuala Langat district. This is an increase of 1,201.46 metric tonnes from 2017.
Fishermen like Sani have attributed the uptrend to the artificial reefs.
"The returns are not immediately seen but they eventually become breeding grounds for fish and other marine life.
"We are hoping they will attract the demersal species of fish such as grouper, golden snapper and long-head grunt which have a higher commercial value compared to pelagic fish like mackerel, torpedo scad, queenfish and barracuda, " said Sani.
According to Dashalinni, the artificial reefs are submerged at a depth of 34m in slack water conditions, which is ideal for attracting demersal fish that will not venture into waters less than five metres deep.


3) A block of artificial reef being submerged in the sea.
Pengkalan Kelanang Fishermen Association chairman Zanizam Ismail said these reefs would also deter trawler boats from encroaching into fishing zones reserved for traditional vessels.
"Trawler nets caught in these artificial reefs will tear. It will cost them dearly, " he said.
He explained that the community of fishermen who used traditional boats below 40 metric tonnes have long tried reasoning with trawler operators who encroached into the former's territory.
Trawlers are supposed to fish between eight and 15 nautical miles from shore.
"Most of them are from Pulau Ketam and Tanjung Sepat. We have spoken to their association chiefs who have agreed to observe the boundaries but some individuals choose to ignore the licensing rules. Our members have approached their boats to ask them to move away from our fishing zone but they are ignored, " said Zanizam.
Selangor Fisheries Department capture fisheries and licensing division head, Mohd Zaki Harun said the danger of trawler nets coming so close to shore was that they would haul up not only adult fish but also the fries as well as destroy corals that were fishes' breeding habitats.
In Selangor, traditional vessels can only fish between one and five nautical miles from shore whereas trawler boats are to stay between a eight and 12 nautical mile zone.


4) A worker throws a buoy which has been attached to the reef to mark its location.
Fisherman Yusof Shahardin, whose son runs a boat rental service for anglers, said the area would be a draw for sport fishing once the reefs had developed into habitats for fish and fish stock improved.
"I feel the artificial reefs are an investment well spent because with increased fish stock, livelihoods are going to improve, " he said.
Selangor Fisheries Department deputy director Azimah Jumatli said that in line with the department's commitment to grow the fisheries and aquaculture industry, it had ensured smoother processing of licensing renewals, given aid for new equipment and provided advisory services to interested parties.
She admitted that the department faced serious challenges in the form of licensing violations and illegal use of foreign labour and equipment. She urged the fishermen to extend their cooperation to the department.


A fisherman posing for a picture after catching a red snapper during the reef operation. His peers in Kuala Langat and Sepang are counting on the artificial reefs to increase fish stock.
Selangor infrastructure and public amenities, agriculture and agro-industry committee chairman Izham Hashim, who attended the planting of the artificial reefs, reminded the fisherfolk that they had an important role to play in the preservation of their livelihood.
"Don't just think of short-term profits.
"Pollution, overfishing, using electricity and poison such as tuba may be quicker than conventional methods but they have far-reaching consequences that can jeopardise future prospects of the industry altogether, " he cautioned.
He said that once Fisheries Department had ascertained that a fish breeding ecosystem was thriving on the artificial reefs, the state might consider allocations for fish aggregating devices to the area as well to enhance existing results.
Did you find this article insightful?
100% readers found this article insightful